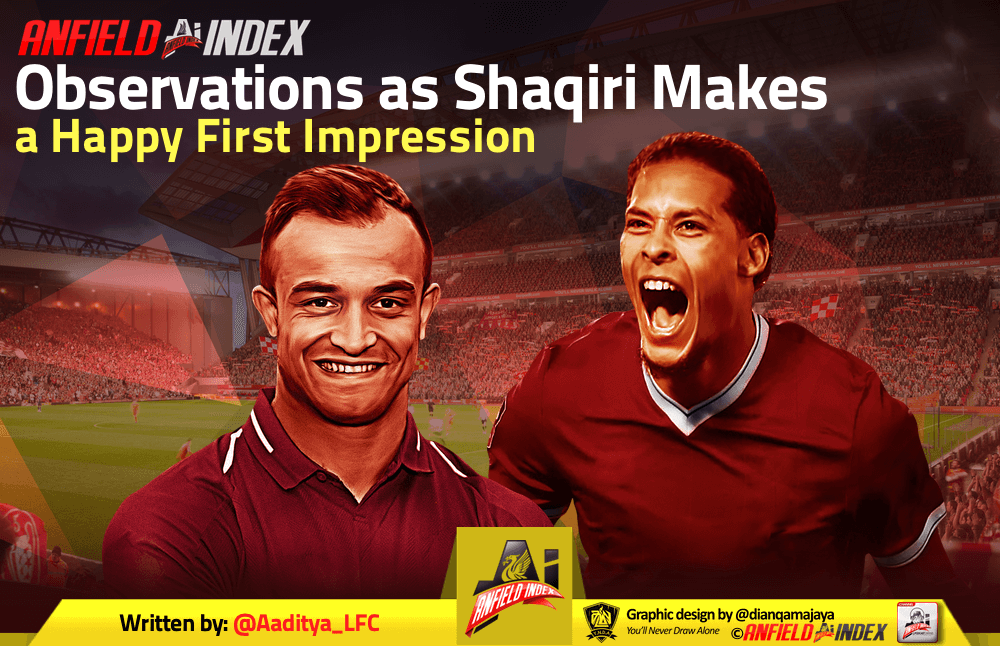 Observations as Shaqiri Makes a Happy First Impression - Liverpool 3-0 Southampton
Six wins out of six to start the Premier League season. Not bad, eh? Southampton came to Anfield, and Southampton were routinely dispatched.
An own goal to start proceedings, a returning centre-back with a fabulous header off a corner from that trusted Scouse right-foot, and then the King of Egypt scoring from a yard out from a thunderbolt free-kick that hit the bar.
Anfield was happy. Maybe I have a few reasons here as to why Anfield was happy.

THE "DROUGHT" IS OVER
Much has been made and said of Mohamed Salah's supposed lack of form to start the season, but right from the first minute today, the Egyptian was a man on a mission to shut the doubters down. He started in a more central role today, and he was a nightmare for Jannik Vestergaard all afternoon.
He linked up brilliantly with Roberto Firmino and Shaqiri and should have had more than just the one goal that he ended the afternoon with.
Firmino found Salah once, with a delicious ball over the top, that the Egyptian collected and ran at Alex McCarthy.
He was held up by Vestergaard, but with his back to goal, he provided an outrageous flick that dribbled inches wide of the mark. Salah was not to be denied for long though. He gave up free-kick duties to Shaqiri, and when the Swiss thundered a strike against the crossbar, Salah was there to tap in from a yard out.
Salah was always a threat in the second half too and should have had his second of the game, when he had the ball in the back of the net, off a rebound from James Milner's shot that was cleared off the line. He was denied by the linesman's flag, but replays showed that the ball may have struck a Southampton defender last.
XHERDAN SHAQIRI HAS LIFT-OFF
Anyone that has watched Jurgen Klopp's teams play over the years would know that it is generally difficult to see him employ anything other than a 4-3-3 system. But in this game, it was more a 4-2-3-1, as Shaqiri was employed in a free role behind the much-feared Liverpool front three.
That worked wonders for Liverpool, as they were afforded possession by a Southampton side, that was clearly not comfortable dealing with the pace and movement in the final third. Shaqiri, in particular, was elusive and caused them plenty of problems.
His movement ensured that he was always between the lines while he received passes, and his pace and trickery on the ball ensured that he could provide a presentable threat in the final third as well.
The first goal was a clear example of Shaqiri's cleverness with the ball at his feet. Sadio Mane's through ball to him was beautifully worked, and then the Swiss cut in on to his weaker right foot, and unleashed a shot at goal that struck Shane Long, before ricocheting into the back of the net off the unfortunate Hoedt.
And what is to be said about the thunderbolt of a free-kick?! One would have to be happy for Salah to finally get his goal, but there will be a tinge of regret that Shaqiri didn't get his first goal for the Reds with that one.
EARLY SUBS!
By the 70th minute today, Jurgen Klopp had made all his three subs. Stop the press. He did have his hand forced a little, because of Virgil van Dijk's rib concern, but it was still refreshing to see Klopp make an early sub when he had to.
It was a curious half-time substitution to see Shaqiri taken off to be replaced, by James Milner, but as Klopp said later, the Reds lacked that bit of control in midfield, evident from the number of times Southampton were able to play through the Reds and find Redmond or Cedric on the right flank. They did have a good number of opportunities, if not clear chances. So it was heartening to see Klopp not being rigid, and managing the game well.
VIRGIL VAN DIJK IS A COLOSSUS
Now, how many of us didn't already know that? The big Dutchman only reinforced that belief, with another commanding display in the heart of the Reds. His reading of the game is spectacular, and his defensive positioning is absolutely stellar.
Joel Matip once played the Reds into trouble, by playing a pass straight to Shane Long, who took off for goal, but he was stopped in his tracks by the imposing figure of Van Dijk. He was also pivotal in defending crosses into the box, as the ball did not cross him at his front-post station, on numerous occasions.
The game was wrapped up by the time Van Dijk left the pitch in the 55th minute, but once again he had played a pivotal role in the Reds defence, that last conceded at Anfield in February.
Bigger tests lie ahead for sure, but for now, the phrase you're looking for to describe the Reds is "nigh on perfection". The results have been perfect. The performances maybe not. But 18 points from six games played is a pretty place to be in.
Up Jurgen's table-topping Reds!