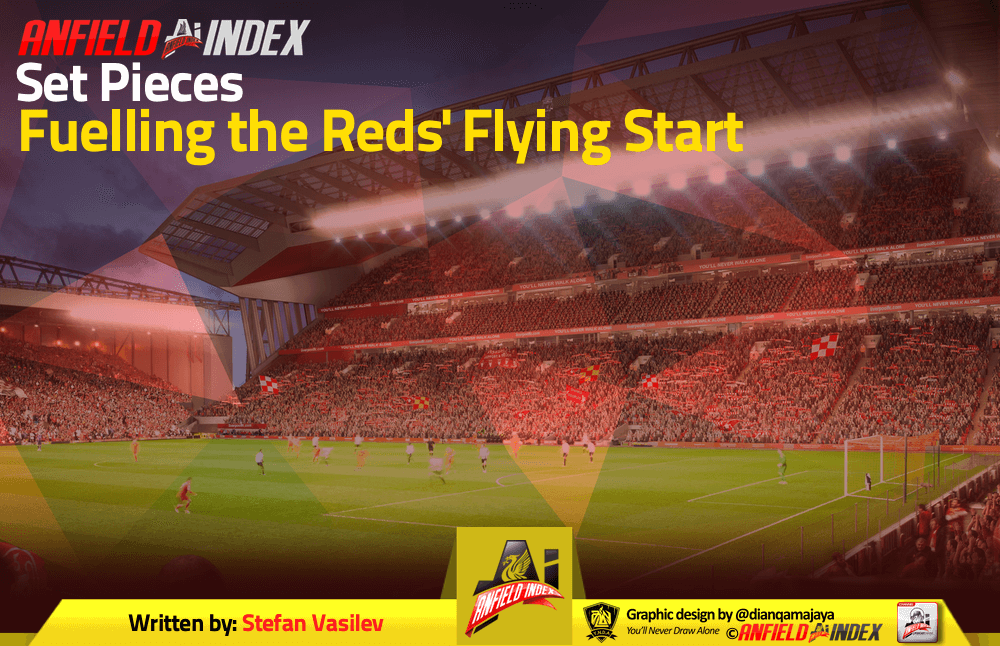 Set Pieces - Fuelling the Reds' Flying Start
No matter where you are from your local match commentator probably said something like: "Set pieces – Liverpool's long-term Achilles heel" when Eric Lamela scored against the Reds last at Wembley. That line is simply ignorant. Liverpool's set piece defence has been slowly and steadily improving for three seasons now. The same applies for attacking set plays: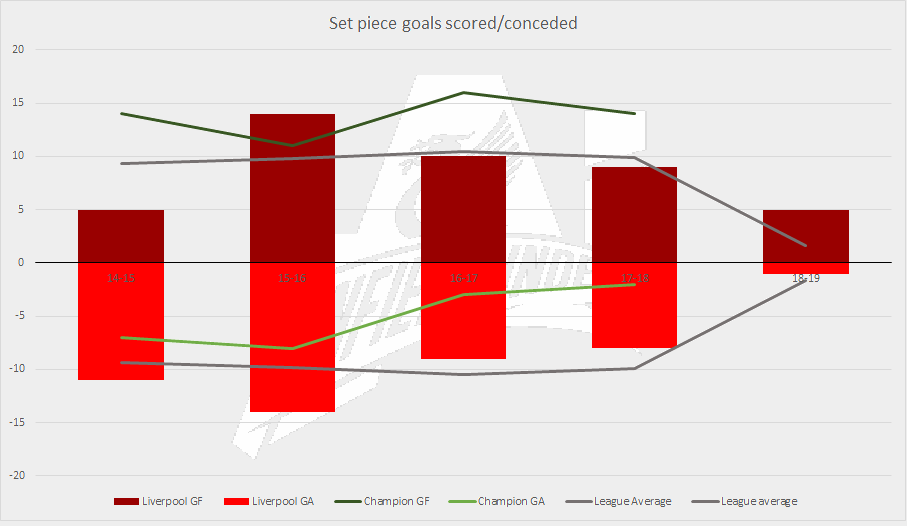 Liverpool being West Bromish
Liverpool have been so good at scoring from dead balls so far this sees it looks like a statistical anomaly. Understat has the Reds scoring five goals from set pieces so far this season but their model doesn't count own goals. So including Hoedt's own goal on Sunday the total goals from set plays the Reds have scored so far is six. I also did not include direct free kicks as they aren't really situations in which the attacking/defensive system matters. That is more than the entire 14/15 season and more than half the dead ball goals we have scored in the last two season. Obviously scoring at this rate is unsustainable over the course of 38 games. With the team's finishing being poor from open play so far set pieces are one of the main reasons the Reds are winning games rather than drawing and losing as happened last season in September and October:

| | | | | | |
| --- | --- | --- | --- | --- | --- |
| | Matches | Open play goals | Open play xG | Set piece goals | Set piece xG |
| This season | 6 | 7 | 10.79 | 6* | 2.65 |
| Sep – Oct last season | 6 | 6 | 9.03 | 0 | 0.99 |
During our autumn crisis last season we only won one match between the demolitions at the Ethiad and Wembley. It was very evident that our finishing was off and that is when a lot of the supporters got familiar with the xG stat – it was the number to calm us down. In those six matches, we created very little from dead balls and didn't score a single goal. Compare that to what we are seeing this season – set pieces are bailing the team out while the attackers find their shooting boots. Five of our last seven league goals came after dead ball situations – that's some Toni Pulis numbers. The Reds have managed to score four times from corners (five including the own goal), which translates to 14% of corners taken (18% with the own goal). The league average over the last five season is 3.5%. The highest corner conversion rate over the last five season was achieved by West Brom in 16/17 – 10%. So yes – we can't sustain being this effective from dead balls but we should improve from open play to compensate for the expected drop off in set play goals.
Defensive improvement
The 15-16 season is when the whole narrative of us being bad at defending set pieces began. And for a reason – the Reds were indeed terrible. Since then there has been an improvement in each season in basically all relevant numbers. Goals conceded has gone from 14 to 8, corner conversion rate has gone from 6% to 4%. You can also see it in the team's behaviour. There is no more panic. The defenders don't have to think twice about booting the ball out for a corner. Adding Alisson will only help accelerate the trend. Anfield has also felt the shift. You don't see the anxiety corners used to cause any more.
Set piece excellence – a key part of winning the league
The last two Premier League champions had terrific seasons in terms of both attacking and defending dead balls. Man City scored 14 goals and conceded just 2, while Chelsea's tally was 16 against just 3. Both league winning teams improved massively from the season before going all the way. Guardiola's side had a 9-8 set piece goal difference in 2016/2017, Chelsea went 7-9 in Mourinho's last season in charge. After several unimpressive seasons, the Reds are now set to have a dominant campaign from set pieces and it might be one of the small things to make the difference from challenging to going to the promise land.