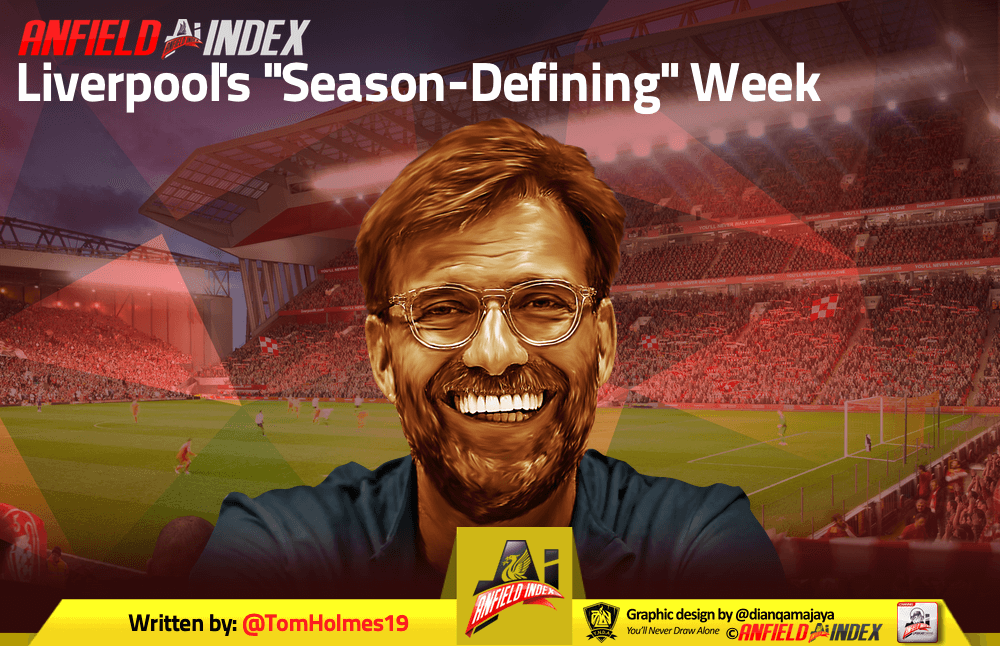 Liverpool's "Season-Defining" Week
You could be forgiven for thinking, going into what looks to be an absolutely huge week for Liverpool, that this was a season-defining week for Jürgen Klopp and his team. The Reds went into a seven-game period across three weeks with both their Premier League and Champions League ambitions on the line, and so far have delivered on both fronts – delivering landmark wins at Wembley against Spurs, and at Anfield against PSG.
But with games against Chelsea at the Bridge, Napoli in Naples and Manchester City at Anfield encompassing the span of eight days, for many this will be a hugely critical week for Klopp's team.
In many ways, Liverpool's completely imperious start – winning their opening six leagues and of course the aforementioned win over PSG – has taken the pressure off of the next week or so. And in many ways, it has piled it back on.

Right now, the absolute worst case scenario for the Reds is to be trailing both Chelsea and Manchester City by four points in the league table, and behind Napoli by a single point in their UCL group, after the Italian team dropped points in Belgrade last Tuesday.
For a bit of context then, by the eight-game mark last season, Liverpool were already nine points behind Man City, with the Reds already having accrued an extra five points this season even if they lose their next two games. So on the one hand, regardless of what happens in the next week, several things will be true. Firstly, that Liverpool have made significant strides over the last twelve months, and secondly that the Reds will be bang in the title hunt and in the UCL hunt.
That's where I want to start then, with the reasons that the three games simply aren't as important as they could be taken to be. Ultimately, the Premier League is a 38 game season, two games won't make or break a season, and in many respects, if we lose our next two league games then we've come out of two of our hardest fixtures with losses and we simply need to regroup and move on.
I've said it before last season and I'll say it again. No one week will define a season. No one week is more important than another – except in the sense that in some weeks you'll play more games than others. Before the calendar year is out, Liverpool will face Napoli and Man United within a few days of each other, much as they face Napoli and City next week. The Champions League is still at the group stage and the Reds have made a strong start, with many more defining games to come in that competition, and whilst Liverpool will almost certainly not find themselves facing their two strongest challengers in the league twice in a week again this season, they will nevertheless face more tough games with potentially more riding on them when the season reaches its climax.
At the end of the day, it's just three games out of what could end up being fifty or even more. No damage handed to the Reds, and certainly no damage that they hand out, at this stage is irreversible. And in that respect, having won their opening six games, the Reds have insulated themselves. They've put themselves in a situation where having the worst possible week at the worst possible time can conceivably be nothing more than a blip.
On the other hand, of course, this week is every bit as important as it's made out to be. To find themselves four points behind their two main rivals and playing catch up after such a stellar start would be a huge blow to this Liverpool team. They've been so impressive early on that to find themselves on the back foot so quickly could do some damage to morale. Moreover, the PSG win is already being touted as a potential landmark win in the Klopp era. To produce such a brilliant and memorable week, only to follow that up by throwing away any advantage gained, would be a real setback.
Whilst it's true that nothing is won and lost in September and October, there's no denying that these kinds of results early in the season can have an absolutely massive effect. Both Chelsea and Man City pulled off some vital results against their competitors at various stages early on in their last two respective title wins, and both are experts at winning the league. If Liverpool find themselves losing ground to them in important games, they may find it hard to usurp them.
Moreover, given how well both teams have started, and how good City, in particular, were last year, the Reds have to know that their best opportunity for their opponents to drop points is against the Reds themselves. Liverpool, let's not forget, were the only team to beat Man City before April last year when the title was all but mathematically won. If they are serious about winning the league, then beating City at Anfield is as good a chance as they're going to get to stamp their credentials on Guardiola's side, and gain a leg up on them.
Having talked about the worst case scenario, let's briefly compare that to the best case. In the best case scenario, Liverpool end up on 24 points, with both City and Chelsea limited to at most 19 each, giving Liverpool at least a five-point lead on their two seemingly biggest rivals, based on how the season has panned out so far.
That's a nine-point swing, at least, if the Reds can win both games compared to losing them. And at this stage of the season, the difference between having a sizeable gap open up in their favour versus having one open up against them.
Of course, this is all hypothetical conjecture, but the point is very real. There are very plausible scenarios where Liverpool take a firm grip of the title race in the next week and a bit, and scenarios where they falter and allow their main rivals to open up a gap on them. The reality will probably be somewhere in the middle, but even four points from their Reds' next two games, as well as a draw in Naples, would be an extremely positive set of results.
But as I say, with the most likely scenario being somewhere in the middle, the fact remains that it's still an extremely early part of the season, and it's way too early for this week to be season-defining. Defeat in Naples can easily be salvaged by two wins against Belgrade in our next two UCL games. Defeats to Chelsea and City can be turned around in the reverse legs, and over the next thirty league games, where it's nigh on impossible for neither of them to drop points.
It's not all or nothing. But this week is going to be an extremely good barometer of where this Liverpool side is. But then that's what we thought about Spurs and PSG, and the pressure is still very much ramped up. One season-defining week follows another, one hugely important week follows another. And it all means absolutely nothing if we don't follow it up against Cardiff, Huddersfield and Belgrade when we return from the international break.
As I've said before and will probably say again. Every week is the most important week of the season. Some weeks are just more important than others.