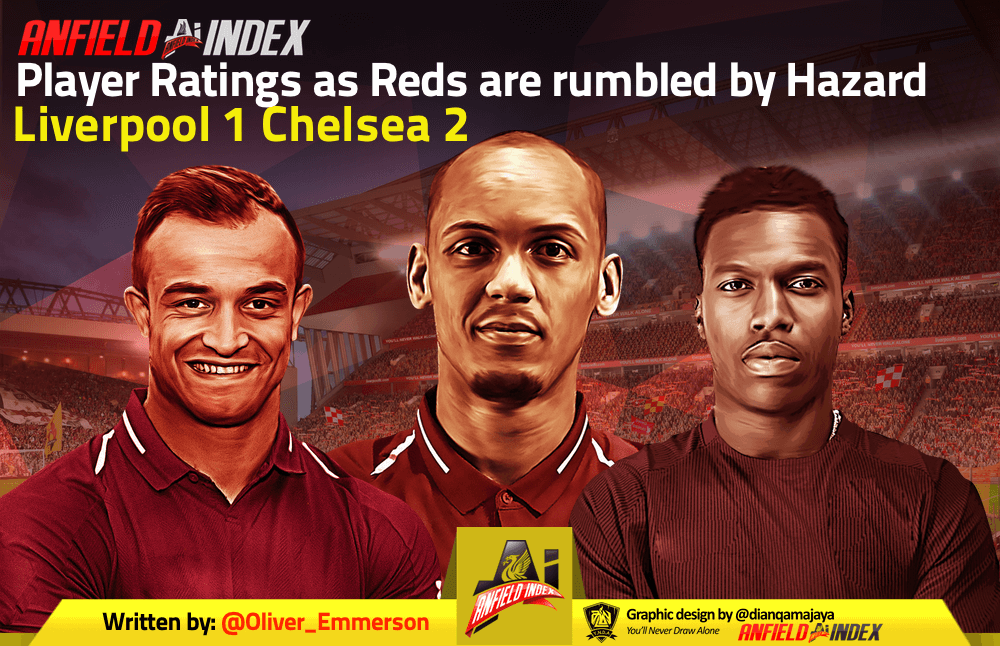 Player Ratings as Reds are rumbled by Hazard
There's a point at 1-0 where Sarri sends on Eden Hazard because Chelsea are losing and they're not finishing above Liverpool in the league anyway.
Klopp doesn't send Salah on because Liverpool are winning and they might finish above Manchester City.
One amazing goal later and we're all moody, get a win on Saturday and it'll all be forgotten.

Here are your ratings.
2015 defence offers 2015 result
Simon Mignolet (6): Better with his feet than normal and still blamed about 6 balls out of play. Unlucky for the first goal, makes a good save before it goes in.
Nathaniel Clyne (5): Can't really give him any lower because he wasn't horrendous defensively but that was a turgid watch. Forgot how to pass the ball forward for the first half an hour and once he remembered it didn't improve much. Made me appreciate Alexander-Arnold even more.
Dejan Lovren (6): Actually thought he was okay, you know? Normally throws a stinker in whenever he comes back after an absence but was alright in the most part. Unlucky not to score off a corner too.
Joel Matip (6): Can't blame him for either of the goals, didn't make any obvious errors. Still though, bet his shirt doesn't smell as nice as Van Dijk's.
Alberto Moreno (5): Didn't think he was as bad as everyone else, clearly. Had a good battle with Victor Moses, but I suppose the fact he had to battle Victor Moses says it all? Disappointing going forward.
Fabinho fine on debut
Fabinho (7): Take away the first 10 minutes and you've got a really good debut. Joined the rest of the midfield in looking really lost for a bit and then started to spray his passes around, make his tackles and shield the ball well. Silly booking, mind. Welcome to England.
James Milner (5): His worst performance in a while. Made to look like a school-child by Kovacic, picks up a stupid booking and – on this basis – is hopefully hooked rather than rested for the weekend.
Naby Keita (6): Not great going backwards in terms of positioning but pressed the ball well and connected the dots up top. Nice turn for the goal, might feel like he should have one himself.
Sturridge and Shaq shine
Xherdan Shaqiri (7): The full 90 will do him good, pressed the ball really well and managed to look a threat despite being offered little support by Clyne. Got an uncanny knack of turning inside onto the ball and leaving people for dead with his first touch. More of that please.
Sadio Mane (6): Bit of a weird one to play him, he was alright. Best mates with Naby Keita which is clear to see, yer da is on the internet writing about how they get Costa's and bitch about Salah and Lovren.
Daniel Sturridge (7): Had one, should have got 3. The technique for the goal is really nice, the technique for the miss prior is absolutely mad. Curls one off the bar and we nearly sing his name on the way home. Pressed the ball very well, the lazy shite.
Subs don't star
Roberto Firmino (5): Poor. Did nothing.
Jordan Henderson (5): Poor. Did things, many of which were bad.
Mohamed Salah (N/A): Couldn't get a touch.