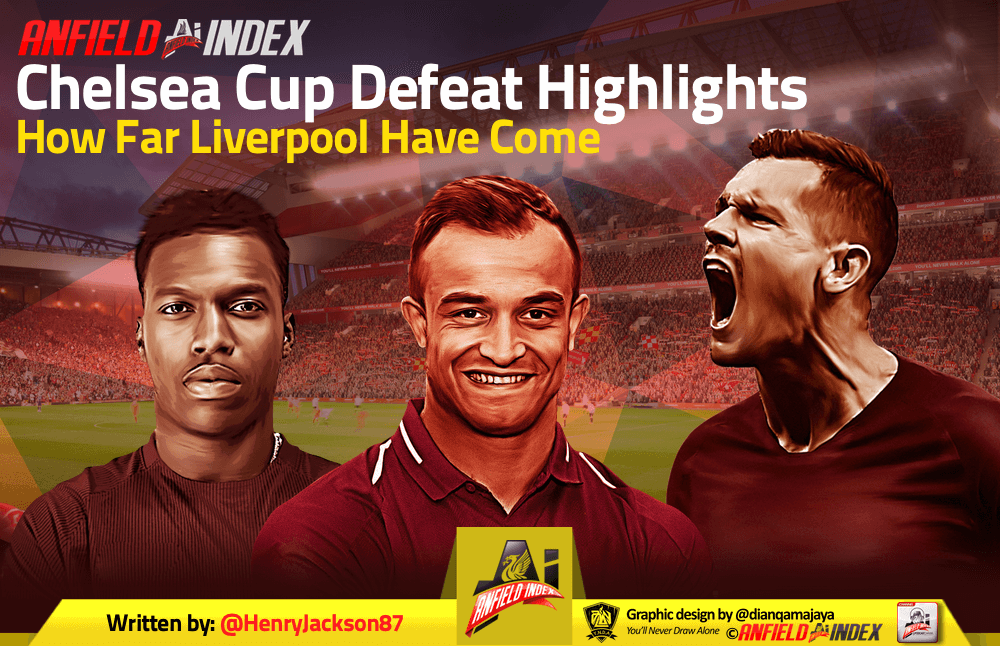 Chelsea Cup Defeat Highlights How Far Liverpool Have Come
That winning run wasn't going to last forever, was it?
Any Liverpool defeat generally has to be considered disappointing – although some under Roy Hodgson felt like a blessing in disguise – and Wednesday's League Cup loss to Chelsea did sting a little, especially given the nature of it.
In the grand scheme of things, it is not a result that is going to derail the Reds' season, however, and it was always clear that the League Cup was very much the least of this side's priorities.

On a night where Jurgen Klopp made eight changes to his personnel, we were made alarmingly but pleasingly aware of how far this team has come with the German at the helm.
A couple of years ago, the starting lineup that Klopp opted for would have been the best he had to offer, with youngsters and no-hopers sat on the substitutes' bench.
Instead, he now has fairly decent options in reserve and has arguably assembled Liverpool's most impressive 'best XI' since they last won the title in 1990.
Wednesday's defeat had such a 2016 feel about it, particularly in a defensive sense.
Surprisingly, the divisive and much-criticised quintet of Simon Mignolet, Nathaniel Clyne, Joel Matip, Dejan Lovren and Alberto Moreno had never actually started a match together.
That may sound impossible, considering they have all been first-choice at one time or another, but injuries and losses of form had prevented it from ever happening.
On Wednesday's evidence, that is a blessing in disguise, and their lack of cohesion as a unit, as well as their individual limitations, highlighted why they are now squad players at best.
In fairness to Mignolet, he made a few solid saves and was otherwise untroubled, but his meek kicking immediately made you long for Alisson's effortless, risky-but-rewarding quality on the ball.
Nathaniel Clyne was another who looked like a player from the past, not capable of thriving in a team that has evolved greatly in the last 12 months, during which time he has been on the treatment table.
Perhaps it's just me, but do most of Clyne's passes threaten to come off his heel these days?
Matip and Lovren are not exactly the most popular centre-back pairing at the best of times and they rarely looked in command against a Chelsea side itself weakened by Maurizio Sarri's decision to make eight alterations of his own.
It only further showed how immaculate Virgil van Dijk and Joe Gomez have been this season, and how far they are ahead of their teammates.
Meanwhile, Alberto Moreno yet again proved to be an erratic presence, and the gulf in class between him and Andy Robertson is now vast.
Erratic defensively all evening, Moreno is simply not good enough to consistently shine for Liverpool, and he played a fairly key role in the Reds eventually being eliminated, having been skinned by Eden Hazard for the Belgian's winner.
Emerson's equaliser was a goal we have seen a thousand times as Reds supporters – free header from a free-kick, rebound poked agonisingly over the line – but they have almost dried up completely with Van Dijk around, in particular.
It was another example of feeling like a throwback to Klopp's earlier days at Anfield when his players just weren't quite good enough, points were thrown away and cup campaigns ended at an infuriating rate.
Although it was the defence that really stood out as being markedly weaker, other areas of the pitch also gave us proof of the monumental strides made by Liverpool.
The midfield was difficult to gauge, with both Fabinho and Naby Keita still finding their feet and James Milner suffering a rare off night, but the attack was missing two world-class footballers.
Xherdan Shaqiri was actually the liveliest player for the hosts by some distance, but at the end of the day, he isn't Mo Salah, and never will be.
Daniel Sturridge put in a good shift and scored a well-taken goal – he also missed a sitter of epic proportions that almost wasn't talked about enough – but he is a long way from Roberto Firmino's level.
A few years ago, these two talented, dangerous players would have felt like key men for Liverpool – they are now squad players who will have to be patient when it comes to earning game time.
Whereas the Reds' new-look team has turned into a winning machine – one that you just expect to triumph in the majority of games – Wednesday had an entirely different feel to it.
From the opening exchanges, when Chelsea were comfortably the better team, it felt as though we had all been transported to the pre-Salah, Van Dijk and Alisson era, where matches were a grind and performances would sometimes be lacking defensive resilience and attacking magic.
It was a timely reminder of what a fantastic job Klopp has done in turning Liverpool from top-four hopefuls to potential champions.
Defeats don't often bring many positives, but the Reds' League Cup exit didn't half make us appreciate the level they have risen to in the more 'important' fixtures.