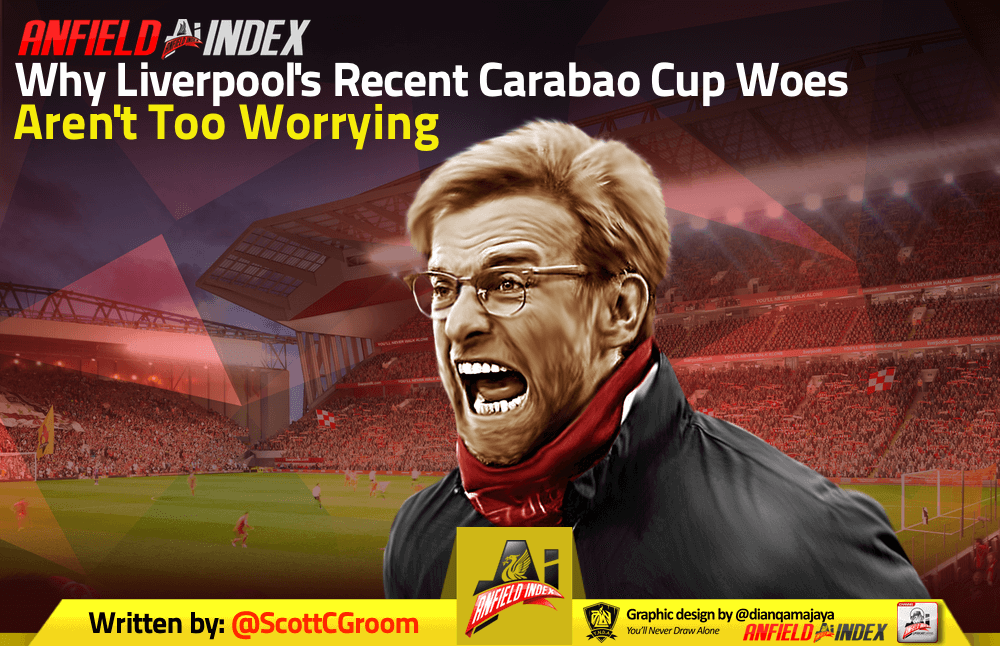 Why Liverpool's Recent Carabao Cup Woes Aren't Too Worrying
For the second time in consecutive seasons, Liverpool crashed out of the Carabao Cup at the first hurdle as they were beaten 1-2 at home by Maurizio Sarri's Chelsea.
Despite putting in a fairly dominant display and having plenty of chances to seal their place in the fourth round, the Reds fell to defeat thanks to a poor refereeing decision and a moment of pure genius from Eden Hazard.
Flashback to 12 months ago, and it was another glum night on the formerly known League Cup for Jürgen Klopp's side. A poor display saw them slump to a 2-0 away defeat to Leicester at the King Power Stadium and eliminating them from a competition that large sections of the fanbase quite fancied them to go on and win last year.

While the last two seasons have seen Liverpool exit the competition in the third round, I don't think that there's too much to be concerned about in terms of what this means to Liverpool as a club and their winning mentality.
The main reason is this: they've gone out both times to Premier League opposition.
Let's not kid ourselves, we're no Manchester United and haven't just been beaten and outplayed at home by a Championship side (no disrespect whatsoever to Derby County who thoroughly deserved to beat United). These are teams, particularly in Chelsea, who we may even drop the odd point against in league competition.
Leicester I can understand fans still being annoyed by. I was there last year and it was a poor display from a much-changed Liverpool and they got turned over as a result of it. And in truth, Liverpool should be looking to beat teams like Leicester routinely now, especially if we are indeed to mount a serious title challenge this term.
However, if we did only come away from the KP with a draw earlier on this season, I wouldn't have thought of it as a terrible result as Leicester are a decent team, especially at home.
Look at Chelsea: a team full of brilliant players, one of which dealt the killer blow with a superb solo goal in the cup tie this time around. A team who will likely be up there challenging for the title alongside Liverpool come the end of the season.
There's no shame in going out of the cup to teams like these. Yes, be annoyed that we're out, but don't make out that we've just gone and tarnished all of the good work at the start of the season, because we haven't!
Another reason not to be too concerned is that Liverpool last night fielded a back five of Mignolet, Clyne, Matip, Lovren and Moreno – only one of which has played any competitive football this season. There's bound to be some ring-rust there.
Changes are inevitable, and such is the journey that this Liverpool squad has gone on is that the rest of the team was also heavily rotated but still looked more than adequate to put Chelsea to the sword, and they should've done in truth.
Rotation is one of the inevitabilities of cup competitions, no matter how much managers harp on about how seriously they're taking things, so the performance is bound to be a bit fragmented because of this.
And it really isn't like Klopp or his players didn't take this game seriously, because both parties did. Klopp's side and the squad was strong and could and should have won the game quite comfortably, and that shows that the lads who were sent out there to do the job were fully committed to the Carabao-cause themselves.
Seeing as this is only Liverpool's first defeat of the season, the negativity swirling around on social media is sickening. I'm not overly concerned by Liverpool's lack of progress in this competition in the last two seasons – are we forgetting that the season before these two we only lost out on lifting that trophy in a penalty shootout to Manchester City?
The itch for silverware is growing, but Liverpool are getting closer. The Carabao Cup would've been a great way to break that duck, but in all honesty, it may prove to be a blessing in disguise later on in the season.