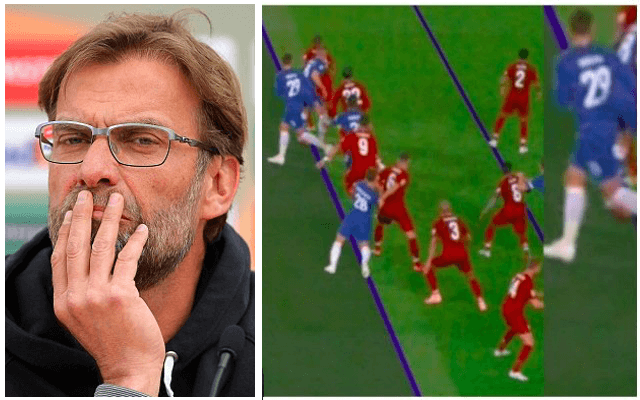 Were the Reds Outplayed by Chelsea or Played out of the Game by VAR Incompetence?
Chelsea put two past Liverpool to send them crashing out of the Carabao Cup on Wednesday night, sealing the deal with a stunner from Eden Hazard. But manager Jürgen Klopp was upset about more than just the result.
In the press conference after the match, Klopp decided to take aim at the use of VAR, claiming that the Chelsea equaliser should not have been allowed. That goal came from a Hazard free-kick. Ross Barkley got on the end of it but was denied by Mignolet, who spilled the ball back out into the line of Emerson, who toed it in.
Klopp started off by questioning the free-kick, claiming that the challenge was a fair one and that Chelsea should not have been awarded it. Then he went further, saying that the goal itself should have been called offside due to the fact that Barkley was behind the defenders at the set piece. At this stage, the German raised a difficult question about when and how VAR should be used, claiming it was pointless for the video referee to look at the goal if he was unwilling to make a decision off the back of reviewing it. While he claimed he still does not expect VAR to be used to review all decisions, he also said he didn't see the use in it if decisions weren't going to be overturned.
And he probably has a fair point here. Although it is always difficult to say what decision should be made, Barkley did look like he was offside and yet the decision was not changed. This instance suggests a situation in which VAR is being used in order to absolve responsibility. Refereeing is a tough job and they're always going to be someone's enemy, but VAR is not going to make it any better if the evidence it presents is going to be ignored.
Liverpool still have better odds than Chelsea for finishing the league in the top four according to William Hill Premier League betting, with the Reds at 1/40 and Chelsea at 3/10, but that can't distract from the fact that Chelsea played a fantastic game, at times outplaying the home side.
You need to see that @hazardeden10 goal from all angles! 🔥 pic.twitter.com/Ucmq7I4RCA

— Chelsea FC (@ChelseaFC) September 27, 2018
Hazard's goal, in particular, was a phenomenal solo effort from a man who is surely becoming one of the best players in the world. There was little any defence could have done to stop his brilliance on that occasion. On the night Chelsea arguably did deserve to win, even if just for that moment of individual greatness.
Regardless of the outcome, though, Klopp has raised a good point about an imperfect system. Liverpool lost to a very strong opponent on Wednesday night, but they also have every right to criticise the use of VAR. It may still be a new technology, which referees, players and managers alike will continue to have to get used to and adapt to. But without criticism from people like Klopp, it will not develop at the rate in which it needs to and controversial outcomes will continue to make headlines, which can't be good for the game.