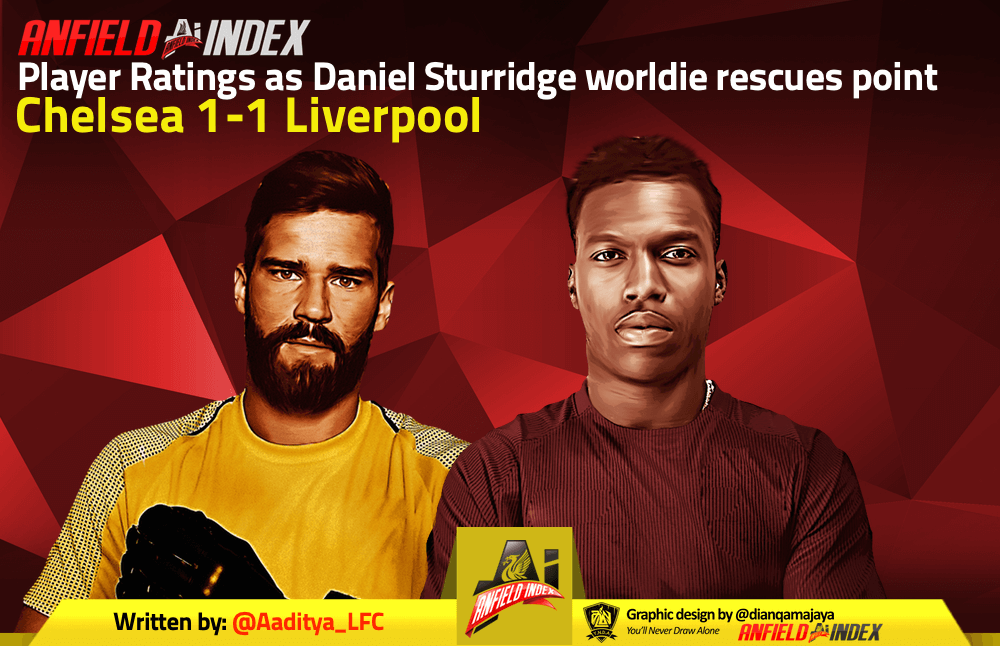 Chelsea 1-1 Liverpool - Player Ratings as Daniel Sturridge worldie rescues point
Daniel Sturridge. Daniel Sturridge. Daniel Sturridge. If you're a Liverpool fan, the 1-1 draw against Chelsea should leave you with no other thoughts in your head. What. A. Goal. I'm going to spend my next two days exclusively watching that goal over and over again. If you aren't, I'm judging you.
Here's how the rest of the Reds fared in a tough game at the Bridge.
ALISSON BECKER – 9/10

Immense. Bloody immense. He kept us in the game, which Chelsea could have easily put to bed before that Sturridge moment. Incredible one-on-one saves off Hazard and Willian. He's also evidently not being cocky about his footwork anymore, which is encouraging.
TRENT ALEXANDER-ARNOLD – 5/10
He was poor. His crossing was all over the place. His usual intensity was missing. And he was given a right working over by Hazard.
JOE GOMEZ – 7/10
Gomez continues to grow in stature. One moment stands out. Chelsea had gotten Willian through, and both Gomez and Van Dijk had made up ground at speed to combine and deny the Brazilian a shooting opportunity.
VIRGIL VAN DIJK – 7/10
Absolutely fantastic again. On the rare occasions Chelsea went long, he won every ball. He also defended the box brilliantly.
ANDREW ROBERTSON – 5/10
That was pretty close to his worst game in a Liverpool shirt. He should know better than to try and play Willian offside so many times.
JORDAN HENDERSON – 4/10
Poor as the no.6. He tried to press, but Chelsea bypassed it easily. He was a bystander largely, with the only thing that worked for him being his sideways passes.
JAMES MILNER – 5/10
Only slightly better than Henderson, and comfortably his worst game of the season. As Gags Tandon has been saying for a while, his pressing efficiency will always been a concern against technically good players, like the ones Chelsea had in their midfield. He was also ball-watching and let Hazard go through to score.
GINI WIJNALDUM – 7/10
Wijnaldum was very good. He was even better after Henderson went off, and he was moved to the no.6 role. He nearly played us into trouble late in the game with an under-hit backpass but Alisson was alert off his line.
MO SALAH – 6/10
He was getting into brilliant positions to trouble Luiz and Alonso. He is continuing to do all the right things, apart from his shooting. It is not a happy space to be in with his finishing, but it will only take one good game for everything to come back again.
ROBERTO FIRMINO – 5/10
He was off his game. His usual intensity was missing, and the cleverness of his inter-play was completely missing.
SADIO MANE – 6/10
After a slow first half, he was much better after the interval. There is still a concern that he doesn't seem too confident while taking on a defender. He did brilliantly to create space for himself in the box and get a shot away but Kepa made a brilliant save.
SUBSTITUTES
XHERDAN SHAQIRI – 6/10
He brings energy and a different dimension to the play when he comes on. He helped the Reds gain more fluidity in their attacking play after coming. He would score with that chance he had, nine times out ten. Maybe 99 times out of 100.
NABY KEITA – 7/10
He made a big difference on the night. He was instrumental in providing drive from midfield.
DANIEL STURRIDGE – 11/10
If that number doesn't say enough, nothing else will. No other player in this Liverpool squad has the audacity to pull that off. Few others have the technique and ability to pull that off. Well and truly welcome back, Daniel!