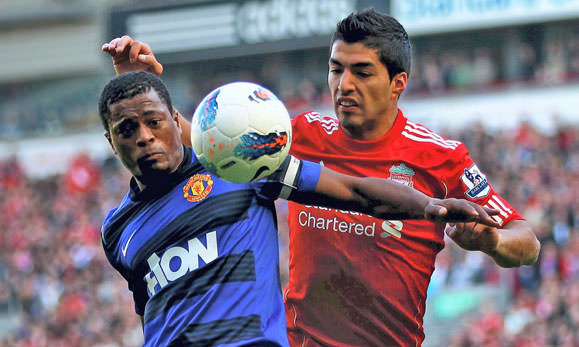 Suarez isolated as United frustrate Reds
The most memorable visual of Liverpool and Manchester United's recent Anfield encounters has been of an early onslaught, a tidal wave of Red attacking the United back-four from the off, giving the visitors from the other end of the M6 no chance to settle on the ball or go about their own gameplan. The two biggest thorns in United's side last season were Luis Suarez and Dirk Kuyt, whose tireless running and unpredictable movement made the league's toughest defence look like chumps, and if the Champions were to have any chance of avenging that defeat this season then they knew they'd have to weather the first-half storm.
So it shouldn't have been too surprising when Sir Alex Ferguson's teamsheet revealed a much more defensive line-up than we are used to, with a clear emphasis on packing the midfield and stopping Liverpool before focusing on their own game. The hard-working Ji-Sung Park was preferred to Nani out wide with the South Korean spending much of the game tracking the runs of Jose Enrique, who is becoming an increasingly important attacking weapon for the Reds since his summer move from Newcastle. Ferguson also went for the versatile Phil Jones in midfield and it soon became obvious that his job was to stick to Charlie Adam like the pages of a teenage boy's Hollyoaks calendar, preventing the Scotsman from getting on the ball and spraying those trademark passes all over the park.

But if United were to get anything from this game then they were going to have to stop the two men that tormented them so much in March; Kuyt and Suarez. Luckily for United, Kenny Dalglish decided to start Kuyt out on the right, which prevented him from producing the poacher's performance that ultimately decided the last encounter and meant that he was reduced to simply tracking the runs of Patrice Evra. That meant that United's defence were left to deal with the increasingly isolated Suarez, although as Premier League back lines have come to learn, containing the Uruguayan is about as easy as getting Jay Spearing onto the rides at Alton Towers.
Liverpool's returning captain Steven Gerrard was expected to support Suarez in attack but the skipper was soon forced to drop deep as Adam struggled to escape the shackles of the impressive Jones. While Liverpool were able to enjoy a lot more possession thanks to Gerrard's positional move, it meant that Suarez was left on his own against 2-3 United defenders; a battle that even he would struggle to win. This led to a first half devoid of chances and Liverpool's best opportunity came towards the end of the half when Adam finally freed himself of Jones and burst forward towards the United penalty area. Adam unleashed a powerful drive and after the ball had cannoned off a United defender it fell to Suarez who twisted and turned only to fire straight at De Gea. It was a great chance of which the number 7 would not get again for the remainder of the game.
What makes Suarez great though is that even when he doesn't score he is so influential and he seems to create as many chances for others as he does for himself. But he was even restricted in that regard on Saturday, completing just 22 passes (one less than the 23 he made in the dismal loss to Tottenham) and 3 of his 5 attempts on goal coming from outside the box. In fact, of Liverpool's 15 attempts 8 were from outside the box with 7 of the 15 being off-target and with the game ending 1-1 it again raised questions about Liverpool's finishing ability.
Many of those chances came in the last 20 minutes, with the game only really opening up after the Reds took the lead and it was no surprise that the goal came from a set piece with neither side looking too likely to score from open play before that, with the exception of Suarez' first half chance. Liverpool captain Steven Gerrard was the scorer, after he saw his relatively weak free kick squirm through the United wall and into the bottom corner, capping a tremendous return for the skipper on what was his first start for the club in seven months.
With United now desperately searching for an equaliser there was more space to attack and it was substitute Jordan Henderson who helped exploit it best. For most of the game Suarez had been isolated because there were no runners from midfield, with Adam and Gerrard both looking to drop deep, and it was only when Henderson replaced Lucas that we started to see somebody running beyond the Uruguayan striker. Despite his willingness to get forward from the moment he came onto the pitch, Henderson had to wait until injury time to have a shot on goal, first attempting to lob De Gea only to be foiled by an excellent save before sending a header over with one of the last kicks of the game. Those two attempts meant that only Suarez had more shots on goal for Liverpool throughout the 90 minutes, which perhaps highlights what a struggle it was for the Reds to break down United.
Hernandez equalised for United with 10 minutes to go, a goal which also came from a set-piece, and from then on Liverpool dominated the possession and the chances. Downing was becoming increasingly influential on the left, delivering a string of dangerous crosses with Kuyt getting on the end of one only to see his sole effort of the game saved by the outstanding De Gea. With so many balls being delivered into the box it was disappointing not to see Andy Carroll brought on, after his goal in the derby, but you can understand Dalglish not wanting to take too many risks against a side that can punish you so easily.
While it was disappointing for Liverpool not to win a game in which they had far more chances than United, there are so many positives to be taken from the performance and if the side keep creating so many opportunities then it won't be long before a side is on the end of an absolute battering. Suarez may have struggled to get shots away against United's stubborn defence but his work-rate was exemplary and he always gave Liverpool an out-ball if they needed one. It would've been nice to see Kuyt move into the centre to reform the partnership that worked so well last season but ultimately you can't complain about drawing with the Champions. Liverpool are on the up and the majority of the hard-work has been done, they just need a few finishing touches.
You can follow me on Twitter @MattKenny89