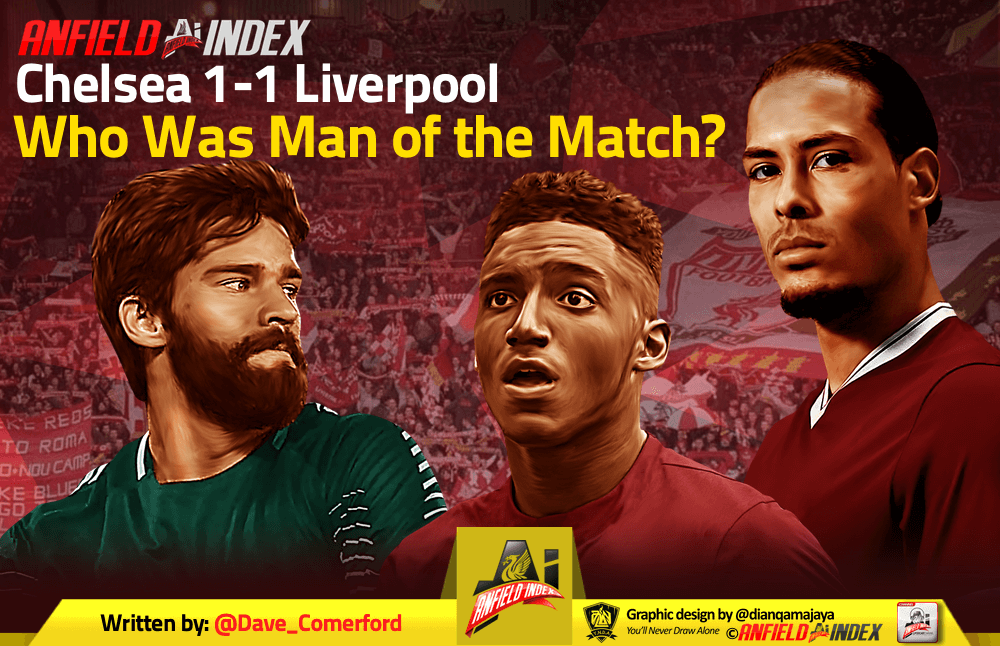 Chelsea 1-1 Liverpool: Who Was Man of the Match For Liverpool?
After a series of glorious opportunities went begging, it was beginning to seem that it would simply not be Liverpool's day at Stamford Bridge, only for Daniel Sturridge to single-handedly stave off the agony of an impending defeat and spark celebrations befitting of a victory.
From Eden Hazard's opener onwards, Liverpool were, without doubt, the better side, but they could not claim to have deserved anything more than a loss given their own wastefulness.
The Reds needed their front three to go up a gear if they were to come out on top against their title rivals, but they failed to make their mark.

Mohamed Salah fluffed his lines when attempting the kind of curling efforts which were so devastating at times last season and, though he looked to be playing with a great deal of pressure on his shoulders, he very nearly scored a brilliant individual goal after shrugging off Marcos Alonso and rounding Kepa Arrizabalaga, only to be denied by a clearance off the line.
Salah was hooked on 65 minutes but was arguably the best performer in the starting frontline. Roberto Firmino was some way from his glorious best, even if he too came within a fraction of equalising when his downward header was cleared by David Luiz.
Mane, meanwhile, very nearly squeezed one past Kepa after brilliantly fashioning room for a shot, but that would prove the clear highlight of an otherwise frustrating 90 minutes. He started the season in sizzling form, but his level has dropped of late.
In some ways, they were bailed out by Sturridge's magical goal of the season contender, which in itself was nearly enough to earn man of the match. It was the Englishman's fourth goal in seven appearances, emphatically confirming that he is indeed back from the brink.
Behind the attackers, Liverpool's midfield three failed to hit their customary big-game heights. Jordan Henderson allowed play to become frustratingly pedestrian at times, lacked ambition and wasn't strong enough in the tackle, while James Milner's display lacked precision for all his unwavering endeavour.
A fifth clean sheet eluded the Reds but their defensive core was superb. While Trent Alexander-Arnold and Andrew Robertson were caught out too often when they ventured forward, central duo Virgil van Dijk and Joe Gomez were as rock-solid as ever.
Van Dijk, after limited training remember, was a colossus and masterfully nullified the aerial threat of Olivier Giroud, which of course is no mean feat. He sets an impeccable example for his fellow defenders and is more than worthy of the captain's armband he donned when Milner was taken off.
This was a world-class performance from the Dutchman and the numbers support that. Five victories in aerial duels, two tackles, two interceptions, two blocks and a whopping eight clearances. Throw a passing accuracy of 85% into the mix, and you've a complete performance from a complete defender.
Gomez too deserves some individual credit, having worked effectively with his partner to repeatedly close off attackers and usher the ball back to Alisson. With pace and strength in abundance, the 21-year-old is capable of becoming a great in this era of game.
I'm going to give the man of the match, though, to the heroic Alisson.
In justifying this, it's important to, first of all, address his failure to keep out Hazard's opener. Yes, he perhaps could have got down quickly to make the save to his left, but equally, it would have been a sensational stop, and a slight bounce on its way goalwards did him no favours.
For a goalkeeper, the margins between a supposed error and a wonder save are extremely narrow.
Besides, the Brazilian more than redeemed himself, delivering perhaps his best performance yet in a Liverpool shirt.
The best way to appreciate a player's importance is to consider the picture without them. Had Simon Mignolet or Loris Karius been in goal today, Liverpool might well have lost this crucial game. That's not to say they're poor goalkeepers – they're better than many give them credit for – but throughout their Anfield careers they have lacked the points-winning capacity of a top-drawer stopper.
When Liverpool were opened up, Alisson made the goal seem as small as possible, spreading himself to first smother Willian's effort and, later in the game, deny Hazard with his legs. It was last-ditch brilliance. The kind of brilliance, in fact, which is worth paying very big money for.
In the end, Sturridge was Liverpool's saviour, but his effort would have counted for nothing had Alisson not come to his side's rescue on three occasions, having also spared Gini Wijnaldum's blushes by beating Morata to the ball and clearing after a near-suicidal back pass.
Alisson's distributive success was not as high as usual, but crucially for Liverpool, he has learned to punt the ball downfield when necessary rather than linger and risk being disastrously dispossessed.
Every goalkeeper makes mistakes, but we can be quite confident, on the evidence of the last few games, that there will be no repeat of his howler against Leicester. His response has been excellent.
At no point, has he lost any self-belief. Finally, the man between the sticks oozes, and inspires, confidence rather than generating constant anxiety. It is a massive relief.
In sum, this draw, away at one of Liverpool's two realistic title rivals, was huge. They are no longer top of the pile but, as on numerous occasions this season, they found a way to get a good result, which is the undisputed mark of champions.
The immense quality of both of those rivals means the battle will likely come down to fractions. Alisson, in combination with Sturridge, won Liverpool a big point today, and he's on course to earn his side many more before the season is out.