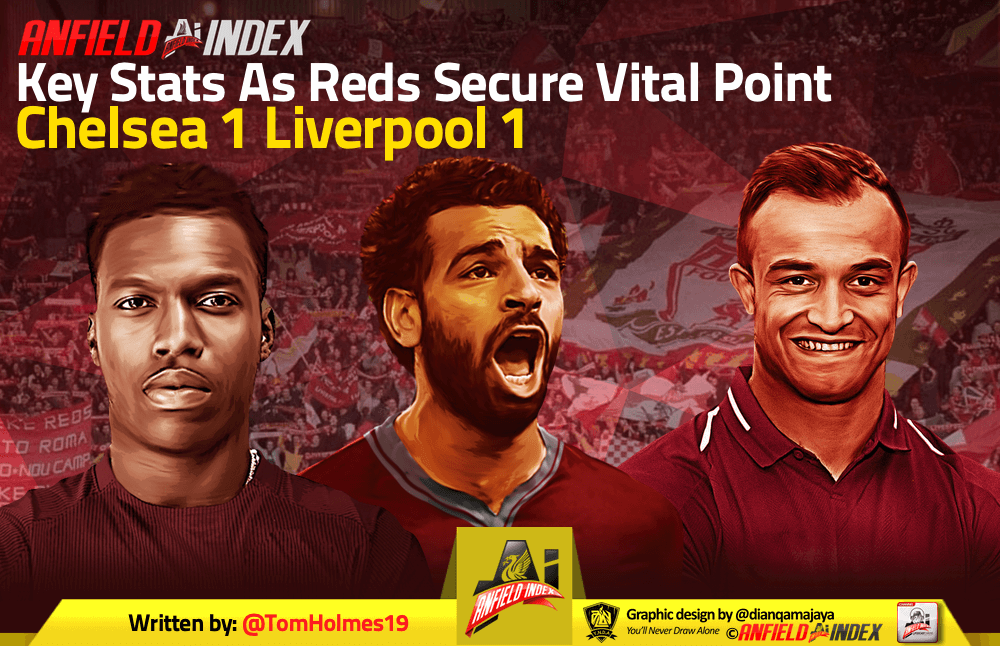 Key Stats As Reds Secure Vital Point - Chelsea 1 Liverpool 1
Liverpool and Chelsea played out one of the best games of football of the season so far in a pulsating 1-1 draw at Stamford Bridge. But what were the key stats as the Reds snatched what might be a vital point in the title race?
Sturridge Strikes Again
Goals are something that elite strikers trade in. Sturridge's injuries may have prevented him from ever becoming the truly elite striker he could have been, but he's still absolutely trading in goals. Sturridge has scored four goals already across all competitions this season, starting just two games and coming off the bench in another four. Having clocked only 187 minutes in all comps, that's a ratio of one goal every 47 minutes.
And that's something that he's done through his Liverpool career. Sturridge scored his 50th Premier League goal for the Reds tonight, in just his 103rd appearance, starting just 67 games across the six and a bit seasons he's played for the club. That's a ratio of a goal every 126 minutes, which is absolutely explosive. That's the first goal outside the box he's scored in four and a half years too, with his 0.02 xG strike the lowest effort Liverpool had all game. What a goal.

Wasteful Reds Not Punished
Liverpool weren't punished for their missed chances in the end, but equally neither were their opponents. Both teams missed the three big chances that they created in the game – with Liverpool's xG 1.73 and Chelsea's 1.58, both comfortably higher than their end product.
The biggest perpetrator was Mo Salah, who missed 0.65 xG from his four shots, including the game's biggest chance at 0.52 xG. It's been a very frustrating season so far for Salah, who was pulled three-quarters of the way through the game only to watch his replacement Xherdan Shaqiri also miss a big chance. Salah has converted just 10% of his shots this season compared to 22% last and has scored just three goals from his league-high 5.74 xG – a conversion rate of 0.52 goals per expected goal compared to 1.27 last season. There's no doubt that Mo will come good, but it's frustrating that he keeps missing golden opportunities.
Defensively, this was Liverpool's worst performance statistically of the season and the first time that they've conceded over one expected goal, but then Chelsea were certainly a magnitude above any other opposition that we've faced.
What A Start
Liverpool's best start in Premier League history continued, as they moved on to 19 points from seven games, something they've not done before in the PL era. It's two points better than Rafa's best season – 17 points in 08/09 which is their joint previous best effort along with 96/97. It's also three points better than their own start under Klopp in 16/17 and than the title challenge under Rodgers in 13/14.
In terms of away from, particularly against the top six, this was a big step up from Liverpool on last year. As mentioned before, they secured just one point against the top six away last year, and have improved on their 1-0 defeat at the Bridge last season too. In general, away, the Reds look much better. They won just one of their first five away games last season, with five points from those first five away games. The Reds have already accrued ten points away from Anfield in this campaign. The big one next up in the league, but at least we're back at Anfield for that.