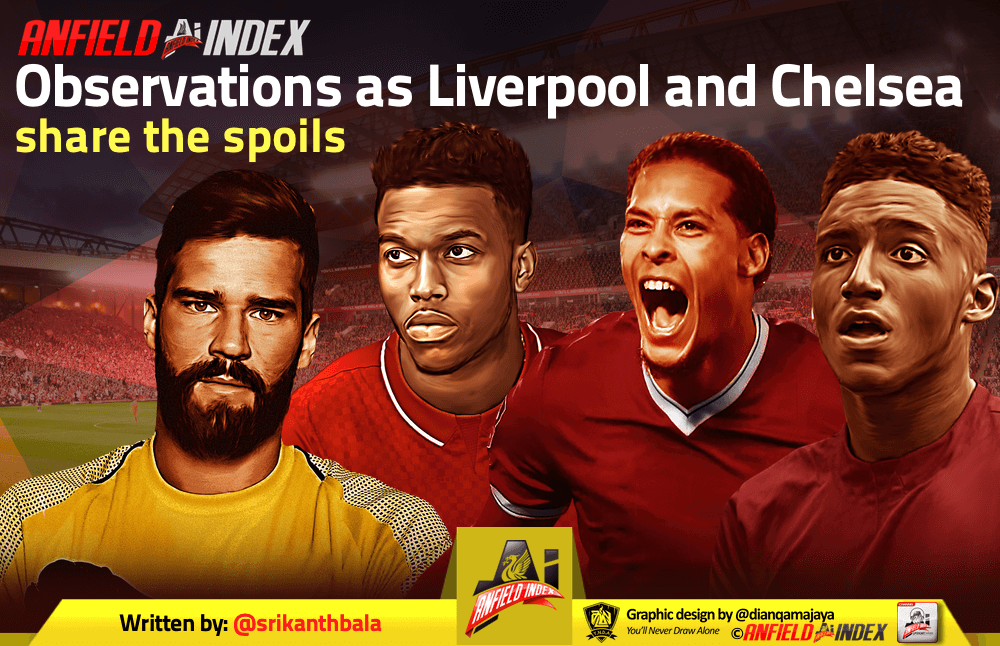 Observations as Liverpool and Chelsea share the spoils
Liverpool, courtesy of a wonder strike from Sturridge late on, rescued a point at the Bridge, a point they deserved considering the display put in. Going by the performance of Chelsea, not many teams would get points at Chelsea, so this could be a big point as the season progresses.
The key observations from this high-quality game
Alisson saves the blushes
This game had the two costliest goalkeepers in the world at either end of the field, and both of them had a part to play in the end result. Alisson saved Liverpool on multiple occasions with his agility in coming off the line. His saves of Hazard and Willian kept Liverpool in the hunt. His distribution was top class as usual. This looks an investment that is more than likely to pay off.

Solid Centre-back pairing return
After the mid-week fiasco, Liverpool had Van Dijk and Gomez back on the pitch, and the difference immediately showed. VVD ensured that Giroud was a non-presence and they managed to restrict the threat of Hazard. Their huge chase and double tackle is sure to be remembered by fans in the days ahead. Though Gomez had a momentary lapse of concentration late on, Liverpool were fortunate not to be punished.
Changes change the game
Klopp used all the 3 substitutions he had, and on this occasion, every move paid off in hindsight. Shaqiri had an immediate impact and should have scored if he had backed his power instead of precision. Keita allowed Liverpool to gain control in midfield and his ability to carry the ball pushed the Chelsea midfield back. Sturridge had 5 minutes of normal time to make an impact, and he did create an impact ! . Unreal how much squad depth Liverpool have developed in the last 2 seasons.
50 for Sturridge
Sturridge scored his 50th Premier League goal for Liverpool and he couldn't have chosen a better time. Sturridge backed his skills to score an absolute screamer in the dying moments of the game. Sturridge did not celebrate this time around, but the relief on the faces of the players and fans underscored how big a goal this was. He seems to be as fit as one can remember and surely is a viable alternative in games.
Mis-firing front 3
It is a surprise Liverpool are where they are in the table considering how much the famed attacking trident has struggled. Salah had one of his worst games in living memory as he seemed to be playing in slow motion. He repeatedly lost possession while trying to carry the ball and nothing he tried seemed to come off. Mane, bar one chance struggled to have any impact on the game. Firmino, as usual, worked hard but without any quality in end product. A forgettable game for the trio. The next 2 games are huge for Liverpool and this is the time we need the famous three to stand up.