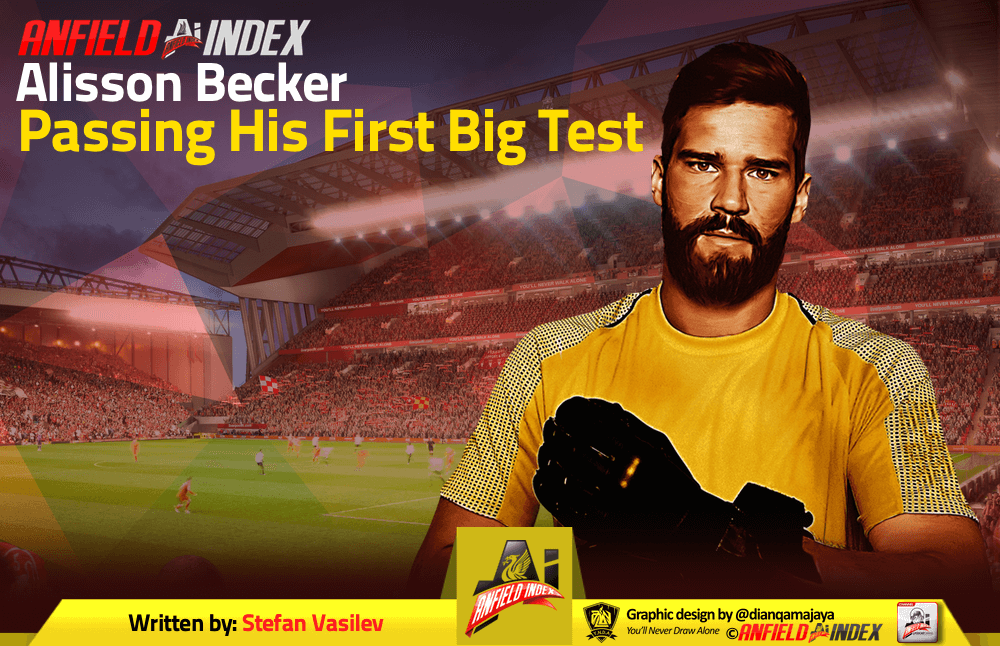 Alisson Becker - Passing His First Big Test
Daniel Sturridge has rightfully gotten most of the attention after the nail-biting finale of the clash against Chelsea at Stamford Bridge – what a strike that was. One the best compliments for that shot would be that even Alisson couldn't have saved it. Liverpool's new Brazilian keeper didn't have a whole lot to do in terms of saves this season up until Saturday evening – most of the accurate shots towards Alisson's goal were of bad quality, after all shot on target with the highest xG the Reds have faced so far this campaign was of the briefly most expensive keeper's making. The graph below illustrates how exceptional the Brazilian's early Anfield career has been: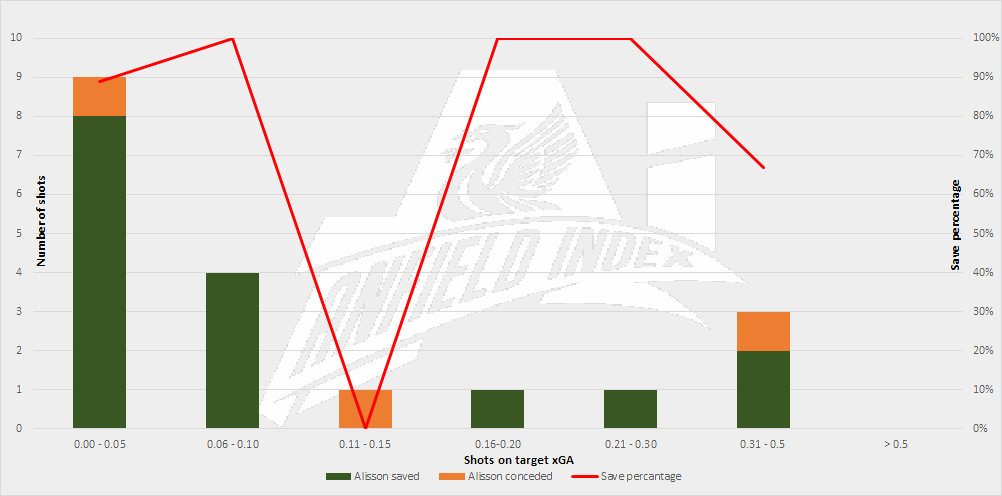 The Reds' number one (well 13) is leading the league in save percentage at 84% (16 saved from 19 total on target). He has also prevented 74% of xGA on target from becoming a goal without saving a penalty (1.62 saved from 2.18 total xGA on target). All goalies that are doing better than him in that regard have saved at least one spot kick. Chelsea managed to produce three of the six shots on target with xG higher than 0.10 on Saturday – Alisson saved two of them and you can't blame him for the one he conceded.

On a related note, the graph shows the massive improvement in LFC's defence since the start of last season. Simon Mignolet started the 2017/2018 campaign, in 19 games the average xGA on target he faced was 0.24, Loris Karius finished the year having to save shots with an average xGA of 0.176. With van Dijk and Joe Gomez in front of him, Alisson has had a way easier job in 2018/2019 – 0.115 xGA/shot on target. The schedule the Brazilian has faced wasn't easy either – two of the toughest away games in the fixture list are already behind him. If the current trend continues the improvement will be 50% in less than a year.
Of course, shot stopping isn't the only reason Liverpool paid a world record fee for Alisson. We have already seen the good and the bad from his footwork. Watching the Brazilian after that mistake it looks like he has learned from it and now he simply boots the ball more often. The numbers confirm that – only 30% of the goalie's passes were long up until the Leicester match after the error 40% of his passes are long and the accuracy has gone from 66% to 44%. The opponents the Reds have faced since most likely affect the numbers, with Chelsea and Spurs bound to press more, but still, it's a big change and I expect the numbers to stabilise in the middle between the two extremes.
The Brazil number one has faced close to a hundred crosses in the league so far and has looked solid when dealing with them. As we all painfully know both Karius and Mignolet were less than convincing when they had to punch or claim crosses – their decision making is not very good. Alisson, on the other hand, seems composed and works in cohesion with the Dutch aerial giant protecting LFC's box. Overall there really isn't room for comparison in any aspect of goalkeeping between Liverpool's three senior keepers under contract. It doesn't matter if you look at numbers or just simply trust the eye test – this season has seen a massive improvement.
Numbers in football don't tell the whole story. And while Alisson's statistical output is impressive so far his biggest impact can't be measured in a spreadsheet – the defence and midfield trust the goalkeeper again. Sometimes maybe even too much and play questionable back passes to him – I think it was Gini who did it against Chelsea. It's been over a decade since the supporters watched an LFC defensive line, in which each player has full confidence in the lad playing beside him. It all starts with the goalie. Alisson has settled in perfectly, he came in with a huge price tag and extremely high expectations – I don't think the Brazilian could have hoped for a better start to his Liverpool career.