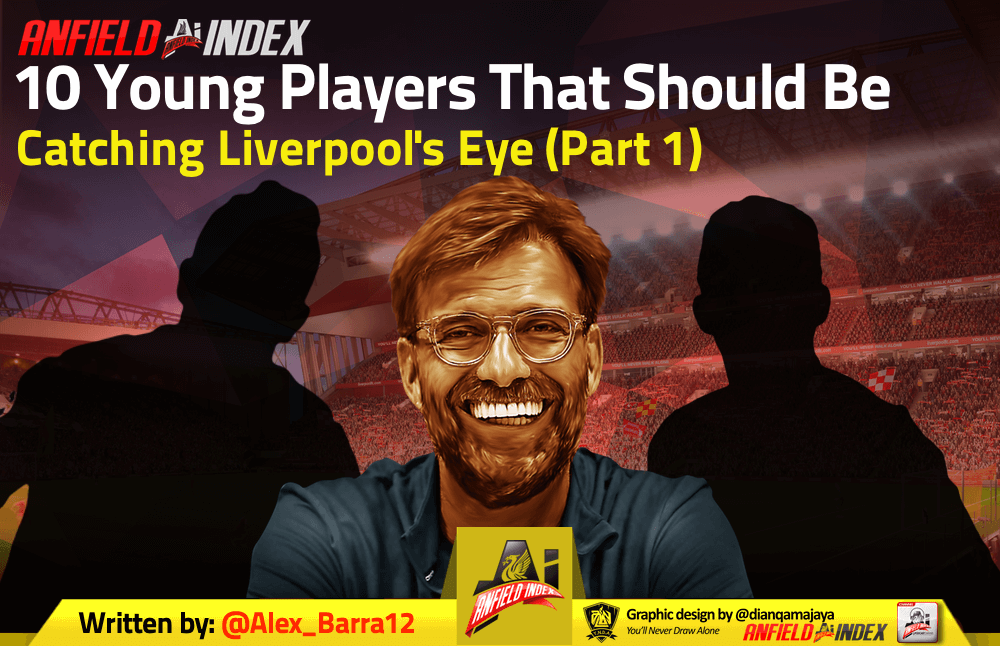 10 Young Players That Should Be Catching Liverpool's Eye (Part 1)
Liverpool may well be on their best start to a Premier League season, but the world never stops looking forward, especially the world of football.
So, with fans always on the hunt for the next big thing, here are five players under the age of 21 who've been making waves all over Europe, and who should be catching the eye of the scouting department at Melwood.
*Note: Christian Pulisic and Leon Bailey are not part of this list, given they've both been mentioned heavily alongside Liverpool's names in past transfer windows. They have obviously already caught Michael Edwards' eye.

Kai Havertz
Germany's latest wonder-kid has seen his fair share of attention lately. Coming off an exceptional second season in the limelight, Havertz has become more than simply "a potential star" – he's become a focal point to Leverkusen's lineup.
Alongside Leon Bailey and Julian Brandt, he's shone a spotlight on the lethal contingent of young players Leverkusen are currently bringing through and delivering on the promise he showed as a 17-year old when he first began enticing viewers. Heiko Herrlich has experimented with him, ensuring Havertz is kept to central areas and strives to get in behind the opposition's midfield, able to pick up the ball and make defenders panic as they wonder whether he'll try to dribble past them or lay it off to one of those aforementioned wide players, making a late run into the box in the process.
When deployed as a more reserved central midfielder in a two, Leverkusen suffered. He was positionally unable to adapt and couldn't cope with the defensive duty of screening the defence, so he was returned his natural role as the #10. Low and behold, it worked a treat.
Havertz is a special kind of talent, he's already scored once and assisted once in six Bundesliga appearances, and he's only going to get better. In a team that likes to move the ball quickly in and around the 18-year box, Havertz thrives. Big clubs will start calling if they haven't already: Liverpool ought to be one of them.
You can hear more about Kai Havertz (and others) on episode one of the rebooted Anfield Index Committee Podcast, found here (Or on the AI App!)
Ismaila Sarr
Alright, let's get it out of the way now. Yes, Ismaila Sarr's career path and outrageous ability are exceedingly similar to that of his predecessor: Ousmane Dembele. But should one dig deeper, they'd find a few differences too, and a hell of a player ready to deliver on the biggest stages.
An explosive winger who can glide past a player with a single touch and burst of sheer speed, Sarr has been subjected to claims of inconsistency and tendency to disappear, yet when his side needed him most, he was there to drag them out of the mire. His performances were paramount to Metz's unlikely escape from relegation when Sarr was 18 years of age, and his similarly talismanic performances have drawn eyes during his time at Rennes.
He's a ball-carrier when he's at his best, able to drag an entire team up with him – so long as they can keep up – and he's adapted to become less of an outright winger and more of a wide forward: his starting position differs from Ousmane Dembele: he's previously professed that he enjoys playing up front more than out wide. In the current Rennes setup, he's able to play anywhere across the front three, but will likely always try to collect the ball centrally and take on defenders from there.
He needs to work on his finishing and needs to show up more often, but if he does, then he'll be a weapon few teams can pass up.
Santiago Ascacibar
With Javier Mascherano now firmly in the twilight of his career, Argentina's rich history at the #5 position (or #6 in European parlance) seems certain to continue with the rise to prominence of Santiago Ascacibar.
The Stuttgart midfielder arrived as a twenty-year-old at Stuttgart upon their return to the Bundesliga, and hardly put a foot wrong all season. He's averaged 3.1 tackles per game over the last two seasons – one in Germany and one for his former club Estudiantes in Argentina – and is currently averaging 3.3 this season. While that is impressive – more than any Liverpool midfielder made last season and nearly at Fabinho's level for Monaco – it's his composure and sturdiness that makes the young Argentinian stand out as a future anchor for La Albiceleste, and as a star talent in the making.
He's rarely flustered, is able to control midfield through calm and stable passing (often more progressive than a midfielder of his age and style ought to be) and it seems almost certain that he's destined to play at the base of a much more expansive, possession-based midfield than he currently occupies in Stuttgart. Still, they won't be in any rush to lose him, given he's played every minute for the side that only just won their first game on the weekend.
Houssem Aouar
Liverpool's failed pursuit of Nabil Fekir stands out as a rare sore point of their business in the summer, yet some redemption may be had should they look towards Fekir's successor sometime in the future: Houssem Aouar.
A man described by Lyon's perennially eccentric owner Jean-Michel Aulas as "My Messi" before he even completed his first full season at Lyon, the playmaker has been excelling under Bruno Genesio. Initially brought three as a wide attacker who would create for his two counterparts in the forward line and look to feed it through to the late arriving midfielder (that'd be Nabil Fekir), Aouar has since seen himself drop deeper, able to collect the ball and dribble through the opposition at will. He's creative in tight situations – able to play intricate one-two's and constantly attempt the audacious, and there can be no denying the 20-year old's skill.
A complaint levelled at him in his breakout season was his lack of real numbers to back up the talent, something which he's addressed during 2018: he finished last season strongly and begun where he left off, even scoring the first goal in Lyon's win against Marseille last weekend. His more retreated role as a genuine midfielder has seen him become a fulcrum in the way Lyon counter attack – he's often the recipient of the first ball out from the back and the one who delivers to the front line as they go on their way.
He's going to be quite something indeed.
Breel Embolo
Once the would-be shining light of Swiss football, it's fair to say Breel Embolo has been unlucky in his fledgeling career thus far.
A move to Schalke looked like an excellent choice but was derailed with two severe injuries that saw him miss out on eleven months of football. Fast forward to today, and he's finally getting the chance to blossom under Domenico Tedesco – only for his side to be a shell of the one that finished the Bundesliga in second place last season – currently sitting second bottom.
If they are to turn it around, then the Swiss forward will be key. Bulky, quick, and with a knack of getting in excellent positions in behind the defence, Embolo is the kind of striker-winger hybrid that modern football loves. He's scored one of Schalke's three goals this season and is usually deployed either at centre-forward or on the right-hand side, with license to become a second striker.
He needs to be better creatively and needs to string together a season of more than ten starts (he's yet to do that so far), but all the ingredients are there. Fitness permitting, it's about time he explodes onto the scene.
(Stay tuned for Part 2 for five more young players currently catching the eye.)