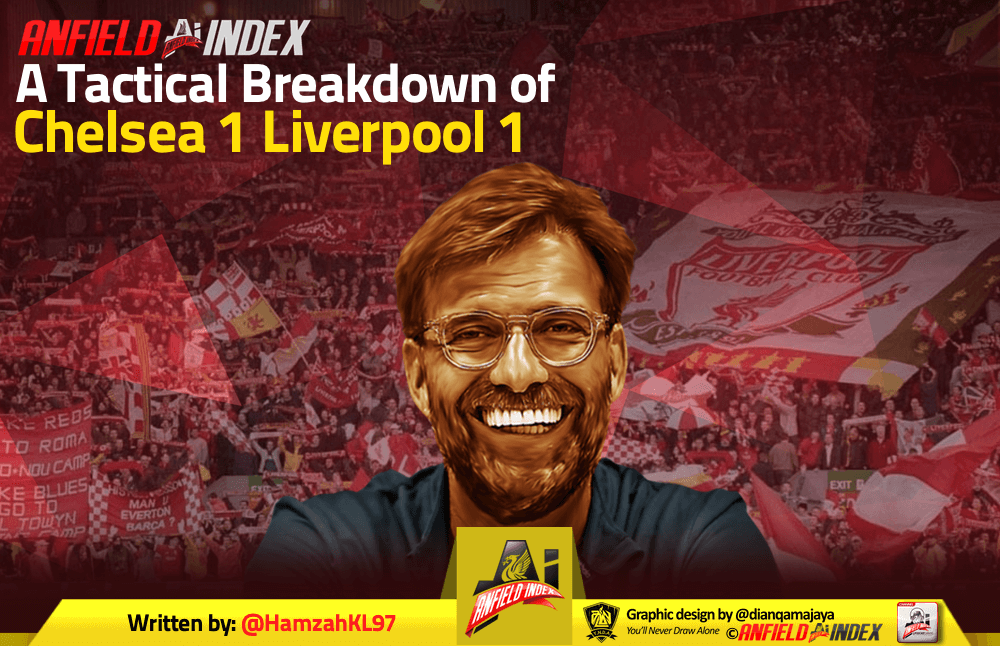 Chelsea 1 Liverpool 1: A Tactical Breakdown
First of all, an apology from myself. I'm awfully sorry I haven't been able to discuss perhaps two of the most exciting games of the season – LFC vs. Spurs and LFC vs. PSG, as unfortunately, I have been without WiFi for the past two weeks. To make up for that, this is a short but special Tactical Breakdown edition, looking at both the Chelsea League Cup and Premier League games.
The League Cup fixture between Liverpool and Chelsea was one amidst a supremely challenging run-in, but also one preceding a mouthwatering tactical tete-a-tete between the very same sides. What this fixture really was though was an opportunity for both sides to scout one another and for Liverpool to continue their perfect start to the season and for Chelsea an opportunity to regain lost momentum, having drawn at the weekend.
Chelsea started brightly, and with their midfield quality, to some extent that would be expected.

Early on, it was clear that the Chelsea midfield was built around utilising Fabregas within his no.6 role to the fullest extent. Daniel Sturridge as the centre-forward was caught in two minds, whether to press the centre-backs outright, or whether to allow them to keep the ball and cover Fabregas.
Chelsea created a midfield overload through having Willian drop deeper. In doing so, he would enter the halfspace and attract Milner or Fabinho. The presence of Kovacic and Barkley as the two centre midfielders ahead of Fabregas meant that Chelsea had a 4 vs 3 in midfield. Furthermore, in order to get the ball into Fabregas, the Chelsea CBs would split as a typical possession-orientated side does, and the fullbacks positioned themselves extremely wide. As the fullbacks took those positions, the Liverpool wingers were unable to block or at least discourage passes into them whilst also pressuring the CBs.
The Premier League game was similar in some respects, but for whilst Liverpool could not seem to get their pressing right with their second XI, at least for the first half, the first team are far more drilled and capable of taking on a possession side.
Liverpool worked their early chances through the right channel. Salah's chance early on came from a pass from Gomez, into Alexander-Arnold. Firmino pulled across Luiz and in doing so, with the pass, generated a one on one opportunity – as Salah broke past Rudiger but didn't hit the target. Liverpool generating chances but not quite having the finishing touch was the story of both the first and second halves, but Hazard's goal to take the lead was the result of some fantastic build-up play from Chelsea.
As Chelsea did in the League Cup match, a winger – this time Hazard – dropped deep to create a numerical superiority in midfield. Luiz passes into him, and he carries Alexander-Arnold with him. His pass goes into Kovacic who is pressed by Henderson. However, Liverpool lack pressure on Jorginho, as Firmino is still making his way back, as is Milner who tried to press the CB, Luiz. From there, it's a superb pass into Hazard from Jorginho, who finishes extremely well.
For Chelsea, their gameplan was well suited to playing against Liverpool. As Liverpool attempted to counter press, they would force the ball into an area with lots of space e.g. to the CBs. As Liverpool pushed up accordingly, the ball is fizzed into a CM who plays a quick pass, allowing them to attempt to break. Sometimes, when the CBs were pressed, Chelsea would look to pass into their fullbacks, who would also try to do the same thing. That's not to say the press did not work – far from it, instead it looked as if Liverpool were largely willing to allow the Chelsea CBs to have possession, but instead cut the passing lanes into the midfield – specifically Jorginho, and the number of passes that he received and made were both far fewer than his league average this season.
For Liverpool though, the issue stemmed from two particular aspects: the long passing ability of the CBs which allowed them to bypass the press, and the technical ability of the Chelsea midfield which allowed them to play through the press on occasion.
Liverpool also allowed Chelsea to settle into their defensive shape too easily, but for all of this, Liverpool still manufactured multiple key chances, of good quality too. Chelsea's ability to break later on in the match though was a consequence of them scoring and Liverpool committing to a more offensive structure in order to score. The work of Alisson, Van Dijk and Gomez, in particular, was key, as they performed extremely well when exposed in extremely challenging situations, illustrating why Klopp needs a particular profile of CB and GK, as on occasion they may need to cover half a pitch themselves.
In sum, this was an absolutely fascinating watch from a tactical perspective but had Liverpool performed slightly better with their finishing, they could have well avoided being in such a precarious position prior to Sturridge's marvellous goal. The addition of Naby Keïta added some forward impetus which seemed to be lacking, as Liverpool tried to push on, and perhaps against Manchester City, Keïta's inclusion would give Liverpool a far greater chance when in possession, however, as the disparity between the League Cup and Premier League matches illustrated, the off-ball pressing is of paramount importance when playing a skilled possession-based side, and so it's probably likely that Keïta will start on the bench. Sturridge though, in both the PSG games and the Chelsea fixtures has staked his claim to a position in the starting lineup – perhaps Manchester City is not quite the right match for switching to a system with two centre-forwards, but beyond that, playing both Firmino and Sturridge should very much be a genuine consideration for Klopp, especially against low block sides.
For now, though, it's another point for Liverpool, and one which fans should, in fairness, be content with – Liverpool's unbeaten league streak continues, but the Manchester City fixture – just like last season has the capacity to either boost or severely set back one side or the other.