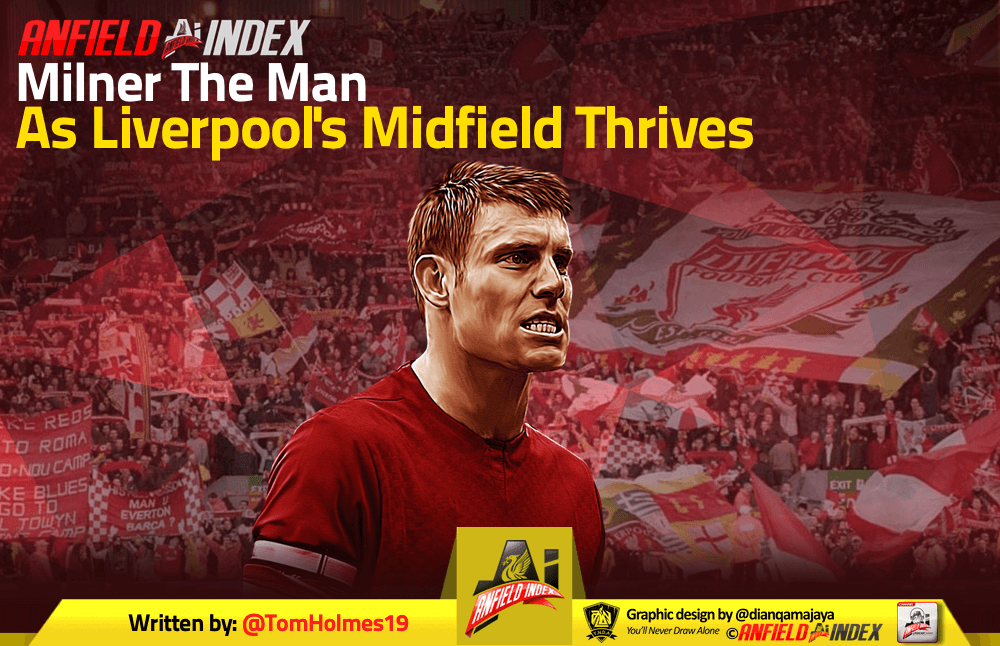 Milner The Man As Liverpool's Midfield Thrives
When Liverpool bought Fabinho this summer, to accompany the already arriving Naby Keita, there was an expectation that the two would be an absolutely tour de force in Liverpool's midfield. And whilst there is ample evidence to suggest that that will be the case when the two work their way into starting regularly for Liverpool, it's been a different pairing that have staked their claim so far this season – James Milner and Gini Wijnaldum.
It's fitting that I'm writing this article on the same night that Liverpool face Napoli (Editors note: written before the game!), because both were instrumental parts of Liverpool's 5-0 win over the same opposition in their penultimate pre-season friendly, a game that for me cemented the two's standing as first choice, even before their strong start to the season.
Now my comrade Alex Barilaro has already written a brilliant article on Gini Wijnaldum, and we've discussed him at length as a result, so I wanted to weigh in on the other half of that equation, the phenomenal James Milner, a player who continues to roll back the years.

Milner is quickly becoming an integral part of this Liverpool side, and particularly when he plays alongside Wijnaldum, you can see the impetus that he brings to the table. His energy and dynamism are hugely important to Klopp, and his running numbers stand out, having topped 12km in five of Liverpool's six opening games.
Defensive stats are in general not necessarily useful, but you don't need numbers to see that Milner is a key cog in Liverpool's defensive system. His pressing has been very strong so far this season, and it's been that pressing high up the field that has contributed to Milner's numbers being so strong overall.
And Milner is as such, extremely vital in transition. The fact that he's good at winning the ball back, but also doing well with the ball, and as such he's one of the most progressive midfielders in the Premier League, as this brilliant work from Statsbomb shows.
But what Milner has done the most that is essential to this Liverpool side, in my opinion, is to add some much-needed creativity from the middle of the park. With Oxlade-Chamberlain, easily Liverpool's most creative midfielder last season, out for the foreseeable future, Liverpool needed someone to add some quality on the ball in the middle of the park, and Milner has become that man.
So far this season, Milner is operating with 1.78 key passes per 90, which is more than any of our regular starters except Mo Salah (2.60) and 0.31 xA per 90, more than anyone except Salah (also 0.31) and Robertson (0.32). He's comfortably our most creative midfielder, with Keita (0.12 xA/90 and 0.72 KP/90) the closest.
So at the moment, a lot of pressure is on Milner to link the midfield and attack, a role that he's performing well. That pressure only mounts when playing alongside Wijnaldum and Henderson, who have created just 0.21 expected assists between them all season, which is perhaps why the midfield looks more balanced when Keita joins Wijnaldum and Milner.
Of course, these are just early stages of the season, but Milner was on 0.18 xA/90 last season, which was comfortably more than Henderson and Wijnaldum combined (0.14), so we can see that of that trio, he's the one expected to carry the creative burden. This is partly (but not largely) due to set pieces, which are a big feature of Liverpool's attacking game now, and Milner has delivered quality from dead-ball situations as well.
For me, there's no question that when Milner is fit, he's in the team. There is almost nobody in the team who works harder than he does, there's no question that he's both a useful defensive player to have, and a solid part of the offensive unit, and for me he adds more balance to the midfield in the attacking midfield position than Wijnaldum, although the latter has been excellent in the deeper role. I think Keita and Milner are looking quite well balanced, and it'll be interesting to see how the midfield functions as Fabinho gets more game time. Personally, I'd bet on Milner getting more game time than a lot of people might think, and if that's the sort of thing that interests you, you can get some great online football tips to have a punt yourself.
Overall, there's no denying that this is a huge boost for Liverpool. They're in a situation where they've bought two genuinely class midfield players, and two of the ones that they've already got have raised their level significantly.
Right now, it's no exaggeration to say that James Milner looks like one of the best box to box midfielders in the Premier League, and that just gives Jürgen Klopp and his team even more weapons to their disposal. Which is exactly what they need right now.