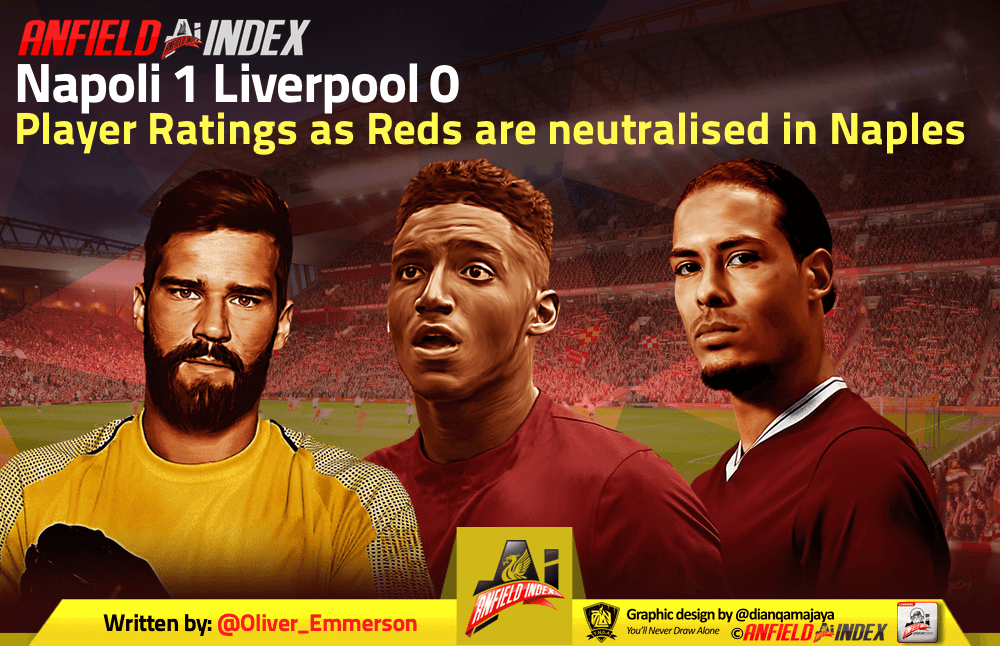 Player Ratings as Reds are neutralised in Naples
Dreadful, absolutely dreadful. Liverpool's worst performance of the season so far rightfully punished with a late Napoli winner.
The Reds were never at the races, with David Ospina not having to make a single save in the home goal.
Onto Sunday, where it has to be better. Here are your ratings.

Three players come away with credit
Alisson Becker (7): Made a couple of really good saves, probably would have been more than 1-0 if not for him. Held a few well, was good on crosses and corners. Can do diddly squat about the goal.
Trent Alexander-Arnold (5): One of his worst games in a Liverpool kit, nice and fresh for Leroy Sane on Sunday. Made up for it to some extent with a goal-saving tackle just after the hour mark, not enough to bring him back up to a six.
Joe Gomez (8): Terrific at the back, barely put a foot wrong all evening and showed great composure on the ball. One run out from the back, in particular, stood out, where he brushed aside Napoli players as if they were toddlers poking him asking for a game of tag. Not to blame for the goal given the quality of Callejon's delivery.
Virgil van Dijk (8): Similar to Gomez, the two centre-back's were excellent in Naples and made Napoli's dominance look more comfortable for the Reds than it was as they put out fires constantly. Great little nudge to thwart Insigne just as Mertens hit the bar.
Andy Robertson (5): One of his poorer games for Liverpool too, made some good challenges but let his man get behind in space too much. Didn't cover himself in glory on the goal and was non-existent going forward.
Midfield crisis?
Gini Wijnaldum (6): Started well and faded off, wasn't terrible defensively but didn't do enough to stand up to the challenge Liverpool faced in the second half. Shouldn't be played further forward than the number six role, something he had to do when Keita was forced off.
Naby Keita (N/A): Had started brightly I thought, despite giving the ball away a few times he took up some bright positions and would likely have been Liverpool's main creative outlet had he remained on the pitch.
James Milner (4): Poor once more. That's three games in a row of complete waffle from everyone's favourite utility man. Stupid yellow card, poor in and out of possession. Hoping the City game shakes him back into action.
Attack fail to fire
Mohamed Salah (5): Just not going for him, is it? It's not for a lack of trying, but still. Would you drop him for City? Think I'd be scared to.
Roberto Firmino (5): Poor. Defensively alright but did nothing going forward, again not for a lack of trying yet that can only keep you up front for so long with Daniel Sturridge waiting in the wings.
Sadio Mané (6): Won about a million fouls to relieve pressure which was really good, unfortunately, that was about all he did.
Substitutes
Jordan Henderson (5): Just didn't enjoy watching him play, soz mate. Good first 5 minutes and then just went to pot, was completely bypassed in midfield and completely failed to get Liverpool up the pitch.
Fabinho (N/A): One really good moment where he covered Robertson and whacked the ball into row Z.
Daniel Sturridge (N/A): Reckon he'd be nailed on for a start on Sunday if Liverpool were playing anyone but Man City.