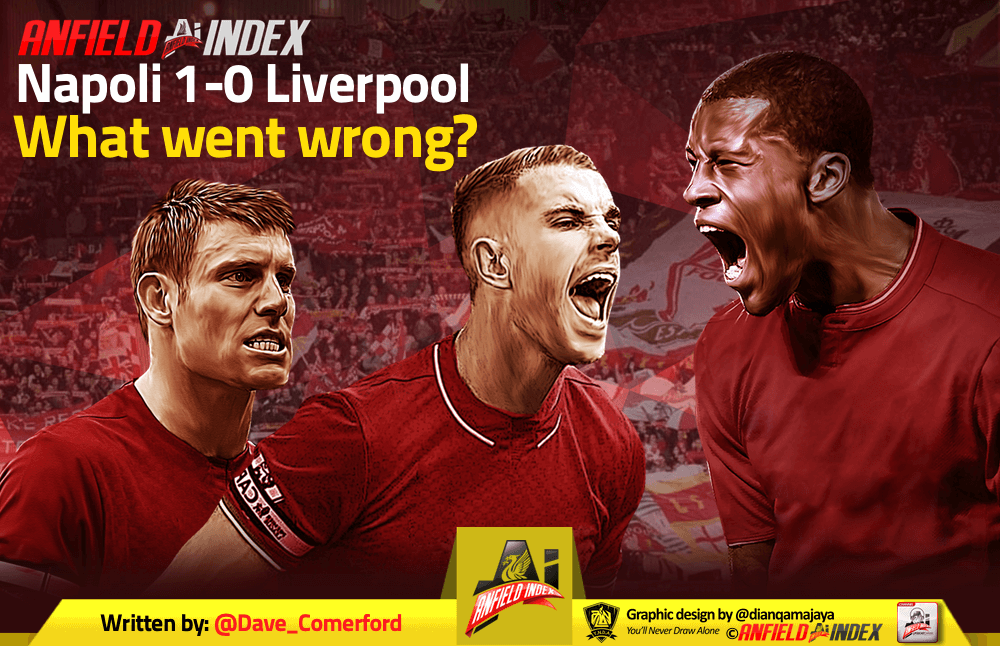 Napoli 1-0 Liverpool: What went wrong?
In light of Liverpool's first truly meaningful loss of the season, perspective is important. The Reds are joint-top of the Premier League and are still well-placed to progress to the Champions League knockouts with back-to-back games against relative minnows Red Star to come.
Still, the quite shambolic nature of the performance must be recognised. Some will dismiss it as an 'off night', while others may see genuine cause for concern.
Below is an attempted summation of the reasons for a thoroughly deserved defeat.
A poor start sets the tone
Jurgen Klopp was keen to stress in the lead-up to this one that Liverpool were fully-focused and that they did not have one eye on the potentially season-defining clash with Manchester City which looms, but the Reds looked like they were playing for a draw.
From the first whistle, Liverpool's performance failed to tick any of the boxes. It lacked confidence, control, energy, incision and all the other essentials. Fans were left waiting for their almost unrecognisable side to wake up.
The half-time whistle, then, came as a relief. Surely Klopp would give his players a proverbial kick up the backside and, as a result, they would play with significantly more desire in the second half?
As it turned out, they did not raise their game at all. Aside from the odd thirty-second spell of pressure, they failed to cause any problems for Napoli or, in a more general sense, give the travelling supporters anything to shout about.
Liverpool seemingly decided to settle for a point, and that is precisely why they didn't deserve one.
Midfield absent
With the dynamic Naby Keita drafted in for a European debut, the team sheet certainly made for exciting viewing. Keita figured prominently in the early stages without really impressing, but with hindsight his 19th-minute withdrawal was a real blow.
Liverpool were in desperate need of a player who would grab the game by the scruff of the neck and function as the intermediary between midfield and attack whilst also harassing the opposition.
The trademark intensity was missing in Keita's absence as Napoli were allowed to stroke the ball around and look for an opening. Jordan Henderson, James Milner and Georginio Wijnaldum, who usually approach big European fixtures with brilliant aggression, were a tame second best in the midfield battle and failed to provide the front three with any real service.
With Keita injured, the onus was on Wijnaldum to link play, but whether through lack of ambition or licence, he couldn't.
Simply put, the midfield didn't do its job.
Needed spark watches on
This flat performance patently needed an injection of life, but renowned firecracker Xherdan Shaqiri was left watching from the substitutes' bench.
Shaqiri's cameo at Stamford Bridge was uninspiring, but in earlier appearances he had dazzled, showcasing the kind of creativity and ingenuity which Liverpool were sorely lacking. The substitution seemed a no-brainer.
Klopp waited until the 76th minute to make his first change, and even then he opted to introduce Fabinho, signalling his intention to hang on rather than actively go for victory.
Daniel Sturridge, scorer of one the best goals in the club's recent history last time out, would not get his chance for another ten minutes, and predictably there was too little time for him to make any impact.
This was without a doubt one of the poorer managerial performances of Klopp's tenure.
Even the team selection, however exciting, could be questioned. Perhaps he should have made changes for the middle leg of a gruelling triple-header, particularly given that Liverpool had spent so long frantically pursuing an equaliser against Chelsea. Fatigue may well have played a part in this lifeless display.
Attack a shadow of former self
As mentioned above, the service into Liverpool's front three was poor, but when they did have the ball they did not possess their usual air of threat.
Mohamed Salah cut a frustrated figure throughout, Roberto Firmino failed to add quality to his endeavour and Sadio Mane's decision-making deserted him as he repeatedly held onto the ball for too long before losing it.
Unlike in recent games, the main issue was not their failure to take their chances, but their failure to carve any out.
Fans are eagerly awaiting the promised moment when the trio come alive, but ten games in it has yet to materialise, and the fluidity has yet to return. It's difficult to put your finger on exactly why, but they will need to hit their former heights soon if Liverpool are to sustain their challenges on the domestic and continental fronts.
Flanked
To its credit, Liverpool's defensive core was reasonably impressive. Joe Gomez shone, Virgil van Dijk led and Alisson made some important saves.
However, the full-backs were less solid. Andrew Robertson was level-headed in his own third for much of the game, but it was down his side that Jose Callejon broke free before putting the ball on a plate for Lorenzo Insigne's winner when the Reds were caught napping.
On the other side, Trent Alexander-Arnold was lucky not to be punished for his numerous errors. On a number of occasions, the 19-year-old was too narrow and a crusading Mario Rui was able to get in behind, very nearly teeing up an opener for Dries Mertens.
All in all, then, only three of the eleven players performed at the level required.
Every team, no matter how good, has bad nights. This was a particularly terrible one for Liverpool, lacklustre in almost every sense. Overall, it remains a strong start to the season despite the failure to come close to full capacity.
To ensure we end on a positive, we can say this: if this is the jolt which awakens the beast, then it will prove nothing more than a soon-to-be-forgotten-blip.