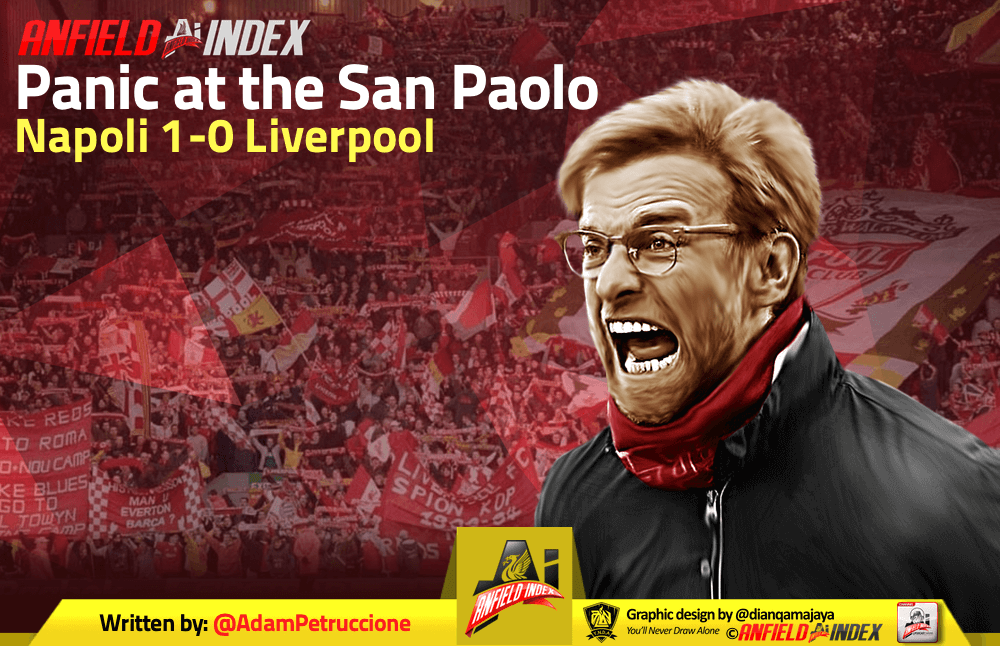 Panic at the San Paolo - Napoli 1-0 Liverpool
Panic! Our once vaunted attack leaves Italy with a whimper. The Ribena has run out for James Milner. Naby Keita left the pitch on a stretcher. Trent and Robbo looked gassed from the beginning. And City awaits…
First Half
All About Naby
Each of the other Champions League ties were full of tricks, flips and goals galore. In Naples, the mood was much different. It's not clear what crop was harvested from the San Paolo pitch prior to kickoff, but it was definitely prepared by farmers.
Naby Keita started off the match with a slew of errant passes, one forcing Van Dijk into recovery mode. Then with the match only 20 minutes old, none of that mattered as Keita was stretchered off, having collapsed to the pitch with a non-contact injury. Either the loss of Keita or the appearance of Henderson cast a pall over the proceedings as things got really negative from there.

Trent picked up where Keita left off, spraying errant balls all over the shop while getting caught out of position time and again. Will he go full Mourinho and blame it on the pitch afterwards?
Mo was being triple-teamed, you know, the old "devil's triangle" defense. But, somehow that didn't leave Mané or Bobby free. Sadio had space to run but was never able to turn it into anything meaningful.
The half ended with only the Reds' centre-backs having performed up to a Champions League standard. Playing away at Napoli, already having beaten PSG, a 0-0 score at the half wasn't a disaster though.
Second Half
Nina Calls It
Liverpool didn't have a shot on target the entire night. They didn't even get a corner until the 66th minute. The Reds were in desperation mode for most of the second half. Trent made a last-ditch tackle, Gomez a goal-line clearance, Alisson some fine saves.
The flat Reds were very fortunate not to have given up the winner on a late Dries Mertens volley from point-blank range. Off the cross-bar it clanged, leaving some of us thinking the Reds might make it out with a point. Some of us, but not Nina Kauser.
I'll be amazed if we don't concede

— Kauser Soze (@NinaKauser) October 3, 2018
After being let off the hook by Mertens, Insigne wasn't feeling quite so generous. He fired home from the left side in the 89th minute, breaking Liverpool hearts. Hello, darkness my old friend…
Napoli had 14 shots to Liverpool's 4 and 20 crosses to Liverpool's 11. The Reds were beaten in nearly every category and nearly came away with a draw. Is that a positive or just lipstick on some very serious problems? Should Klopp have rotated more? Is the squad just gassed despite being statistically less taxed than they were last year at this point?
The growing concern is that we have a serious number of players off form. Milner, Robertson, Trent and Salah at a minimum.

— Rory Greenfield (@RoryGreenfield) October 3, 2018
In Liverpool's last 315 minutes of play, the only man to have found the back of the net is named Daniel Sturridge. Shameful performances from the Reds' normally potent attacking front has left the club winless in their last three, being outscored 4-2 in that stretch. Put that down to form, fitness, friendships, whatever you want, something ain't right.