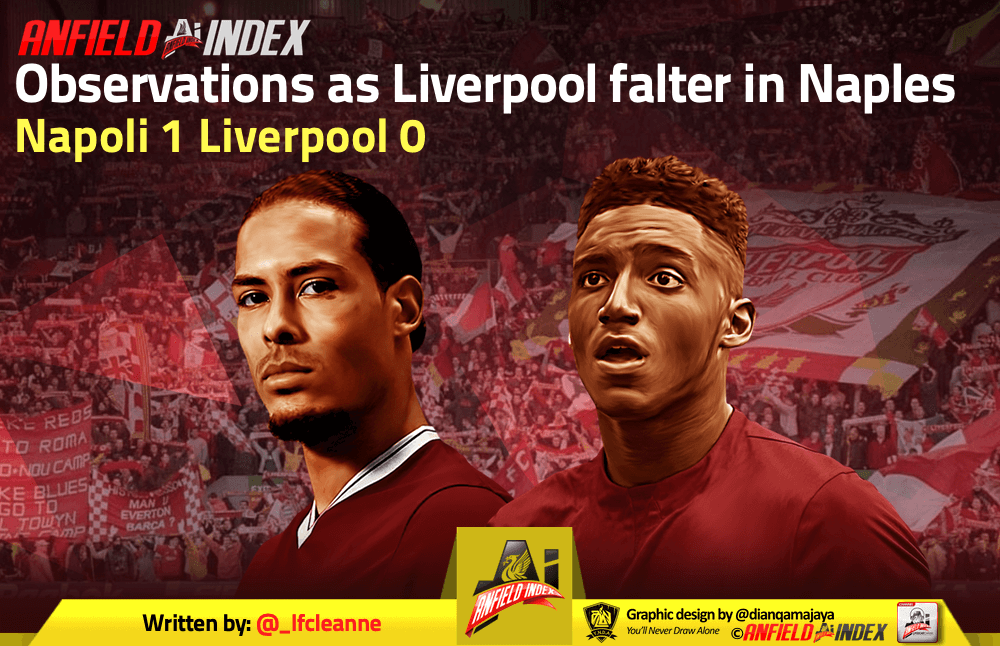 Observations as Liverpool falter in Naples
A team known for its frenetic, attacking football, it was the exact opposite in Italy as Liverpool failed to get out of first gear, stuttering across the pitch to give Napoli all three points in their second Champions League game.
Here are the observations from the match.
Gomez head and shoulders above the pack
It was down to Gomez, Van Dijk and Alisson alone that Liverpool came so close to sneaking out of Italy with an undeserved point. While the midfield lacked any direction, providing little in the way of defensive protection and failing to add creativity to the front three, Joe Gomez put in a resolute performance. Impressing alongside Virgil van Dijk, the young defender hardly put a foot wrong, desperately clearing off the line before Napoli got a thoroughly deserved winner at the death.

Showing good pace to recover from Trent and Robertson – who both had poor evenings, he looked assured in every sense. Another big tick in the box in an impressive season for the former-Chalton man.
Klopp got his tactics wrong
Klopp has got a lot of things right during his tenure as Liverpool boss, but one of the main criticisms he's faced is the failure to make substitutions when the team are showing no momentum. Such was the case here, with Liverpool desperately poor against a Napoli side who wriggled their way through the midfield with ease. Despite the front three failing to click in their usual pattern and James Milner looking like a man whose run himself into the ground, the boss opted to keep things the way they were rather than provide attacking impetus via Daniel Sturridge and Xherdan Shaqiri, both of whom impressed against Chelsea.
Setting up in a defensive minded strategy with a firm idea of grinding out a point before jetting back and preparing for a crunch tie with Manchester City, the lack of attacking drive and creativity was a worry for the Reds and Klopp's failure to change things will only add to concerns.
Of course, the team are still perched at the top of the table without having to get out of second gear so far this season, but this was a reminder that Klopp must be more agile during games in order to change systems that are clearly not working.
A bit more drive and energy was required and the options were there. It's a shame he didn't use them.
Prime-time to bounce back
With Manchester City now on the horizon, The Reds have the perfect opportunity to give an immediate reaction and quieten any critics from a poor display in Naples.
Anything like the performance on show will result in another hefty defeat to Guardiola's men but if Liverpool can replicate the attacking intensity and high press shown against the likes of Paris Saint Germain, they'll continue their impressive start in the Premier League. Win against City and few will be talking about Napoli given ties with Red Star Belgrade still see Klopp's men in a healthy position within the group, but lose and he may find the early optimism begins to fade.