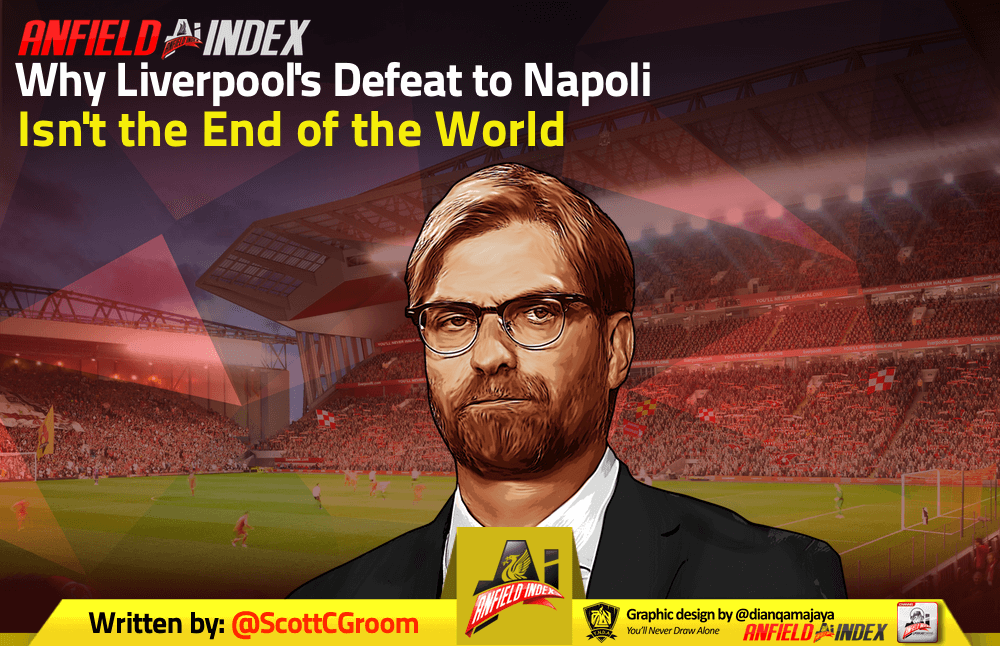 Why Liverpool's Defeat to Napoli Isn't the End of the World
It was always going to come as something of a hammer blow, but Liverpool's first defeat that they really warranted being on the end of this season really does feel rather rubbish.
It's not so much the fact that the Reds lost, but more so the fact that they went down with a bit of a whimper to Carlo Ancelotti's side in Naples that has made things seen like the footballing equivalent of the apocalypse is upon us.
It could be worse, we could be Manchester United…

However, it was of no surprise to see the Twitterverse descend into spiralling depression following the defeat, Liverpool's second in all competitions this year.
The Reds find themselves in second place in their Champions League group and joint top of the Premier League having come through some stern tests so far, including games against PSG, Chelsea, Spurs and now Napoli.
To be in that position at this stage of the season is something that most fans will have snapped your hands off for at the start of the season.
But to think that things are looking rosey for the Reds would be something of pure fiction if you were to listen to some things you can see floating around after the Napoli loss.
Yes, it brings us all bashing back down to earth a little and we have to admit that our much beloved Liverpool are not the infallible team that we all want them to be – but things are pretty good right now.
Jürgen Klopp has assembled one of the best squads Liverpool fans have seen for years, they're playing some fantastic football and they're flying high. What more could fans ask for?
The inevitable thing to suggest for here is perfection; but when do we ever see that over the course of a full season, from any side?
The Club itself is stable, the fans are as one and there is a distinct unity within the squad that not only inspires joy, but cannot help but make you think that this defeat in the Champions League won't be the start of a bad run, but will instead serve as inspiration for the team heading into another crunch game at the weekend against City.
So let's join in with that unity. Let's get behind the team. It ain't all so bad, honest.