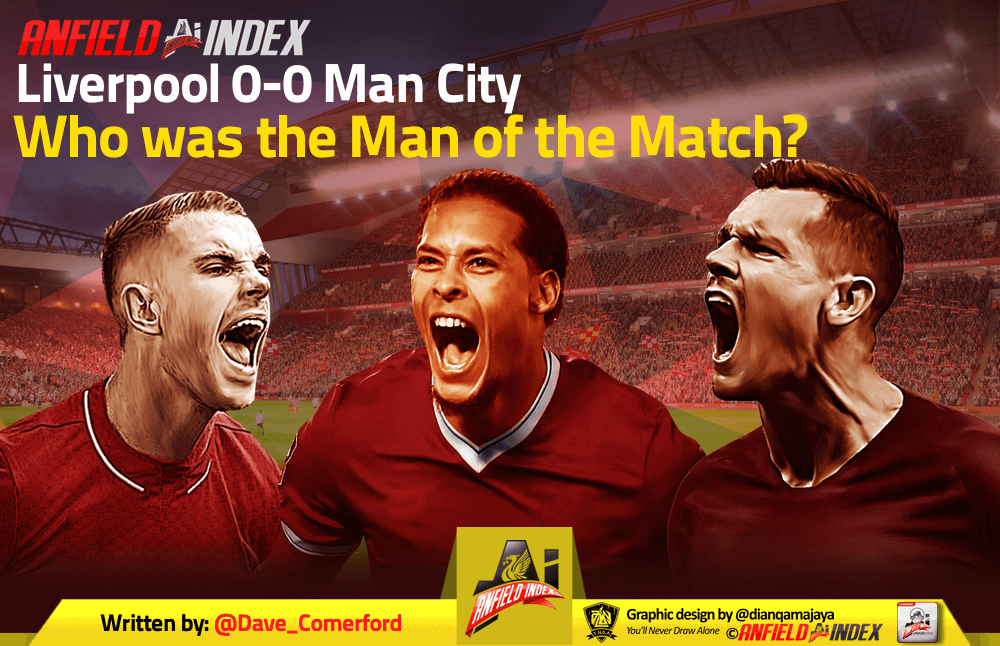 Liverpool 0-0 Man City: Who was the Man of the Match?
Riyad Mahrez's late penalty miss has left Liverpool fans pondering whether their side's goalless draw with Manchester City represents a point gained or two points dropped.
On the one hand, the Reds could be thankful that they were not punished for what was an uninspiring performance, bereft of the anticipated vigour, but on the other, it seems that a potentially crucial opportunity has been missed, with City expected to hoover up the points elsewhere.
Liverpool flew out of the blocks at Anfield but their lively start would not set the tone for the remainder of the contest as City soon settled into their rhythm and effectively nullified the press which cowed them into submission in this fixture last season.

There was markedly more desire about Liverpool's play than there had been in the dismal defeat in Napoli, but still composure, creativity and fluidity were lacking. The hosts had just shy of 50% of the ball, but their opponents clearly carved out the better chances.
In general, a game billed as a must-see blockbuster wound up a damp squib.
Thus, the wait for Liverpool's widely-feared frontline to come alive goes on.
Mohamed Salah played pretty well but once again he failed to provide the magic touch which characterised his record-breaking debut season. He had two efforts from distance, one of which bounced past the past while the other was gratefully received by Ederson. The hunger is evident, but the clinical edge is absent for the moment.
Still, he was the best performer of the trio. Roberto Firmino had a frustrating afternoon before he was substituted, unable to pick up possession in dangerous areas and, often, to hold onto the ball further back. Sadio Mane, meanwhile, struggled to find any real space from which he could do damage. Neither he nor Firmino registered a single shot.
Elsewhere, the work-rate of the midfielders, looking to redeem themselves following their midweek anonymity, could not be faulted, but still the lack of a creative presence hurt Liverpool. The Reds, without that intermediary, were repeatedly forced to resort to long balls in their efforts to unlock City.
Jordan Henderson, Georginio Wijnaldum and Naby Keita, who replaced James Milner early on, are not really to blame, but Jurgen Klopp may have to drop one of them if he wants his side to put some meaningful chances together.
With little threat of a goal at the right end, then, Liverpool were reliant on their backline to rebuff City's usually irrepressible advances.
Fortunately, they were able to pass the toughest test in English football in spite of significant changes.
After shining at Stamford Bridge, Alisson delivered another strong performance and came up with some important saves to deny Mahrez. With the help of John Achterberg, he was able to guess right for the Algerian's penalty, though there was no need for a save of course.
Virgil van Dijk was typically authoritative for the most part and passed the ball brilliantly (he finished with a startling accuracy of 93.3%) but he was still rightfully frustrated with himself after conceding the penalty through a clumsy challenge on Leroy Sane. It was a rare moment of rashness from the usual impeccable centre-half.
Usual partner Joe Gomez was shifted to the right-side of the four, a position where he has looked uncomfortable in the past, and while it was a strange decision from the manager with Nathaniel Clyne available to replace a tired Trent Alexander-Arnold, Gomez carried out the role with enthusiasm as he bombed forward repeatedly and delivered six crosses along with three key passes.
Equally, there were no qualms to be had about Andrew Robertson's performance on the left.
But man of the match goes to Dejan Lovren, whose initial selection was a shock to many.
There seemed little reason to interrupt the development of a Gomez-Van Dijk partnership which is swiftly becoming perhaps the best in the Premier League, especially given Lovren's recent lack of match practice.
It was the first time Lovren had even made the squad for a Premier League game this season, with his only appearance coming in the 2-1 League Cup defeat to Chelsea last month.
But he has, in truth, had a fantastic 2018, helping Liverpool to the Champions League final before reaching the same stage with Croatia at the World Cup. An injury he sustained at the tournament has cost him a starting role at Liverpool, but on Sunday he was able to pick up where he left off.
It was a fiery performance befitting of the high-stakes occasion. Lovren was strong and powerful, executing a team-best five tackles (all of which earned an approving roar from the crowd) and winning two of his rare aerial duels.
He also cleared the ball on four occasions and could boast a passing accuracy (87% to be precise) not far shy of Van Dijk. He proved himself once again to be a worthy partner of the elite Dutchman.
We shouldn't overstate the impact of the performance – in all likelihood, Gomez will slot back into the role when Liverpool head to Huddersfield after the international break – but we've been reminded that we really shouldn't forget about Dejan.
Lethargy has crept in of late as the Reds navigated a gruelling run, and while they are unlikely to encounter such a daunting onslaught again this season, key fixtures, both domestic and continental, will continue to come thick and fast.
That means rotation will be essential, and Lovren looks set to benefit from that, having no doubt impressed Klopp.
Lovren's Liverpool career has thus far been marked by its horror-shows, but at last fans can be confident that the 29-year-old will produce a solid showing when called upon. He has, without doubt, turned a corner.