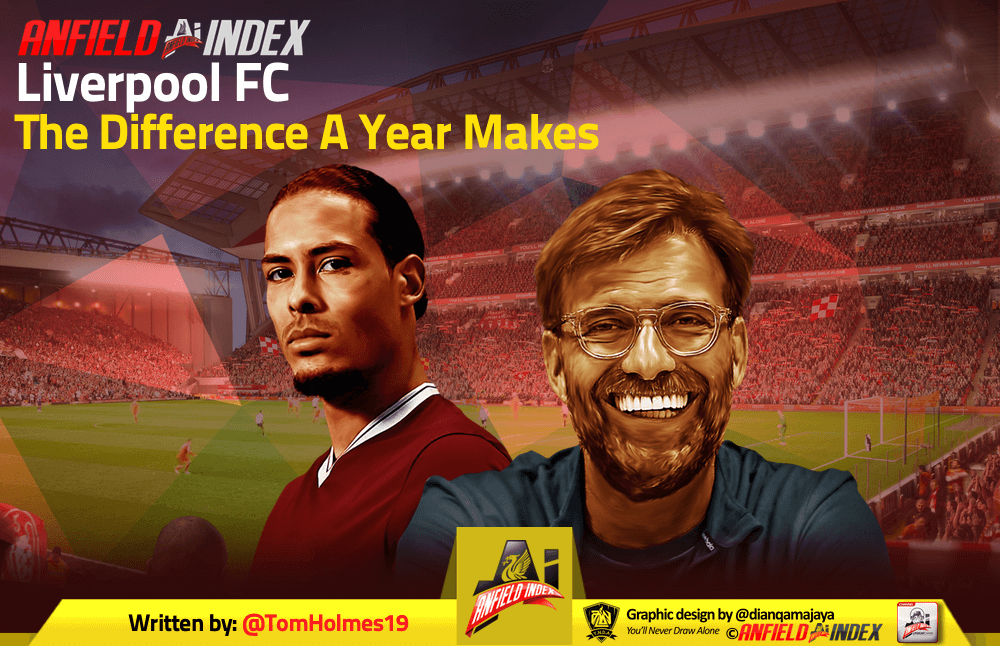 Liverpool FC - The Difference A Year Makes
Looking back, it's really interesting to see where Liverpool are now compared to where they were at the same point in the previous season. So I thought it would be interesting to look at the side that started the opening eight games of last year, and compare and contrast where they are compared to this team.
The obvious place to start is the bottom line. Liverpool weren't quite in crisis with a poor start of 13 points from their first eight games last season (that would come a week later after their capitulation at the hands of Spurs), but the Reds drew half of their opening eight matches, winning just thrice alongside a heavy defeat to City. A points per game of just 1.625, Liverpool were struggling.
This season, however, as we can see, the situation is markedly different, with seven extra points leaving us on 20 points, 2.5 points per game. Scoring at almost a point per game better off, with three extra wins in the bag and no losses, why have Liverpool been so much better?

The answer, rather predictably, lies in defence. Liverpool scored 13 goals in their first eight games last season (1.625 per game), compared to 15 this year (1.875) so a marginal improvement. But defensively, the difference is absolutely colossal, with the Reds conceding just three goals so far this season, compared with 12 last. That's NINE goals fewer in less than that many games. Granted, we were conceding at 1.5 goals per game last year so an improvement was needed, but even so, the difference is staggering.
If you look at the underlying numbers, it's more of the same. Liverpool's xG after eight games last year was 17.29 (2.16 per game) and this year it's 16.66 (2.08 per game). So you can see that overall in an attacking sense, very little has changed overall. The Reds' finishing has improved slightly on last year, with goals per xG ratio of 0.90 compared to 0.75, but that's not the story.
The story is in defence, where Liverpool have conceded just 5.90 xGA compared to 10.27 xGA last year. A less marked improvement than the goals conceded, but huge nonetheless. A little deeper look at this can help explain why the Reds have conceded almost half as many goals as xG this year, compared to last year, where it was more.
What's interesting is that Liverpool have conceded exactly 65 shots in both of their first eight games this season and last – meaning that their shots per game ratio is identical – and yet the Reds have conceded almost half as much xG per shot this year (0.09 compared to 0.16 last year). The reason for that is clear – big chances. In their first eight games last season, Liverpool conceded 14 big chances, a number that has more than halved this year to six.
What we can also see is that luck hasn't necessarily played a part in Liverpool's goals conceded this year being just three compared to 5.90 xG. The Reds have only conceded at least one expected goal in two of their opening eight games – against Chelsea and Man City. In four of the five games where Liverpool have kept a clean sheet they've conceded less than 0.55 xG, and the only statistically significant game where Liverpool have been "lucky" defensively (with the difference between xGA and goals conceded is more than 0.60 xG) is their last one, as Mahrez's penalty miss got them out of jail.
Compare that to last year. Liverpool's highest xGA this season is 1.58 against Chelsea, a number that they beat three times in their first eight games last year – with Watford, Leicester and Man City all posting at least two expected goals and all three scoring at least twice.
Moreover, when Liverpool were defending well last year, the worry was that they were still shipping goals. They conceded less than 0.35 xG on three occasions in the first eight games last year, but still conceded in two of those matches – Burnley and Newcastle. That's not luck, that's bad goalkeeping.
Moving briefly back to attacking, because although Liverpool didn't score significantly less goals last year, their distribution is significant.
In attack last year, the Reds really were feast or famine, scoring three goals on three occasions in their opening eight games, and picking up seven points from those games. However, there were also five occasions where they only scored once at most, and they dropped points in four of those five games, picking up just six points.
Conversely, this year, although the Reds have still scored at least three goals twice, they've also scored twice on three other occasions and won all three of those games. It's a small difference, but over the course of last season, Liverpool scored exactly twice on just seven occasions. So we can see that a more even distribution – partly down to a slight tactical shift but also better finishing in key moments – can make a huge difference over the course of a whole season.
And that's down to finishing, not poor chance creation. As mentioned, Liverpool conceded less than 0.35 xG on three occasions, but they failed to win any of those matches, despite posting at least 1.50 xG all three times. Liverpool were creating chances, dominating games, and failing to win.
This is something that hasn't been the case this year, with Liverpool winning every game that they've had significantly higher xG than their opponents. In their two draws they've had just 0.15 xG more than Chelsea and 0.64 xG less than City.
So the main trends that we're seeing change are that Liverpool are conceding much less expected goals per shot, at least partly down to the fact that they've conceded less big chances. The Reds are also being slightly more clinical, but also distributing their goals more evenly.
So looking beyond the numbers to the personnel to get a better sense of what's changed. Starting briefly with the opposition, because there would be a tendency to argue Liverpool have had easier fixtures this year, whilst the opposite is true. Liverpool did face Manchester United, Arsenal and Man City last year, as well as Leicester and Watford away. But they have faced City this season, as well as Chelsea, Spurs, Palace and Leicester, with the latter four away from home. Dropping points against Burnley, Newcastle and Watford in their opening eight games was critical for the Reds last season, but they're fifteen points from five games against teams outside the top six this year.
In terms of Liverpool's team though, a brief look at the starting eleven will tell you everything that you need to know (as if it wasn't obvious). Simon Mignolet started seven of Liverpool's opening eight games last year, conceding 12 goals from 9.8 expected goals. Ahead of him, Joël Matip started all eight games, partnered by Lovren on five occasions (conceding six goals and 6.06 xGA) and Klavan on three occasions (also six goals from 4.21 xGA).
In full-back positions, the situation wasn't any better, with Joe Gomez playing right-back on five occasions and Trent three, and alarmingly Moreno starting six of the eight games, with Robbo only featuring against Palace and Burnley.
So a complete overhaul of the defence has clearly improved it – nothing ground-breaking there. Robertson playing regularly, Trent getting more time at RB, Gomez's move to CB and most importantly, the purchases of Alisson and VVD have made marked improvements to Liverpool's defence.
Ahead of the defence, there's nothing really new either. The front three remains largely the same, with Mané, Firmino and Salah starting twenty of the twenty-four attacking spots in the first eight games of last season.
And the midfield is also, interesting, largely the same. This season we've seen Henderson and Keita both start four games, with Milner and Wijnaldum start almost all. Last season, Klopp's most common midfield in the opening eight games was Can, Henderson, Wijnaldum, with the latter two starting seven of the eight games, compared to Emre's six. Milner started just two games.
That said, the midfield is looking a lot more balanced this season. The introduction of Keita when he's featured has been impressive, but even without him, Milner, Hendo and Gini have looked much more solid defensively. That's partly tactical, there have been some interesting shifts into protecting leads this season – but it's also fair to note that Milner and Gini, in particular, have been absolutely immense as individuals.
Of course, the first nine games of Liverpool's PL campaign last year were atrocious (it's perhaps slightly unfortunate that the international break this year falls when it does because a comparison after nine games would surely have been even more staggering), but the fact remains that Klopp's overhaul of the defence – both tactically and in terms of personnel – is the bedrock of what has been an extremely impressive start to the season.
The other thing to take away from this start, in my opinion, is that we can absolutely relax about the front three. After eight PL games last season, Mo had four goals, Sadio three and Bobby two. This season, Mo has three, Sadio four and Bobby two again. So there's virtually no difference there and as we know, all three went on to have incredible seasons – so much so that all three have nominated for the Ballon D'Or.
And all of this is without the addition of several new players. As mentioned, Keita has started just four games, Shaqiri has started just one league game, and Fabinho is yet to start in the PL. Once those three are up to speed, bedded in and firing, we can arguably expect this Liverpool team to get even better.
All in all, it's good times to be a Liverpool fan, and nice to reflect on what has been an absolutely incredible start to the season, whilst addressing some of the elements that have made it that way. Up the Reds.