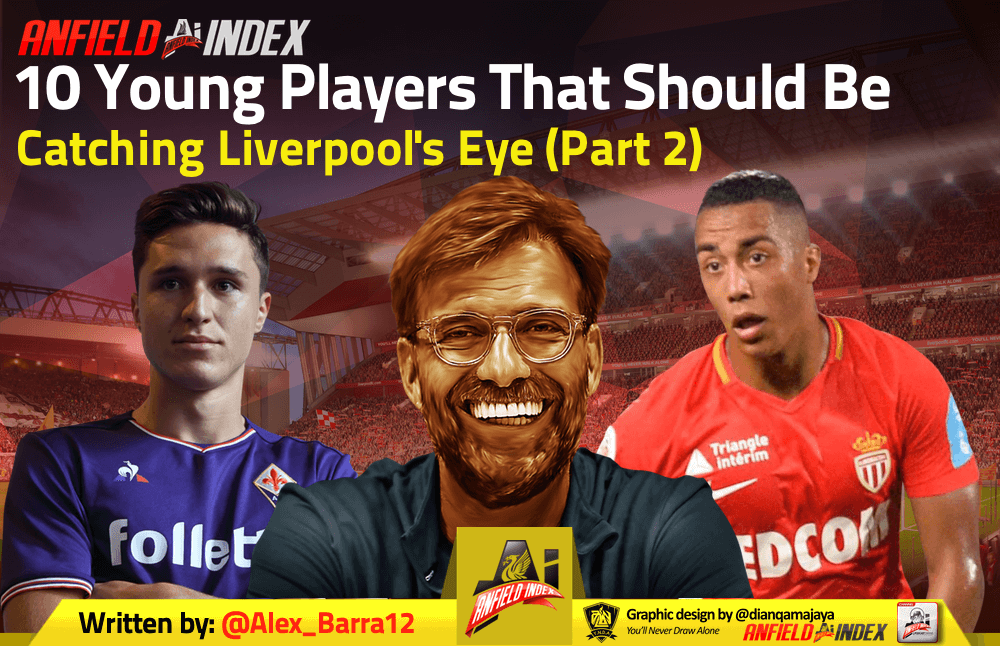 10 Young Players That Should be Catching Liverpool's Eye (Part 2)
Tonguy Ndombele
Lyon's elegantly destructive central midfielder Tanguy Ndombele was called up to the French National Squad for the first time for this international break, and that comes off an extremely impressive 2018. After signing permanently for Lyon in the summer (for a meagre £10 million) after spending the 2017/18 season on loan there from Amiens, Ndombele has become Lyon's most impressive talent.
Playing alongside Houssem Aouar, Lucas Tousart or Nabil Fekir in Bruno Genesio's midfield three, Ndombele is tasked with bringing the ball through the opposition's midfield, essentially crushing anyone in his way. Comparisons to N'Golo Kante have been made – and those comparisons are extremely lazy. He's no Kante, he's not even that kind of player: he's capable of picking the ball up and dribbling past opponents (he completed 2.8 dribbles per game for Lyon last season) or rounding them up and playing a one-two off of his more conservative defensive partner in Tousart. Mostly, he's adventurous, able to give-and-go just as well as he's able to thread a through ball in behind a centre back and fullback: there's an audacity to him that belies a simple box-to-box midfielder.
Ndombele is clearly the whole package, even if that package does need a bit of refinement. He's only scored a single league goal for Lyon, and that's not for a lack of trying, and that audacious passing and forward thinking can lead to him giving the ball away in dangerous positions. And yet, he's simply everything you could want in a dynamic central midfielder, and one day he'll be a world-beater.

Steven Bergwijn
The electrifying Dutch dynamo has certainly been making an impression.
Coming through the ranks at one of the Dutch powerhouses is never easy: mostly because you're expected to be showing supposed world-class ability at age nineteen. Unfortunately, not everyone is Matthias de Ligt, and it took Steven Bergwijn a little longer to reach the level of tremendous potential he's now exhibiting. Acting as a wide forward on the left for PSV, but able to operate on the right just as well, the Dutchman is a bolt of lightning when he gets going; popping up and finding the back of the net in an instant.
His quick dribbling, often with the ball stuck tight to his feet, means fullbacks are constantly pondering which way he's going to go, but it's his positioning that's most impressive: able to tuck in behind any sort of space given when an opposite number bombs up. His defensive work ethic is strong too, allowing him to fulfil the role of inside forward without being carried, but though impressive, it's the opposition box where Bergwijn makes his presence most noticeable.
He's already scored four and assisted four in eight appearances, averaging a goal contribution every 88.5 minutes and at 21 is set to burst onto the world stage any time now.
Should Liverpool lose Sadio Mané in the near future, they ought to be knocking on PSV's door.
Dayot Upamecano
Another of the products of the Red Bell football machine, Dayot Upamecano may well be the smoothest young centre back in Germany at the moment.
The nineteen-year-old arrived at Leipzig from Salzburg and was slowly blooded into the setup under Ralph Hasenhuttl, now fully embracing a starting role under new manager (and Sporting Director) Ralf Rangnick. He's a force off the ball, able to shrug off the challenge of any centre-forward, and that he's deputised as the #6 on more than one occasion shows his proficiency on the ball.
What's most impressive, however, is the intuitive tactical understanding, as a compact (and small) midfield in front of him presses, Upamecano and his partner Willi Orban must steer any long balls over the top of the defence clear, all while stopping any runners that get past on the flanks. Defending in the Bundesliga may well not be up to a supreme standard, but Upamecano is a behemoth of a centre back with the deft, graceful touch of someone far beyond his years. If he can avoid taking so many risks when playing out from the back (though he is excellent at ball-playing) then he'll be well on his way to being headhunted by the very best.
Federico Chiesa
The Florence-born boy has been making headlines in Serie A this season – sometimes for the wrong reasons (see his dive against Inter for some truly disparaging theatrics) – but mostly because, put simply, he is quite good.
An example of the new breed of "inside forwards" who tend to avoid the touchline in favour of drifting more centrally, Chiesa's tricky feet and ability to orchestrate an attack from a flank has caught the eye of all who've seen Fiorentina's impressive start to the season, and there's already talk of him being involved in the Italy setup as the Nerazzurri try to find a way out of their malaise. He's slight and tries to breeze past players with a heavy touch and burst of pace more than use dazzling footwork, but it's brutally effective. That also makes him good at taking a touch out of his feet, in either direction and lashing a shot off past a flat-footed defender.
He operates on the right and has played a more retreated wide midfielder position as well as this season's freer role as a wide forward, but his defensive contribution certainly needs some working on. Should he add consistent goalscoring prowess on top of that (he's already registered two goals and an assist for Fiorentina in Serie A this season as their leading man) then he'll be on his way to a big club in no time.
And, in all honesty, that club will probably be Juventus. It's just how these things tend to go.
Youri Tielemans
Okay, so this one's slightly cheating, given every club in world football will have had their eye on Youri Tielemans since he made his first Champions League appearance at sixteen.
But with Monaco's malaise – and the impending departure of renowned manager Leonardo Jardim – Tielemans may well soon be on the market. The Monaco fire-sale has clearly backfired, and Tielemans has been holding up their entire midfield by himself.
Acting as the conduit by which the attackers can flow, as well as sometimes having to shield the defence and stop dribbles through the centre, Tielemans has been one of the more impressive parts of Monaco's dismal start. He's scored twice and assisted once from central midfield, and will have his pick of suitors if Monaco do indeed miss out on the Champions League. Sure, he'll cost a pretty penny, but the kid is still only 21 years of age, and yet has a maturity on the ball that goes well beyond his years.
Strong, determined and silky smooth, he's an operator of the utmost class.