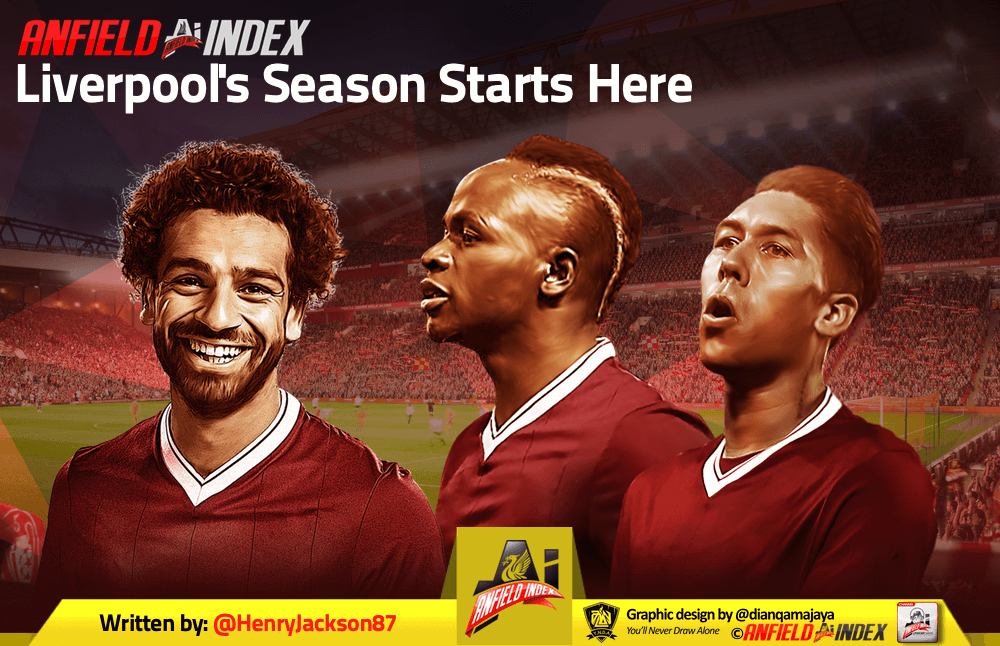 Liverpool's Season Starts Here
The day that you arrive at a holiday destination can often have a strange feel to it.
You're still a bit jaded after a long flight, drive or however you've made your way there, and you don't feel completely in holiday mode until you wake up the following morning.
Call it a strange comparison – it is – but Liverpool's season feels a bit like that. It has all been a bit stressful and tense to date, with almost no time to settle in, take a breather and relax.

West Ham at home was admittedly a kind opening fixture, but from that point on, barring the visit of a lifeless Southampton side, it has been hard graft, including a narrow win over Brighton.
It has been ugly, often defence-minded wins rather than the all-conquering thrashings previously seen under Jurgen Klopp, with performances a far cry from those we were treated to witnessing on an almost weekly basis last season.
Trips to Crystal Palace and Leicester both had 'potential banana skin' written all over them, but the Reds ground out victories thanks to a resolute mindset.
Tottenham were conquered at Wembley in arguably Liverpool's best display of 2018/19, while a point against Chelsea and Man City were both more than adequate if underwhelming in terms of entertainment value.
The League Cup defeat to the Blues was disappointing but no disaster, while in the Champions League, there was both late joy and heartbreak, against Paris Saint-Germain and Napoli, respectively.
Just look at those fixtures.
Eleven games in total and only three that you would legitimately expect Liverpool to win with relative ease, preserving energy and allowing for rotation in the process.
It is difficult to remember a tougher start to a season for the Reds, making their points tally of 20 from eight matches all the more commendable.
There have, of course, been the usual pessimists left concerned by Klopp's men not winning in their last four matches, but a huge amount of perspective is required.
A run of outings that featured Chelsea twice, as well as Napoli and Man City, was always going to be taxing.
When you take into account the fact that two of the fixtures were away, one saw a weakened starting lineup fielded and the other was against arguably Europe's best team at the moment, there is no need to panic whatsoever.
To still be level on points with City and Chelsea at the top of the table is a great effort, and should the most unthinkably brilliant of achievements occur next May, this mini-run will be a key period to look back on.
As the second tedious international break of the season gets underway, there is a feeling that Liverpool's campaign starts now.
You wonder if Klopp has almost been treating these opening two months as a separate spell altogether, getting points on the board in a manner not in-tune with his usual pizzazz.
He has made few changes, getting every possible ounce out of his players and waiting to properly blood new signings such as Fabinho, Naby Keita and Xherdan Shaqiri.
It all gets easier from this point on.
You just have to look at the upcoming run of matches to see how much more comfortable life if about to get for Klopp and his players, finally allowing them to find a proper rhythm and not face top sides at such a constant rate.
Once the players reconvene after their international exploits, a trip to Huddersfield is followed by the visit of Cardiff – two teams who look as destined for relegation as Derby's woefully inept class of 2007/08.
Meanwhile, in Europe, back-to-back meetings with Red Star Belgrade should earn a minimum of four points, allowing Liverpool to leave their Group C fate in their own hands.
A usually memorable match-up with Arsenal is the only match that looks genuinely difficult between now and the trip to PSG on November 28, with Fulham and Watford also on the agenda in the league in that time.
This clearly doesn't mean Liverpool are going to cruise through all of these games with ease, but the level of intensity and difficulty pales in comparison to the start of the season.
This is the perfect opportunity for Mo Salah to find his goalscoring touch again, for Sadio Mane and Roberto Firmino to get their own flow back and for the Reds' magical front-three to click as a unit.
This is a chance for Fabinho to finally start being given more playing time and for Keita and Shaqiri to make a bigger impact.
Keita has made a particularly low-key start by the world-class standards we expected of him when he joined, but then again, has he really had enough time, and enough kinder-looking fixtures, to adjust to his new surroundings?
Klopp will also be able to juggle his squad in a more effective manner, not having to worry about leaving key men out against top class opposition, as has been the case so far.
All in all, there are reasons to feel hugely positive, and after overcoming a horrible first 11 fixtures, in general, it is time to see the real Liverpool again.
The goals, the big wins and the wonderful football are all about to return.