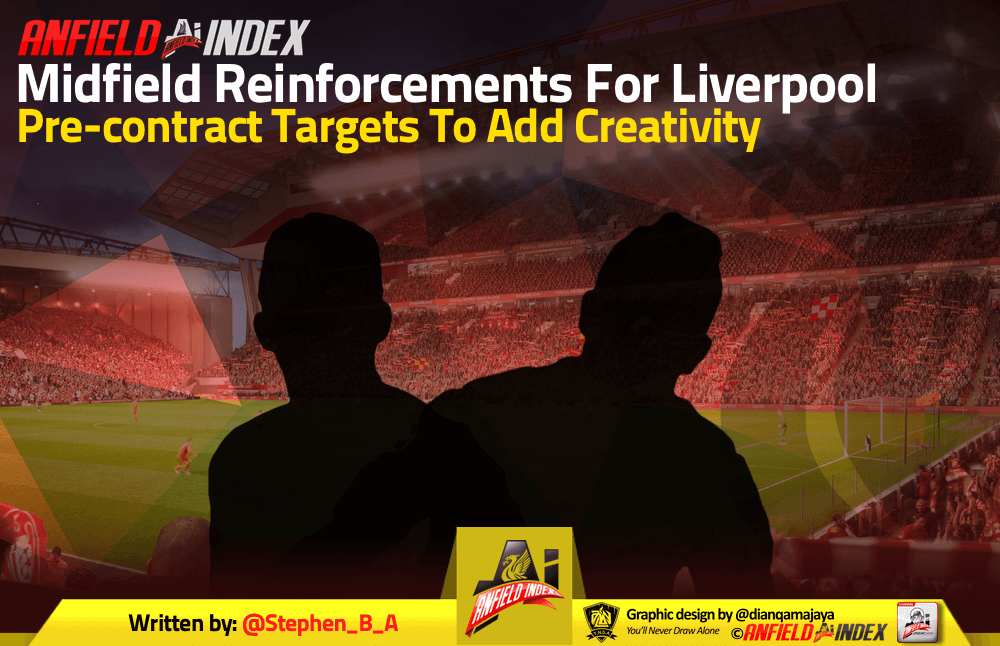 Midfield Reinforcements For Liverpool: Pre-contract Targets To Add Creativity
Liverpool's midfield benefitted from £100m in investment over the summer with the surprise signing of Monaco's Fabinho, and the arrival of Naby Keita – signed from RBL last summer. However, with the injury to Oxlade-Chamberlain, we've still had to suffer through games with Gini Wijnaldum, James Milner and Jordan Henderson in the engine room.
As we've seen in recent games, the three from last season's team are able to provide a solid midfield to counter teams like PSG and Man City, but the team also lacks creativity and guile. Naby Keita will need time to settle, but also can't do it all by himself. Fabinho is a defensive midfielder or box-to-box destroyer. Having seen Liverpool close to the signing on Nail Fekir in the summer surely Edwards, Klopp and there team as still looking at another piece to add to the puzzle.
Under FSG, especially during Klopp's regain, we've seen the club isn't afraid to spend big on their number one targets, but we've also seen with Matip, Robertson and Shaqiri that they are not afraid of a calculated gamble on a bargain.

So, with this in mind which players are rumoured to be out of contract in summer 2019 could Edwards and Klopp target on a free transfer or cheeky lowball January bid?
Adrien Rabiot
The Paris Saint Germain man has been in and out of the press as a target for LFC, with journalists claiming a January contract offer is forthcoming and other's taking the club's official line that there's no interest. However, what we do know if he's rejected contract offers from PSG and has said he would like to play in the Premier League.
As a player Rabiot fit's the mould of someone who can fill various roles. He can play as the deepest midfielder offering creative spark behind an energetic and physical combination such as Fabinho or Milner and Keita. He can also play as the more traditional number 8, offering creativity and quick passing allowing the likes of Keita and Ox to get further up the pitch.
Though there are questions about his attitude, Rabiot is a class act who would add another level of intelligence and spark in the middle of the park.
Aaron Ramsey
The Welshman is rumoured to have his contract offer withdrawn by Arsenal as they reassess their finances in a post-Champions League world. So far he's featured in 8 league games this season, playing 502 minutes and picking up 1 goal and 3 assists.
During his time at Arsenal Ramsey's played as a deep-lying midfielder, a central midfielder and a right winger. Under Emery, he's now being converted in a number 10, though has come out and said his preference is to play as a box-to-box midfielder. Like his former teammate, Oxlade-Chamberlain, he's had seasons of success and injury at Arsenal and at 27 his next contract could be his last chance to be a Champions League regular.
Would he bring a huge amount creativity to Liverpool's midfield, I'm not sure. However, he's a player who likes to get into the opposition box and has the industry to get up and down the pitch during a game. Seeing how Klopp has taken Milner onto another level over the past 12 months, it's not hard to see Ramsey fitting into a midfield alongside Naby Keita.
Iker Muniain
My first curveball is Athletic Bilbao's Iker Muniain. Turn the clock back a few years and the Spaniard was one of the most exciting prospects in Europe. But as players like Javi Martinez, Ander Herrara and Aymeric Laporte have found, leaving the Basque team is a difficult task.
More of a winger who can play as a number 10, Muniain would be someone who could play backup to Mane or slotting into a front 4 when needed. So far this season he's picked up three goals and in past seasons he regularly picks up assists for his teammate.
If Klopp can convert him into what he calls the 8.5, a player with the skills of a number 10 playing as part of his most attacking midfield two, then he could be an interesting player. His numbers aren't great, but on a free transfer and with Liverpool's front three, he'd certainly have the platform to flourish.
Angel Di Maria
Another PSG player out of contract this summer is Angel Di Maria. The former United player is a massive curveball and didn't appear to enjoy his time in Manchester, but could he be tempted play for the charismatic Jurgen Klopp?
Di Maria is having a good start to the season for the French champions. Though he's known for his wing play, he's finding more playing time in the midfield three these days. He's played 948 minutes over 12 games, picking up 6 goals and 3 assists so far.
For Liverpool, his pace and goal scoring from midfield could be a lethal edge to the team, while his ability to deputise on both wings would enable someone who'd command a huge salary to get games. With Sturridge and Milner's contract's potentially off the books and the possibility of Lallana leaving to look for first team football Liverpool could certainly afford him on a short-term deal. Would he fit into Klopp's system or be prepared to play for his former team's fiercest rivals, who knows, but it's certainly worth a phone call to his agent come January 1st.
Cesc Fabregas
The oldest player on the list, and the biggest curveball given the clubs recent transfer history of signing players under 26, Cesc Fabregas offers a combination of quality, consistency and title-winning experience. Whether he'd leave London is altogether another questions.
The biggest questions is how would Cesc Fabregas fit into Klopp's system. For me, the answer lies in Gini's development ask a deep-lying playmaker as opposed to Henderson's style of play. A former number 10 who is great on the ball, press resident and intelligent, he wouldn't be looking to take the call off the centre-backs the way Henderson often does, though once on the ball his natural instinct is to make attacking passes.
Fabregas playing as the deepest of the midfield three with a box-to-box ball winning midfielders like Fabinho and an intelligent number 8 who can drive at the opposition they way Keita does could be an exciting combination. Add in his passing range and game intelligence and in quick transitions seeing Cesc pings balls in behind the opposing defences for Mane and Salah to latch onto would be delightful.
Conclusion
Though it's impossible to predict the actions of Michael Edwards, as the signing of Fabinho showed us, the international break always provides a fun opportunity to try.
Though all of these players would add something to Klopp's team, Adrien Rabiot is the man I want to see in red. A 6'3″ centre midfielder who an play as a deep-lying playmaker – as he's doing for PSG this season – or further up the pitch would add a presence to our team. His passing ability when playing as the deepest midfield could be a joy to watch with the pace of our front three and the overlapping full backs. He could also play ahead of Henderson or Fabinho, with his role being as the transitional midfielder looking to keep the ball moving, or in a 2 should Klopp switch things up and go for a 4-2-3-1 or 4-4-2/4-2-4 as we've seen in the past.
Picking up a player in his prime (he's 24 in April) who boasts world-class potential, wonderful technical attributes and also physically impressive, would be a real coup for Liverpool.
The Liverpool midfield feels like it's missing the final piece to match the defence and attack. Wouldn't it be great it that final piece of the puzzle signed a pre-contract deal this winter?