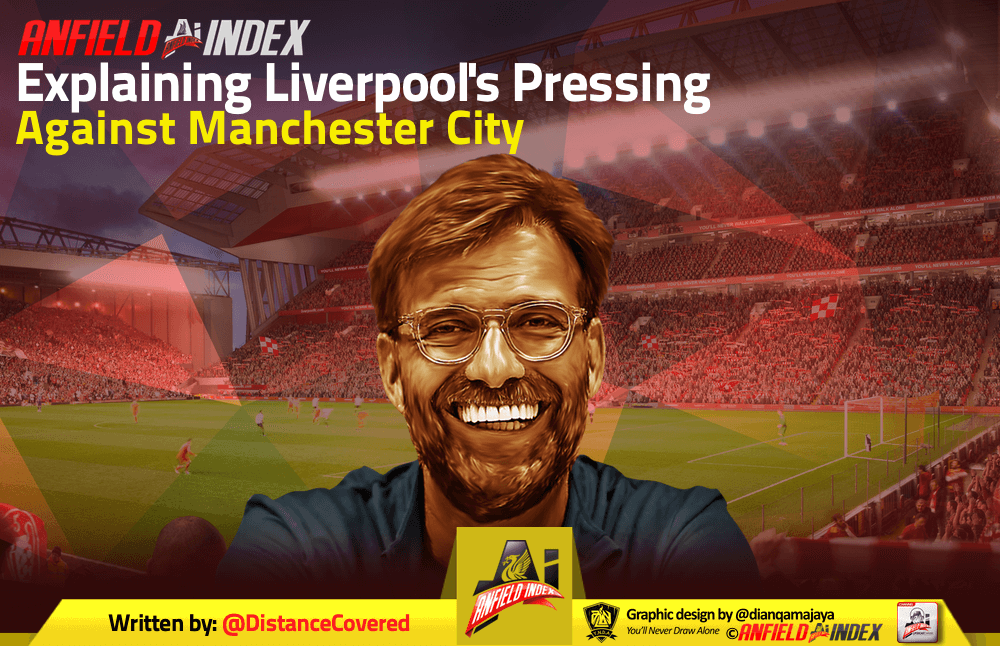 Explaining Liverpool's Pressing Against Manchester City
In Liverpool's most recent contest, The Reds achieved a 0-0 draw at home to title rivals, Manchester City. The match was cagey, conservative and respectful, and despite Liverpool restricting City to just two shots on target, some viewers weren't happy with the home side's work without the ball. The main viewer that I'm referencing here is Sky's co-commentator on the day, Gary Neville, as he spent large portions of the match pointing out that Liverpool 'weren't right', and that they 'lacked intensity'.
Neville's comments likely derive from the fact that past meetings between the two teams have been chaotic and unpredictable. Neville, perhaps understandably, expected Liverpool to blow City away once more by pressing ferociously & giving Pep's technicians no time on the ball whatsoever. However, this wasn't the case and it hasn't been the case all season with the exception of Chelsea away.
Liverpool's approach to pressing this season has been calculating, clever and measured, which is very different to the media's perception of how Liverpool go about regaining the ball. City, Chelsea, Arsenal, Spurs, and even Everton all typically press higher than Liverpool in terms of the number of passes conceded per defensive action, but Klopp's men are perceived by the majority to be the leading aggressors.

In fact, Liverpool's primary tactic without the ball is to adopt a mid-block, allowing the opposing team to play out comfortably but into traps that are premeditated. Once the opponent fails to play through Liverpool's compact block, Klopp's men spring forward attacking the space afforded to them due to the fact the opposing team initially expanded to pass out. An example of a trap against Man City has been provided below.
Video analysis for a piece I'm writing about Liverpool's pressing. The perception is that our pressing is high & crazy, but instead it's clever, deeper & measured. #lfc pic.twitter.com/2kibAM15pf

— Distance Covered (@DistanceCovered) October 9, 2018
This was one of the very few instances during the 0-0 draw that Pep's men fell into a pressing trap in the middle of the field. City fell for those traps regularly in the 4-3 and 3-0 defeats, by naively trying to play through the middle of Liverpool's shape. Pep appeared to have learnt from those losses in the 0-0 draw by instead used the wings a lot more so that if the ball was lost, the immediate threat wouldn't be as great. This is perhaps why Neville thought we 'lacked intensity', when in reality the lack of turnovers was due to City's reluctance to play through Liverpool's midfield like they have in past meetings. Liverpool didn't lack intensity, they adopted the same shrewd approach they've used for the majority of the season.
Below is another example of Liverpool's mid-block being employed, but this time against Spurs in a recent 2-1 win. The pressing isn't ferocious, it's not intense, as Neville may have expected, but it's intelligent and planned. Although Liverpool appear passive in these instances, they simply have to force one mistake and the consequence is an immediate attack outnumbering a vulnerable defence with space to exploit.
For those concerned about Neville's comments re our intensity so far – it's nonsense. We've been doing this all season. pic.twitter.com/LIsvY59Ipn

— Distance Covered (@DistanceCovered) October 7, 2018
A consequence of pressing higher than the mid-block, which is evidently what Neville thinks we do, is that it usually results in more possession, and that's not overly suited to Klopp's personnel. Liverpool pressed higher against Chelsea, as shown below, and probably will against Arsenal in a few weeks because those are two sides that are newly playing out from the back, so they'll take risks beyond their capability. These teams are still learning the ropes and are therefore likely to make detrimental mistakes, so pressing higher to force a costly error makes more sense.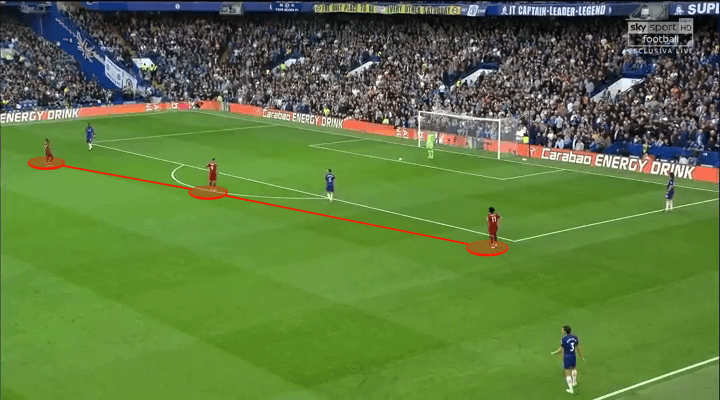 In the early stages at Stamford Bridge, Liverpool dominated the ball because of their high pressing forcing regular mistakes, despite Sarri's philosophy being based on possession. Chelsea struggled to assume control and escape their own half because of the constant errors leading to Liverpool winning the ball. In that match, Liverpool were unfortunate to concede first through a moment of magical combination play involving Hazard, Kovacic & Jorginho. If Liverpool hadn't conceded first, I have no doubt that after scoring through a Chelsea mistake, Klopp's men would've then retreated into their usual mid-block.
Overall, Klopp's mid press ensures more defensive stability due to compactness, and a domination of central areas whilst retaining a countering threat if the ball is won because of the speed and positioning of Liverpool's attackers. In addition to this, the approach ensures that Liverpool don't overly dominate possession, because as previously stated, that can often negatively impact the side due to the lack of creativity in midfield. The common misconception is that Liverpool press highly and relentlessly almost as headless chickens, and although that may somewhat be the case when the time is right, it's a lazy observation that I've hopefully cleared up here.