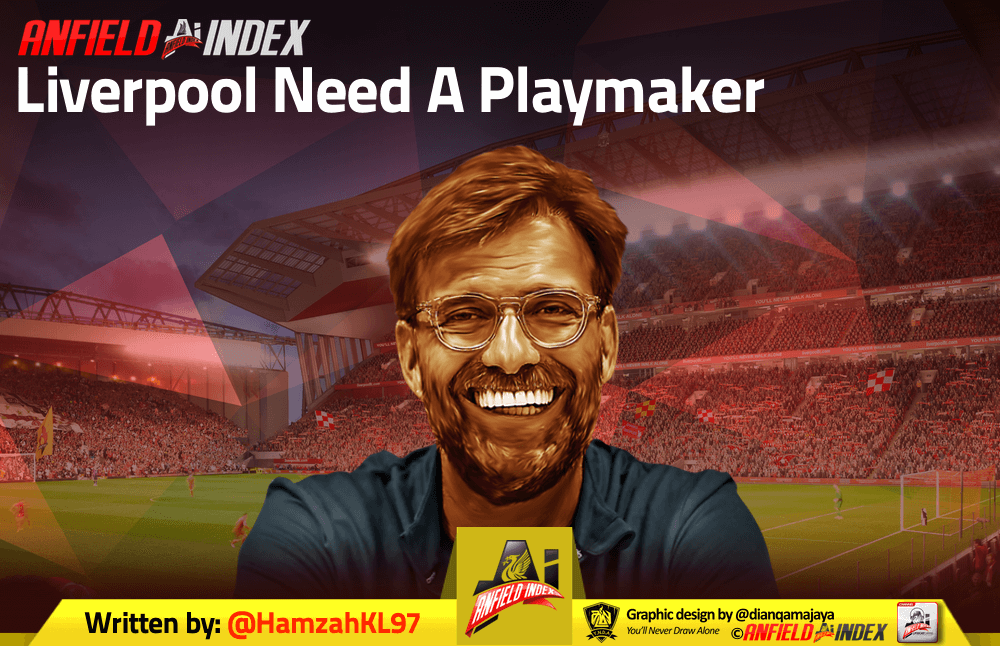 Liverpool Need A Playmaker
On-ball (in possession)
Off-ball (out of possession)
Transition (between possession)

These are the three phases of football. Liverpool are without a doubt one of, if not the best team in the world in transition, that is, the moment in which a team transfers from a defensive shape to an attacking one, or vice-versa. The speed at which Liverpool move from a defensive shape into an offensive one is overwhelming for most sides. Immediately, the players rush into space, ahead of the ball, and the ball progresses at such a pace that opposition sides are unable to settle, organise and even get sufficient numbers back.
"If it is an open game at Anfield you don't even have 1% of a chance. Up and down they are the best team in the world in these transitions" – Pep Guardiola
Off the ball, Liverpool, whilst maybe not the best side in the world, are certainly making a case for being one of the best defensive sides around. The pressing unit, which incorporates every single outfield player, dissuades some opposition teams from building up through the back and trying to play through the middle of the field too, meaning that the defence is very rarely exposed unless the team are chasing a goal. The strong technical and physical qualities of the defence and goalkeeper have also contributed to this off-ball improvement, and both Liverpool's goals conceded per 90 this season (0.375 i.e. 14.25 goals conceded over a 38 game season) or xGA per 90 (0.7375 i.e. 28.025 xGA over a 38 game season) are testament to this. Liverpool often set up in an off-ball 4-5-1, minimising gaps in the centre of the field. forcing opposing teams to either progress the ball in wide areas, or if they do decide to attack centrally, they will often become ensnared by a pressing trap, from which the midfield pounces into space beyond.
On-ball though is where Liverpool often find themselves stumbling and dropping points, or where the record-breaking attack suddenly becomes impotent. This happens when opposition sides sacrifice both the ball and territory, reducing the ability for Liverpool to press, and reducing the space in which the forwards can pass/run/break into. Jürgen Klopp is often referenced for his memorable quote that,
"Gegenpressing is the best playmaker"
However, when Liverpool are not given the opportunity to press (i.e. if a side gives up possession – as Manchester United did – or build-up in areas not conducive to producing a promising counter-attack – as Manchester City did) then Liverpool's best "playmaker" is neutralised. Other top-level, possession-oriented sides – such as Manchester City – are comfortable with the ball, and breaking down tight defensive structures, whilst Liverpool seem to struggle in comparison; there are two prominent reasons for this:
Liverpool's positional play
The creativity of Liverpool's players – specifically the midfielders
Liverpool, as a pressing side, aim to make the pitch as small as possible for the opposition team. Reducing available space is absolutely essential for a team wishing to press successfully. Liverpool, in particular, prefer to press high and press centrally. These areas are the preferred areas to press as they are the ones with the most obvious and closest route to goal. If the ball is won through a press in the final third, it's easy for Liverpool to move the ball into an area in which a player can shoot with a sizeable chance of scoring, the same is true of winning the ball centrally, and this often coincides with opposition teams pushing their fullbacks, midfielders and forwards beyond the ball, leaving more space available for Liverpool to break into at speed.
This foundational concept is the antithesis of classical positional play. For Liverpool to press, the pitch needs to be compact, and for the pitch to be compact, Liverpool players must be in close proximity to the ball. Liverpool's press in transition, crucially, is not just about pressing to force the opposition to lose the ball in a key area, it is also about pressing when Liverpool lose the ball too. This in itself may sound strange, but in the moments after Liverpool lose the ball, most teams will look to counter. This means that they will commit players forward, and thus leave space in behind. This is a perfect moment in which to press and catch an opposition team out.
Positional play – what typical Guardiola sides do – is all about making the pitch as large as possible. Through doing this, the opposite side will be stretched as much as possible, in order to create spaces between opposition players which can be occupied, ran into, passed through and exploited. For this, players, such as the wingers need to stay wide and almost hug the touchline. Furthermore, the individuals within the midfield must position themselves around the pitch in such a way to create as many passing lanes, both vertical and horizontal as possible – occupying or passing or running into half-spaces is really important here, but derives from stretching the opposition team in the first place with the wingers, and sometimes the fullbacks too.
If Liverpool's forwards were to engage in typical positional play, i.e. staying out wide, there are two likely consequences:
Less direct involvement in goals for Salah and Mané – as Liverpool prefer to attack centrally, through pressing centrally, turning the ball over and then breaking
Liverpool's pressing efficiency and ability would be compromised
If, for example, Salah and Mané stay out wide, there is far greater space between them and Firmino – making an organised group press far more challenging, as there's more space for the opposition to play into/through. If there's more ground to cover, the opposition will have more time on the ball to both find a teammate or make a decision. Pressing traps would also become harder to set, and easier to break through, meaning not only is Liverpool's greatest offensive tactical asset nullified, but it also offers an opportunity for opposition teams to attack directly down the centre of the field – the most dangerous area, and onto the back four – the very issue that has caused Liverpool's defence such problems over the past 5-8 years.
Fundamentally, squaring both world-class gegenpressing (i.e. the best transitional and perhaps off-ball system) with positional play (i.e. the most effective and developed on-ball strategy) is something that is still yet to be done by any coach or team. If Klopp were to find a way to master both, he would be just as influential tactically as Guardiola.
However, to break down sides who sit deep, and give up possession, positional play is not the only means, although, when used effectively, with creative players, it is by far the most effective and entertaining strategy. The lack of creative players though is the second issue I raised though, and one that may overcome the need for traditional positional play.
Playmaking and creativity are as abstract as concepts can be, and in football take many forms, but as alluded to earlier, they are not defined simply by assists, but also through opening up spaces or either passing or running into them. Oxlade-Chamberlain, whilst not recognised as a "playmaker" per se, was an extremely aggressive individual with respect to this running with and without the ball, and his passes too. As the most advanced of the midfield three, Oxlade-Chamberlain focussed on advancing the ball vertically up the pitch, committing opposition players to him, and in doing so either creating a shooting/passing opportunity for himself, or space for his teammates. At the moment though, Liverpool do not have a player who is "creative" in this regard, nor the typical, traditional creative advanced or deep-lying"playmaker" – either a no.10 or a no.6.
Naby Keïta can perform this role, but the fact that Liverpool signed him, and then Oxlade-Chamberlain back in the 2017/18 summer window, as well as looking to get Nabil Fekir in during the 2018/19 summer window suggests that Klopp certainly does not envisage Keïta being the primary offensive outlet of the midfield – nor should he be – that simply isn't his game.
If we take a look at xGChain per 90 (the total xG of every possession a player is involved in), we can see the on-ball creative deficiencies of the midfield.
In 2017/18, Oxlade-Chamberlain had an xGChain/90 of 0.67; Coutinho 0.72; Emre Can 0.65. With none of these individuals available to Klopp for this season, it's incumbent on Milner (0.62), Henderson (0.47), Wijnaldum (0.45) and Keïta (0.72) to create. These statistics though only form part of the analysis – the creativity mentioned earlier referred to aggressive runs, passes, and positioning (to either move opposition players, or create space & options for teammates), and current statistical analysis does not yet have the ability to quantify the value of a player moving between a line to create an option.
Essentially, the issue is that the Liverpool midfield are too safe with the ball, and with their positioning. Earlier this season, we saw targeted runs into the final third, to support the forwards by Milner (the West Ham fixture, in particular, stands out for this, but admittedly, West Ham played an almost suicidal, super expansive 4-3-3 with a pedestrian and technically challenged midfield trio). However, recently, especially against Chelsea and Napoli, the midfield players preferred to minimise their risk to the team by running forwards and leaving space in behind, and instead maintained a conservative position, which sometimes would even develop into a flat midfield three – placing the attacking impetus upon the front 3 – two of which who usually position themselves against the opposition defensive line – and the fullbacks – of whom one usually stays back as the other attacks. This left the largest responsibility for linking up the midfield to the forwards on the floating forward, be it Firmino, Mané or Salah (although Salah far less than his offensive partners). If anything, this only underscores the need for a player who can control, manipulate and use space effectively i.e. a playmaker.
It's abundantly clear why Liverpool were reportedly interested in Jorginho, and had all but sealed a deal for Nabil Fekir. Developing Liverpool's on-ball ability is likely not to come from positional play, as it conflicts with pressing, so the natural step from here – other than a tactical shift, which we'll explore in another article later this week – is to sign more aggressive or creative players in order to deal with this deficiency.
For now, though, all Klopp can do is ask for his midfielders to support his forwards the best they can. We've seen it from time to time – take Wijnaldum's performances against Manchester City, or against Roma in the Champions League, or Henderson at any point when he was playing as a box-to-box midfielder, whilst Milner showed his offensive skills very recently too. If they can function together, and be a bit more daring in their play, a tad braver and aggressive, Liverpool may yet find their way through resolute defensive sides, or sides willing to sacrifice possession. But, for the long-term, bringing in an individual or two who can develop Liverpool's possession game seems necessary, especially considering how opposing teams are adapting, and actively trying to avoid going toe-to-toe with Liverpool, by sacrificing possession. Once Liverpool conquer this last tactical puzzle though, the road to a sustained challenge for a major trophy seems set for Klopp's men to storm down.