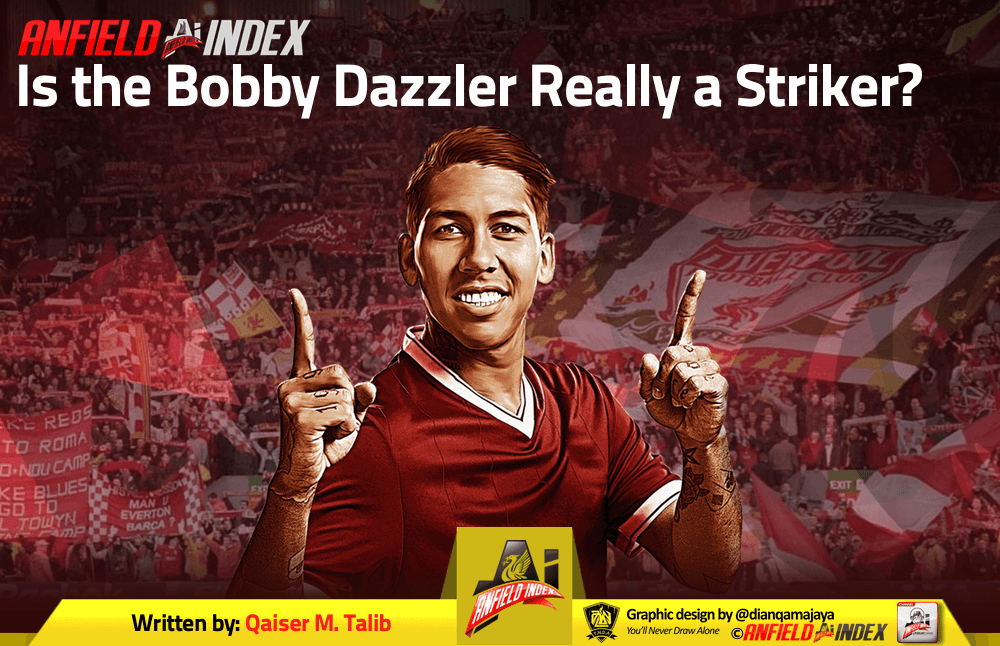 Is the Bobby Dazzler Really a Striker?
In mid-June of 2015, it was reported by multiple media sources, both in England and abroad, that Manchester United had agreed to sign an up-and-coming Brazilian midfielder, Roberto Firmino, for a fee of around £13m from German club, 1899 Hoffenheim. The action-packed style of the young man had some of the Europe's top scouts salivating into their Bratwurst and a move to Old Trafford had been touted for some time.
His agent, Robert Wittman, put the brakes on the Red Devils rumours fractionally by only admitting "Bobby will be going to the Premier League this summer. That's all I can say."
Then, it all went quiet for a fortnight.

When Liverpool, through their increasingly astute Sporting Director Michael Edwards, secured the signature of Firmino in the first week of July, it was a fabulous surprise for the supporters and quite a coup for a number of reasons. First and foremost, Firmino was an incredibly promising South American talent who had already racked up four years of invaluable experience in one of Europe's most physical leagues: the Bundesliga. Secondly, he was likely to get better given his age, only being 23 when putting pen to paper at Anfield. Thirdly, it was an example of FSG "splashing out" on a player, common now but rare in those days, paying twice as much as what United were believed to have offered for the midfield man.
Fourthly, it's always lovely jubbly to beat the Mancs to the punch.
In his first two seasons in English football, Firmino was comfortably able to reach double figures in terms of goals from an advanced midfield position, playing ahead of a somewhat static midfield but, thankfully, alongside his increasingly influential compatriot, Phillipe Coutinho. It helped that whilst he spent his first few weeks with Brendan Rodgers at the helm, it was not long before the flailing Irishman was forced to make way for the man who the Fenway Sports Group had been virtually stalking since they had purchased the club five years earlier from those who shall not be named.
Boom! In October 2015, FSG pounced. Jurgen Klopp finally stepped into the Anfield hotseat and so would begin a love affair between a German who loves hard-work and intensity, and a boundless footballer whose middle names could be "Hardwork" and "Intensity" if his parents hadn't had the audacity to use "Barbarosa de Oliveira" without our permission.
Not since the early noughties, when Barcelona boss Johan Cruyff worked hand-in-glove with his midfield maestro Pep Guardiola, has a player so perfectly mirrored a manager's philosophy to a hundredth of a degree.
Firmino is Klopp, but on the pitch. The two are spiritually connected, like Sauron and the One Ring, but in a non-evil way.
At the beginning of last season, his third in Liverpool red, the German boss officially shifted the Brazilian from midfield into the attack to form Merseyside's modern Fab Four. Whilst John Lennon depleted his own quartet five decades ago by leaving abruptly, the footballing equivalent became the 'Fab Three' when an increasingly moody Coutinho found his very own Yoko Ono, successfully stropping his way to the Nou Camp at the turn of the year.
Showing great mental strength as he lost a colleague, a compatriot and a close friend, Firmino was utterly unfazed. He continued as the face of Klopp's Gegenpressing, the leader of this fresh front three and the one who ruthlessly chased centre-backs down as if they have stolen a prized family heirloom from the Brazilian.
Between Firmino, Mohamed Salah and Sadio Mane, the Liverpool trio smashed in an astonishing 57 goals in the Premier League last season and a ridiculous 29 goals in the Champions League against, supposedly, the most impregnable defences on the continent. At times, the Liverpool front-line played football akin to one of the Champions League's sponsors: PlayStation goals became normal at Anfield and almost expected at away games also. (One wonders if Alisson Becker joined Liverpool in the summer so as to eliminate the risk of facing Salah, Mane and Firmino again.)
Although the Champions League Final ended in defeat in May, it was considered a season of progress for the Klopp Revolution, as the charismatic German and his manic forwards led the club to a top-four finish and another shot at Europe's elite this current season.
But, and it's a controversial but with a but right in its butt: in mid-October of the new season, there are rumblings of discontent amongst some Liverpool supporters that the front three are not looking as deadly as they were last season. As part of this discussion, there is an inevitable secondary discussion regarding the role of Firmino and whether or not you can win a title with a striker who isn't really a striker. No matter how loved he is by Reds, the truth is that Firmino hasn't been a striker for six of the seven seasons he has played in European football.
Given that he didn't have a fabulous end to the season, culminating in his less-than-spectacular CL final appearance somewhat overshadowed by Loris Karius' errors, he has come under some criticism for the first time in his Liverpool career, gentle though it has been. Are some jumping the gun here to question Firmino's role in this team?
In reality, all of the front three are, more or less, where they were last year at this exact stage of the season and perhaps with Liverpool joint top, it's a little early for panic.
But after two goals in four games – Chelsea twice, Napoli and Manchester City – there is a perception that Liverpool's attack is faltering, and truth be told, there hasn't been any fluidity in these four games. The last four games have resulted in ten shots on target, if that, and most of these proving tamer than the cat owned my Mrs Miggins down the road.
Mohamed Salah's peculiar form hasn't helped Firmino, and Sadio Mane's current ability to shoot when he should pass and vice versa has resulted in a lack of fluency which has been evident against Napoli in Europe particularly, and against Manchester City at home in the league. Perhaps this is a good time to work out if we have a problem, and if so, where did it come from and what can be done about it?
If one watches last season's game closely, you will see clearly that our success came from two of Firmino's greatest strengths. Firstly, his ability to press from the front gave opponents little or no respite. Secondly, the intelligent Brazilian had shown the tactical nous to drag defenders out of their assembled backline into midfield and full-back areas, creating massive spaces for Salah and Mane to make hay whether the sun shone or not. Whilst we spent the summer praising Virgil van Dijk, looking forward to Naby Keita and swooning over Alisson Becker, other managers were studying our front three, watching DVD after DVD. Playing and replaying.
"Stop, lets look at that again. Back – and to the left."
Firmino's expertise in dragging centre-halves into midfield is now being challenged actively by opposing managers because they have realised that despite the headlines about Salah and the excellence of Mane in the Champions League Final, Firmino is the heartbeat of the team in regards to its tempo, its style and its pattern of play.
Firmino is the Pied Piper – not of Hamlyn but of Merseyside. But now, after the publicity he received last year due to Liverpool's European demolition of Manchester City and Roma especially, he is no longer a surprise element. Even though it's his fourth season at Anfield, it's only his second season as a striker and we are all familiar with "second season syndrome."
Whilst last season, centre-halves were regularly falling for this gap-creation technique and leaving space for Salah and Mane to run riot, early indications from this season are that most centre-backs (like John Stones and the excellent Aymeric LaPorte last Sunday) will be letting Firmino go where he wants, as long as he is drifting away from goal, and passing him onto the holding midfielder, in this case: Manchester City stopper, Fernandinho.
"We aren't falling for that again. Fool me twice, shame on me."
Napoli had carried out the same operation on Firmino four days earlier with Koulibaly and Albiol passing Firmino onto Allan regularly throughout the game. This can sometimes leave Liverpool's attack looking static and Firmino, in a sense, in a tactical no man's land. Presuming that Liverpool still have the ball at this stage of the attacks, the momentum has often evaporated. Additionally, this impasse can mean that the South American is now closer to his midfield than his attacking allies or that Salah and Mane are now running into two calm centre-backs, perfectly positioned having not been duped by Firmino's wily attempts to displace them. This means that they cannot engage in the mesmerising four-on-three or three-on-two attacks which left the sporting world salivating last season. It means Liverpool's attacks look more orthodox, more "normal."
Whilst it's not a drastic problem at the moment, we will have to keep an eye on it. It's like that zit on your chin. It's just a red dot at the moment but you don't want a fully blown boil when you go out with your mates on Saturday night. (Apologies for the glamorous analogy.)
Firmino is learning this role on the job – and therefore, he will have some games where he is not quite firing. We may have to accept this, for now anyway, and we know his work-rate is always fabulous.
If the issue persists and Liverpool are still not looking fluid by November, Klopp has many options which he has not had previously. He can if he wishes to, play a more traditional striker like the in-form Daniel Sturridge, providing the striker doesn't dislocate his wrist reading the New Testament in the run-up to Christmas. Secondly, Klopp can use Naby Keita in an advanced midfield role so he is operating in a fluid front four when Liverpool have stolen the ball in the final third. Mane could move inside more often if needs be. With Shaqiri also in our squad, we have no shortage of options to deal with this potential challenge to our fluidity.
Going back to the original question, is Bobby Firmino really a striker?
Honestly: no, not with 90-odd goals in 300-odd career games.
Is he a Klopp striker though? Yup, in an interchangeable front three.
Should we be worried? Not yet, not with that defence looking the most solid as a rock.
As Klopp searches for solutions to the current attacking impasse, should other teams still be worried about Firmino?
Defo.
We look forward to the response of the Bobby Dazzler.
YNWA.