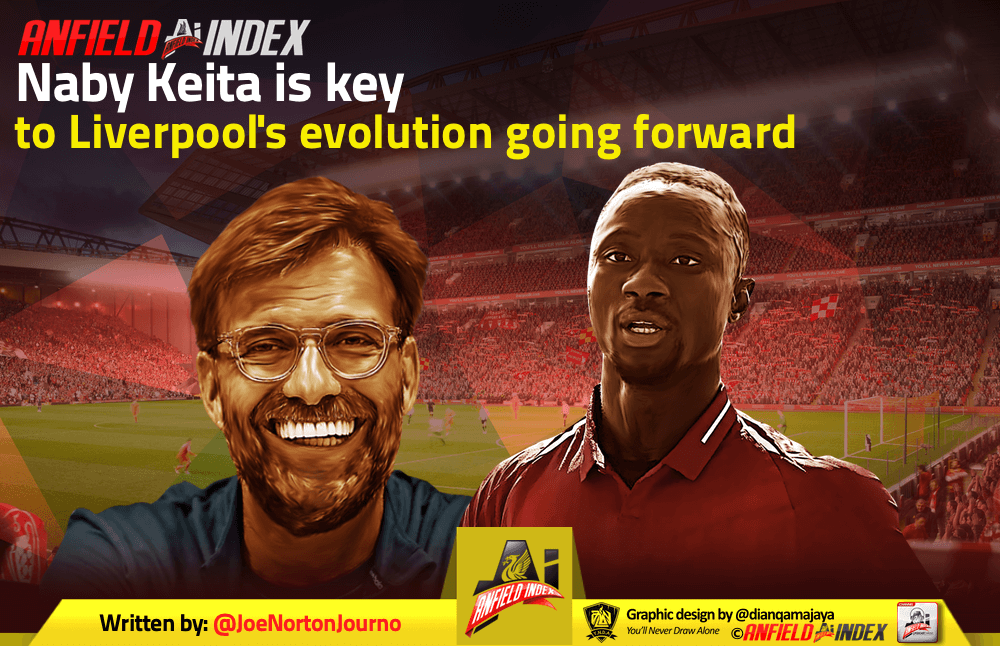 Naby Keita is key to Liverpool's evolution going forward
Livepool's midfield is holding us back. Our defence is looking as solid as it has done in years and we possess one of the most feared attacks in Europe but with a midfield that lacks any sort of dynamism or creativity, the Reds will struggle to evolve into genuine title challengers. It goes without saying that our front three lacks the scintillating fluidity it possessed at the back end of last season but is that any surprise when the team relies so heavily on them for creativity. Manchester City, Napoli and Chelsea have all defended rather impressively against the Reds but they've done so knowing if they stop the front three they'll nullify the majority of our threat. Alex Oxlade-Chamberlain added so much to our side from January onwards last season – pace, power and penetration from midfield. With the Englishman set to be sidelined for the rest of the season, huge pressure rests on the shoulders of Naby Keita as he is the only midfielder who possesses similar qualities to Ox.
Against teams who we dominate possession against Klopp has shown willingness to adapt his favoured 4-3-3 into more of a 4-2-3-1/4-2-2-2 which adds an extra creative dimension to the side as we saw with Xherdan Shaqiri starting against Southampton. However, against elite sides such as Manchester City and Chelsea who have world class midfielders, Klopp has little alternative but to revert back to a three-man midfield in order to match them in the centre and provide extra protection to our defence. With this in mind, Klopp must find a way of getting the best out of Naby Keita sooner rather than later if we are to challenge for the Premier League title and go far in the Champions League. Of course in the short term this is dependent on the severity of his injury (EDITOR'S NOTE: Klopp has stated that the injury is not serious but we will have to be patient.
In order to hurt some of the best teams in Europe, Liverpool need at least one midfielder who can inject some dynamism and penetration from deep. Not only does this provide us with another threat but it also takes some pressure and more importantly focuses off of our front three. Oxlade-Chamberlain and Keita both possess the attributes to be able to do this unlike James Milner and Gini Wijnaldum who offer differing qualities. This is highlighted by looking at a couple of stats from last season. From this quartet, only Keita and Ox averaged more than 1 dribble per game last season with Milner averaging 0.3 dribbles per game and Gini 0.4. In contrast, Keita averaged a staggering 2.5 dribbles per game with Oxlade-Chamberlain at 1.3. Of course, dribbling with the ball is only useful if you have an end product to go with it but Keita has shown he has this too. James Milner averaged the highest number of key passes per game last season at 1.5 which was narrowly better than Keita's 1.4 and Ox's 1.1. Gini averaged just 0.4 key passes per game. It is clear from looking at the stats and watching Naby play that he is more than capable of replicating the type of performances Oxlade-Chamberlain brought to this Liverpool side but how can Klopp get the best out of him?

Liverpool's number eights' game is all about picking the ball up in midfield and transitioning from defence into attack. Whether that be through a mazy run or an incisive pass, the Senegal international will break midfield and defensive lines for fun. However, in his last two appearances, he has been receiving the ball too deep, in areas he can't influence play in the attacking third. This needs to change. We can see from Naby's heat map against Man City that he is often receiving the ball in a position in-between our left centre back (Virgil van Dijk) and our left back who will have pushed on (Andy Robertson). This kind of rotation can work well but if you have a player such as Keita or Ox who possesses exceptional ball carrying abilities in your side then you want them playing higher up the pitch so they can receive the ball and drive at the opposition's defence and attack.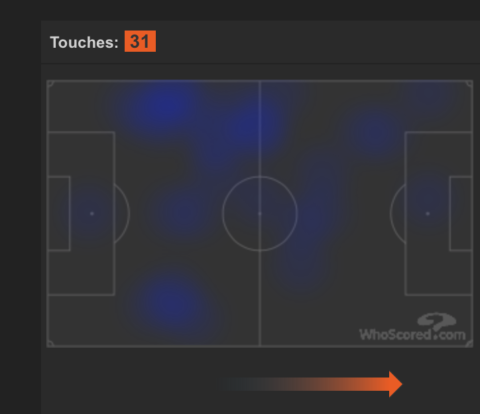 At the minute we're seeing Klopp deploy quite a flat midfield three meaning all our midfielders are trying to involve themselves in instigating attacks rather than developing them and providing a link to our frontline. When this Liverpool side was at its best last season we had one deeper midfielder receiving the ball off the back four, another slightly more advanced and then Ox being the player tasked with linking the midfield to attack – adding dynamism and penetration to our play. In the screenshot below we can see Ox take up a relatively high position against Man City in the Champions League game which caused Guardiola's side no end of problems as they struggled to contain his direct approach.
With Naby in our side we have a player more than capable of replicating the kind of influence Oxlade-Chamberlain had on the side post-January. However, this is only going to be possible if Klopp allows Keita to play higher up the pitch. Keita's got all the physical and technical attributes to be that dynamic creative spark, he just needs unleashing. Albeit against a lesser opposition, we saw Naby take up some great positions at home to West Ham as you can see in the screenshot below.
Klopp must trust him to be able to do this against the elites if Liverpool are going to cause top sides just as many problems as we did last season. Naby Keita is a special player and, upon his return. with a subtle tweak he could transform the whole team's dynamic as we come close to replicating our scintillating form from last season.