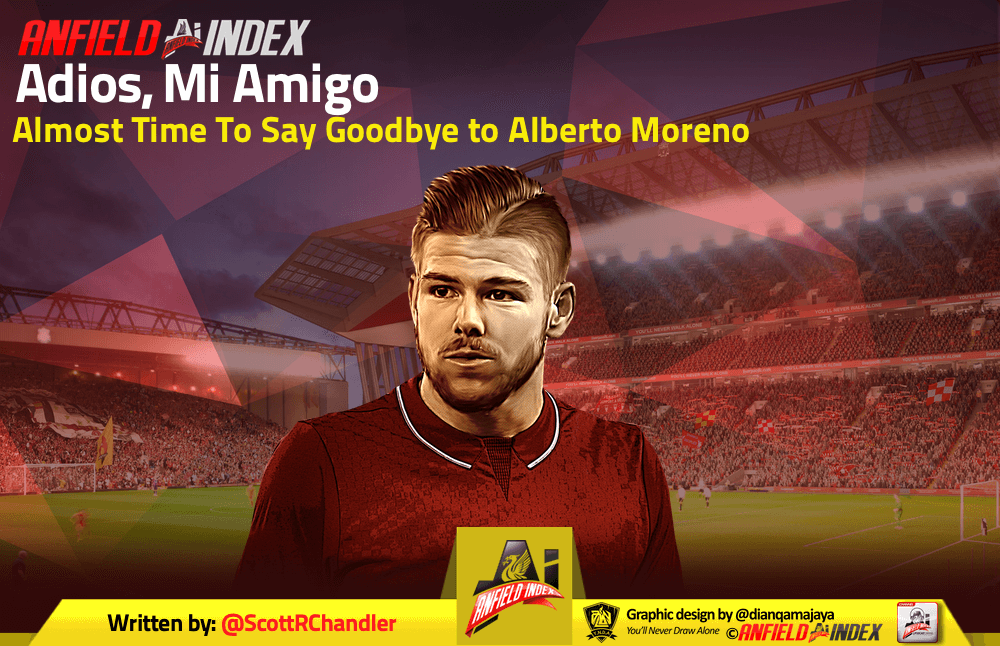 Adios, Mi Amigo - Almost Time To Say Goodbye to Alberto Moreno
The international break is typically a time for everyone to take a break and recharge the batteries during a long season. The most you can usually hope for during the week off is having all your players return healthy (which rarely happens for Liverpool) and avoiding any bad news. Yet, a piece of Liverpool transfer news dropped on Monday when it was reported that Alberto Moreno would not be getting a new contract with Liverpool and would be allowed to leave on a free transfer next summer. Whether that news is good, bad, or somewhere in between probably depends on your personal feelings about Albie.
When he signed from Sevilla in the summer of 2014, it seemed like a shrewd addition. Coming off several successful seasons for Sevilla both in La Liga and Europe, Moreno appeared to be one of the few positives for Liverpool in what was a difficult summer following the collapse of the title race and Luis Suarez's departure. Liverpool had lacked a true left back for several seasons (aside for some brief Scouse Cafu performances from Jon Flanagan in 2013/14 before his career imploded in ignominious fashion), and the position was calling out for someone who could make it their own.
When Albie rampaged up the pitch and scored a scintillating goal in 3-0 away win at Spurs, it felt like Liverpool had struck gold. Too bad it turned out to be pyrite. Moreno had an up and down season the rest of the way, registering only 1 goal and 1 assist and finding himself in and out of the lineup. Liverpool went on a nice run early in 2015, but flamed out with losses to United and Arsenal that all but ended any hopes of finishing in the top four. The best thing Moreno did on the pitch the entire second half of the 2014/15 season was an adorable tandem Sturridge Dance celebration at Palace in the FA Cup. Hard to hate someone who does that, no matter how bad they are. Maybe Charlie Adam should have tried it.

Brendan Rodgers was on the hot seat to start the 2015/16 season, and it was telling that he turned to Joe Gomez, a converted centre-back, at left-back rather than Alberto. However, Moreno got some chances back in the lineup starting in the Europa League in September that led to him starting most of the rest of the year once Jomez unfortunately blew out an ACL that October. Albie didn't set the world alight thereafter, but he started to grow into a solid contributor who could participate in the improving attack under Klopp without being a total tire fire at the back. However, an absolutely disastrous second half performance against Sevilla in the 2016 Europa League Final was the tipping point in his Liverpool career from which he ultimately never recovered, not unlike a certain goalkeeper who also failed spectacularly in a European final last May.
If Moreno's Blunder in Basel was the low point of his Liverpool career, the 2016/17 season was not much of an improvement. Once again, another converted left-back was preferred over what Moreno could bring to the table when Klopp chose to put James Milner at a completely new position. A full season spent coming off the bench or largely forgetting left Alberto basically with one foot out the exit door. Yet, a promising preseason in 2017 gave him a second chance with Jurgen, and aside from another error-filled performance against Sevilla in the Champions League (which of course was going to happen), he seemed to be making the most of it. Not only did he earn a call-up with Spain that November, but he actually showed some really promising chemistry with Coutinho down the left wing until he came off injured at half-time against Spartak Moscow in the 7-0. Even for the most jaded soul, Albie's tears were heartbreaking. He had finally seemed to find a run of form and earn a place in the team only for his career to get derailed again. While the injury was fairly minor and would only cost him just under two months on the shelf, it was the nail in the coffin on a disappointing tenure as Andrew Robertson gave Moreno the Wally Pipp treatment so bad that they probably need to rename it after Alberto instead. In the span of less than 8 weeks, Moreno went from a consistent starter to completely replaced by a new fan favourite. Whatever hope was left for him to salvage his time at Liverpool had been crushed. His appearances since then have mirrored what we saw against Sevilla, and his "defence" against Chelsea in the League Cup contributed to Liverpool's first defeat of this season.
So, four years after the Spaniard's arrival at Anfield, Liverpool appear to be finally set at left-back, just not in the way many would have thought. Rather than becoming a swashbuckling part of Liverpool's attack, Moreno turned only into a punch line. It's virtually impossible to think of Moreno and not picture him out on the wing, arms pinned at his side, getting skinned by an attacker. Time and again, he proved too shaky in defence to ever feature for a side that had aspirations of anything but playing in comically open matches. It's no coincidence that when he faced his former club in Europe after joining Liverpool, Sevilla specifically targeted Moreno on several occasions and ate him alive.
Yet, for all of the frustrating times with Moreno, his affable personality seemed to stave off the vitriol that many other players in similar infamous situations received. From Christmas Carol videos to bizarre animal tattoos to terrible impressions, Albie was the rare player who could make you root for his success even when it was obvious how poor he was at actually playing football. Thus, Moreno's destiny seemed to mirror one of his predecessors at left back, Jose Enrique, where Albie created more headlines in the media than on the pitch, but people actually you know, liked him. Perhaps I am in the minority, but even though I will be glad that he will no longer causing Liverpool's defence to collapse, I don't look back on Moreno's career in anger. I would prefer to remember his sprint down the wing at White Hart Lane or the goofiness and laughter he brought to the team. It will be interesting to see where his path takes him next, especially if the dubious Barcelona rumours actually come to fruition. But being interesting – for good and bad reasons – is something Moreno has always done well.