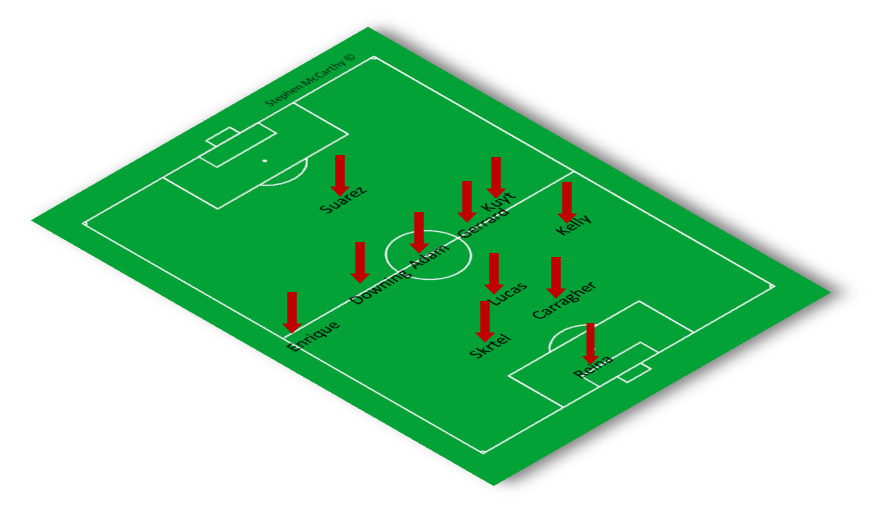 The Devil Is In The Detail | Liverpool V United | The Aftermath

It was supposed to be the game to end all games. A Clash of the Titans. El Classico, English style. Instead we were left with a damp squib of a football match that only came to life after Gerrard hammered in a free-kick that was won by Charlie Adam, in supposed controversial circumstances. So what went wrong.  Why did a game that promised so much deliver so little. The devil (pardon the ManU pun) is in the detail as they say, so let's take a look at the formations and tactics employed by both managers.
If you look at my preview article before the game you will notice I got the United team-sheet spectacularly wrong. Which pretty much made most of my pre-game analysis of the match null and void. I don't think anyone would have predicted that Fergie would come with such defensive personnel and play in such a formation. It was one of the most bizarre and surprising team selections I've witnessed in recent times. The team was clearly picked to stifle the game, and for Untied to come away with a draw. They came for the draw, and that's what they left with. Below is a graphic of the United starting line-up and the average position for each player's time on the pitch. It makes for some interesting reading.
There are a number of things here to look at. Surprisingly, furthest forward was actually Ashley Young, and not Danny Wellbeck as expected, who played his usual position of playing from the inside left wing. Notice how congested the midfield is. Giggs was tucked way in to make up the numbers in the centre while Evra was tasked with providing the width on the left. On the opposite side Park Ji-Sung was also tucked in, however, Smalling didn't provide as much width going forward as Evra did on the left. Hardly surprising, as I predicted in my previous article, Smalling is playing out of position and tends not to drift too far forward for fear of being caught out of position.
Jones, a central defender by trade, played in midfield. Before the game, when the United team-sheet was read out, everybody expected Jones to play in a deeper role and provide cover for the back four. As the game panned out in fact Jones played further forward, and it was Fletcher who provided more cover in front of the back four. Note Ferdinand's position of being slightly further forward than Johnny Evans. Ferdinand was tasked with coming out of defence and picking up Luis Suarez. With Liverpool opting to play one man up front then United could be quite happy for Ferdinand to come out as Evans could easily provide cover in behind. Without a second striker to mark, Evans could comfortably sweep up behind Ferdinand. Knowing that Suarez was covered in between the lines allowed Fletcher to drift slightly further forward into the midfield battle and provide even more man power to shut down Liverpool in the centre of the field.
United certainly got the tackles in, only losing 3 out of their attempted 23 tackles. That's a tackle success rate of 87% for the game. They had a season tackle success rate before the game of 74%, so a considerable increase, but is it really that surprising considering the amount of defensive players they started with. See the graphic below from the StatsZone app of United's tackles. Notice the amount of tackles United made in their own half.
United certainly seemed to be under pressure from down our wings, and we attempted 33 crosses throughout the game, this stat bares out in the number of clearances United made. They attempted 47 clearances during the game, considering their season average before the match was 29 attempted clearances, it's clear that they were under more pressure in this game than they are used to. They came with a clear plan to stifle the game, not lose, and they were effective in their purpose. It's only a pity, for not only ourselves, but also the neutral, that these were the tactics, as it made for quite a non-eventful game, at least until the first goal was scored.
Our line-up was as predictable as it could be. However, I was surprised that Carroll didn't start in replace of Adam. I thought Adam had 2 tough international fixtures the preceding week so it was a good time to rest him. Kenny had other (better) ideas however, as it turned out Adam probably had his best game for Liverpool. Have a look at the graphic below for our line-up and average position for each player throughout their time on the pitch.
We played with almost a 4-1-4-1 formation with Enrique actually providing a fifth man in left midfield he got forward that often.  Lucas as expected provided the cover in front of the back four and was able to come across and help the defence with Ashley Young's forward runs and any other of United's plethora of midfielders who attempted to get forward. Nothing new in Lucas's position here. It's in the midfield where it got a little bit more interesting. Before the game we thought Gerrard or Kuyt might get forward to help Suarez in attack when in fact as the game turned into a slog fest in the centre, neither turned out to be relatively effective in that role. This resulted in Suarez being isolated in the forward positions and so a lot of our attacks broke down as we tried to break forward. You can notice in the graphic above the considerable gap between Suarez and the midfield.
Furthermore, our lack of creativity coming through the centre was apparent throughout the game, resulting in a lot of our attacks originating from the wing positions. Before the game we had attempted 133 crosses for the season, that's an average of 19 per game with a crossing accuracy of 24%. Against United we attempted 33 crosses, almost twice our season per game average, however, only 4 of those crosses were successful, making our crossing accuracy for the United game a very poor  12%. Was this a tactic for us pre-game? Or were we forced to attack down the wing because of an overly congested midfield? I believe it was the latter. If our tactic was to get crosses in at every opportunity then surely we would have had Andy Carroll on from the start. You can see from the below StatsZone graphic the amount of crosses we got into the box.
So as the game panned out, and as we got more and more crosses into the box I was quite surprised not see Andy Carroll even make a substitute appearance. From United's team-sheet graphic above I believe if Carroll had of been on the pitch then it would have freed up a lot of space in the centre. You always need a spare man at the back. With Carroll and Suarez up top, Evans and Ferdinand would have needed some help from midfield to contain the two. This would have pushed Fletcher back further between the lines, leaving more space in the centre for us to develop some creativity.
As it happens Carroll didn't even make it off the bench. Perhaps Kenny thought we were doing ok up until we scored, and he didn't want to upset the status quo. We scored in the end, and almost got the win, so who's to know what might have happened had Carroll been on the pitch from earlier. Who am I to argue with the King anyway. Take a look at our attacking third passes in the game from the StatsZone graphic below. It's quite interesting to see how much of our play was concentrated on the wings. Not surprising then that we got as many crosses in as we did.
There was certainly a lack of creativity from the centre of the pitch. A telling stat from the game is that we actually attempted zero through balls. Our season total was 33 attempted through balls beforehand, averaging 4.7 per game. Considering that the majority of through balls originate from the centre of the pitch, and in particular, from midfield, it highlights the fact that not much creativity happened in the centre. United themselves only attempted one through ball for the entire game.
Finally, and I was not the only one to point this out, a lot was said before the game about the amount of chances Liverpool have missed this season. I pointed out in my tactical preview to the game that we really needed to start taking our chances. Especially against a team of United's calibre. Before the game our chance conversion ratio was 10%. After the United game it has now dropped to 9%. A telling stat in the context of the game. Considering United's chance conversion ratio so far this season is 23% then you begin to understand why there is such a difference in not only the goals scored column, but the amount of points accumulated , between both teams. It is worth noting though that United's 23% this season is operating way and above the norm. Especially as they themselves had the highest chance conversion rate for the whole of last season, standing at 16%. That stat sort of puts into context how deadly they have been in front of goal this season.
If we were to have any chance of winning against United then we really needed to take the chances that came our way. Something we failed miserably to do. On the whole though, there is plenty to be positive about. All though the game was probably there to win, perhaps it is an indication of where we are as a club, especially in our development, that we didn't just have that extra bit of guile and confidence to take the game more to United. We certainly are a lot better off than we were a year ago that's for sure. And maybe the essence of the game in not in the scoreline, but in the fact that United were happy to come away with not being beaten, and ultimately we were unhappy not to get 3 points from the game. So here's to 3 points and a win against Norwich.