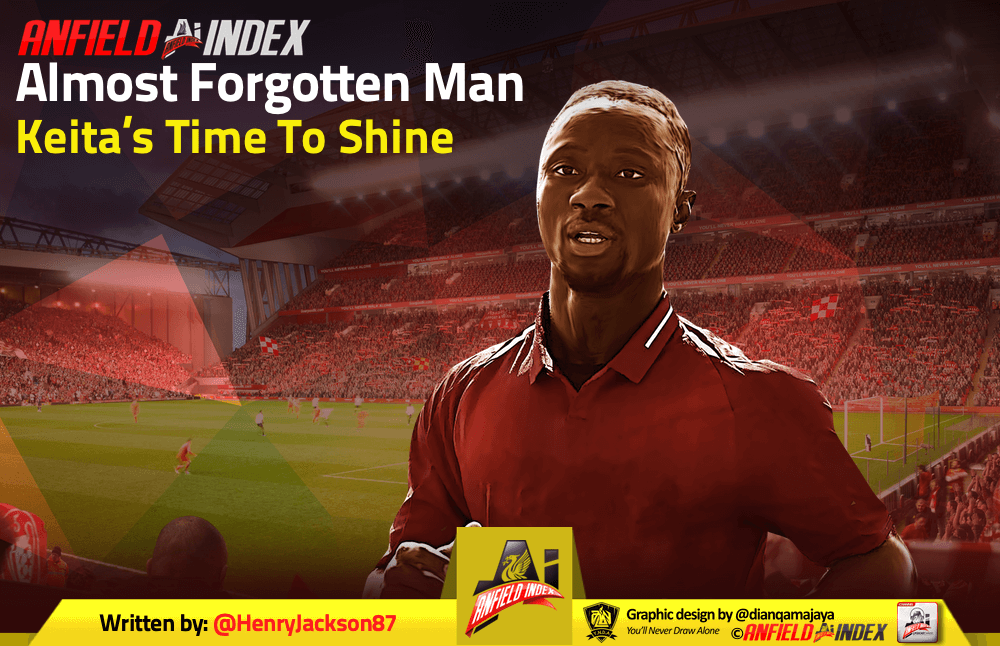 Time For Forgotten Man Keita To Excel
It's hard to think of a Liverpool signing in the last decade that brought as much delight as the capture of Naby Keita.
Luis Suarez is a name that instantly springs to mind, but when he traded Amsterdam for Anfield he wasn't the world-beater he would go on to become.
Mo Salah and Sadio Mane both arrived to mixed reactions, while the likes of Philippe Coutinho and Roberto Firmino only became global stars once they moved to the Reds, like Suarez.

The signing of Virgil van Dijk also felt seismic, but then again he's a defender. We all know it is impossible to get quite as excited about one of them!
Keita came in 12 months after signing, and while it was frustrating having to wait to see him in a Liverpool shirt, showing some patience was going to be more than worth it.
Here was a player widely seen as one of Europe's most influential midfielders – someone containing world-class defensive attributes and also an ability to wreak creative havoc in the final third.
Those who had watched him regularly for RB Leipzig would tell other less-educated individuals just how special he was, and it all snowballed to the point of hysteria, without sounding too hyperbolic.
Because of this, fireworks were expected from the second Keita strutted into Melwood.
An eye-catching pre-season was more proof of what he would bring to the table, only exceeding expectations, as well as an excellent debut at home to West Ham, in which he ran the show in a 4-0 victory.
He was everywhere that day, playing a key role in Salah's opener and generally showing why the hype was justified.
The outrageous Cruyff Turn away to Crystal Palace in the following match was another much-talked-about moment and Keita's stock remained as high as it had done from the moment his signing was announced.
Then things changed.
Having impressed at Selhurst Park, Keita didn't look the same player, with his influence and game time diminishing significantly.
We saw him in patches before a hamstring injury further curtailed his progress, but only six starts have come his way – just four in the league – and his displays have been forgettable rather than memorable.
The midfield triumvirate of Jordan Henderson, Gini Wijnaldum and James Milner who shone so bright at the end of last season were often preferred prior to his injury, while Fabinho is now starting to slot in seamlessly, too.
Liverpool find themselves joint-top of the Premier League, but their Guinean superstar has not contributed much to the cause, surprisingly.
He is still awaiting his first Reds goal and a maiden assist has also evaded him.
Keita hasn't been poor by any means, barring a dreadful start against Napoli that may have been injury-related, but matches have drifted by without him stamping any kind of authority on them.
This shouldn't be seen as any great surprise, though, with Klopp's methods famously tough to adjust to. Just ask Andy Robertson, Alex Oxlade-Chamberlain, and most recently, Fabinho.
Pre-season and the West Ham game have actually worked against Keita, in terms of raising the bar early, but they were either friendlies or a cakewalk of a league fixture.
From then on, Liverpool's new midfield hero found it hard to find a rhythm and get fully in-tune with the Reds' playing style.
Anybody remotely panicking is looking at things in a horribly short-term light, however, and as he nears his return to the team, now is the time for Keita to move up a gear.
Saturday's trip to Arsenal could come too soon for him, but Klopp will surely see this upcoming run as the ideal time to play him more regularly.
Games against Red Star Belgrade and Fulham should be relatively straightforward on paper, while the trip to Watford is also more than winnable. They are not as high-profile as the matches Keita was previously being thrown into.
Such is the level of impatience that exists in the modern game, Keita's genius has already been forgotten about a little, but he is someone who can end up being as influential as anyone for Liverpool.
Fabinho has suddenly come alive, showing exactly what he can bring to the table, and you feel it is Keita's turn next, as he returns to full fitness.
He can be the man to take the team's performances up another level, as he grows more settled to life in a new country, learning English in the process.
That will make a big difference on the training ground and during matches, in terms of improved communication with coaches and teammates.
In hindsight, expecting the 23-year-old to flourish in numerous high-octane matches so early in his Liverpool career was always expecting a little too much. We got carried away.
It would have been nice to have witnessed more from him, so he shouldn't absolved of criticism, but he is feeling himself in and his displays were still perfectly solid before the hamstring issue struck him down on international duty.
Keita still absolutely merits such hype surrounding his signing and his unique ability is about to come to the fore.