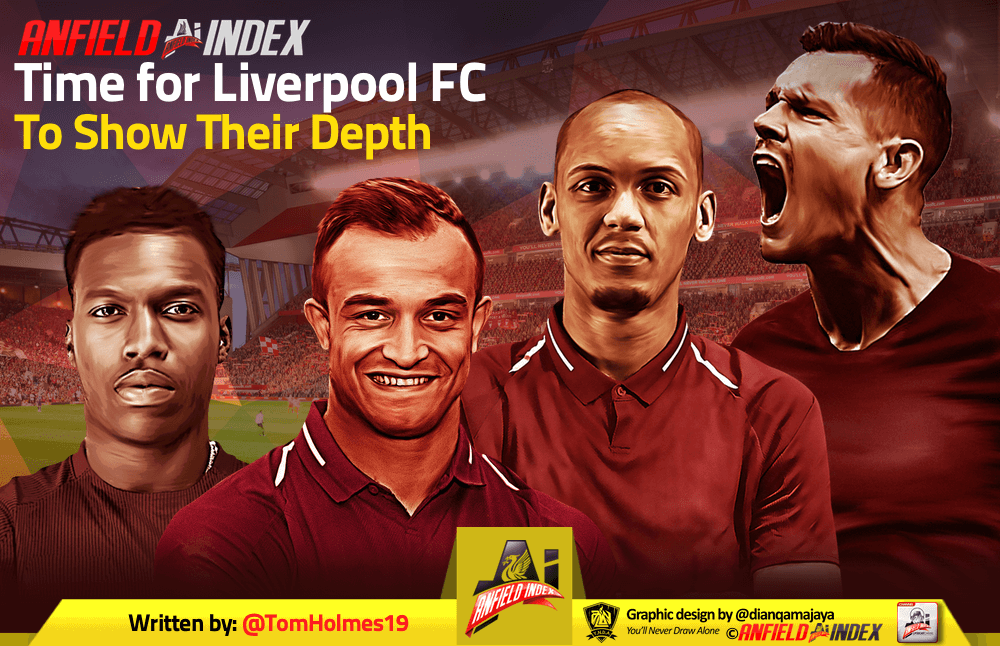 Time for Liverpool FC To Show Their Depth
Liverpool have a deeper squad than they have in previous years. This is not a fact that I'm going to dispute, although I'd definitely make (and will make) some arguments that that depth isn't as deep as maybe it's being made out in some areas, and certainly hasn't drastically improved over the summer.
Nevertheless, Klopp has slowly been building a deep and impressive squad that the four acquisitions in the summer have moved relatively close to being a very top side. Three of those four haven't featured extensively yet, with only new goalkeeper Alisson an automatic starter of the Reds' new signings. Nevertheless, the fact that Liverpool can bring the likes of Shaqiri and Fabinho into the team and arguably improve it is a really positive sign for the weeks ahead.
But here's the thing. Depth is only a good thing when it delivers. Manchester United have an incredibly deep squad in many respects, in that they have around twenty players who could all conceivably start most games for them. But this has created a mix and match culture where not even the manager knows who will be starting week on week, and the players are struggling for confidence and rhythm. The likes of Martial are given one start to prove themselves, before being thrown back to the bench when they can't instantly deliver.

Contrast that to Manchester City. They were missing first choice left-back Ben Mendy for the vast majority of last season and barely felt the loss on their way to a record-breaking title win. This season, they've been shorn of their best player, Kevin De Bruyne, and have won six of their eight games – they're still unbeaten and top of the league.
As for Liverpool, their depth simply hasn't been seen yet. For all the talk of how many options this Liverpool team now has, only twelve players have started more than one of the Reds' Premier League games so far this season, with Jordan Henderson and Naby Keita rotating the central midfield spot alongside Milner and Wijnaldum.
As such, we have a couple of questions that still remain over the depth that Liverpool seemingly have. Xherdan Shaqiri impressed most people on his only league start but was pulled after 45 minutes as Liverpool were seen by Klopp to be too open. Keita has struggled in his last few appearances, and Fabinho is yet to make an impact on the side. For all the talk of how useful an attacking option Daniel Sturridge is, if he picks up an injury, it's back to Dominic Solanke or Divock Origi.
Defensively moreover, Virgil Van Dijk looks an absolute colossus and everyone who plays alongside him looks better as a result, but pairing Gomez alongside either Matip or Lovren suddenly looks a lot more defensively suspect. When Moreno has been called into action, he's looked nothing short of disastrous, and Clyne's defensive stability doesn't outweigh the fact that Liverpool look sterile down the right-hand side when he plays.
None of this is to say that Liverpool don't have a terrific set of options available to them, to be clear. There's no doubt that a bench including Keita, Shaqiri and Sturridge offers far more than Liverpool have had at their disposal for a while, and there's also no doubt that both Keita and Fabinho will nail down starting spots in the midfield when they get the chance.
Nevertheless, the point that I want to make is that we haven't seen our depth properly yet. It's one thing entirely to know that Keita, Fabinho and Shaqiri will come good, and another thing to see it actually happen. Potential is great but until it delivers it's still just potential. I love Daniel Sturridge as much as the next person, but we're only in October. It's terrific to see him deliver in crucial games and off the bench, but if he can't stay fit then Liverpool are back to having very few genuine goalscorers should something happen to one of the front three.
And what's brought this question over our depth into sharp light is the fact that after the international break, it will probably be put to the test a bit more. Both Mo Salah and Virgil Van Dijk headed back to Melwood after missing their second games through niggles – VVD has his recurring rib injury and Salah had an alleged muscle problem. James Milner of course, limped out of the City game and will miss at least the next one or two matches, whilst Keita also looks to set for a short spell on the sidelines after his suspected thigh injury. The one definite issue is Sadio Mané, whose broken thumb will almost certainly hand Xherdan Shaqiri his second league start at the weekend against Huddersfield.
The point here is not that Liverpool have a myriad of fitness issues, indeed most of these niggles are minor and may not even keep some or most of these players out over the next few weeks. But with increasing questions asked over various players' fitness, the time has come for Klopp to rotate his squad more, especially considering the calibre of opposition; three of Liverpool's next four league games are against three of the bottom four clubs in the league with two games against Red Star Belgrade sandwiched in.
The overall point here is not to suggest our depth isn't good enough to put three or four past these clubs – they probably are. And it's also not to suggest that we shouldn't be worried that some of our key players have fitness issues – we should be.
The point is that ultimately, the proof is in the pudding. We can argue how good Liverpool's depth is until the cows come home (and as both a huge Liverpool fan and a content producer I'm going to continue to do so until long after the cows are back in their pen), but the fact is we don't know how well the likes of Shaqiri and Fabinho will be able to step up and influence Liverpool's season.
There are lots of objective reasons to be positive, particularly given that Klopp's approach is significantly closer to Pep's precise philosophy than Mourinho's scattergun technique. But equally, there remain justifiable questions about our various levels of depth in various positions. If VVD can't play, there remain genuine questions over our defence, there's no guarantee that Fabinho will be able to properly adapt to playing in a Liverpool midfield, and Xherdan Shaqiri is immensely talented but has had an inconsistent career.
We just won't know about how good our depth is until we see them in action – which as I illustrated above is more likely to be sooner than later. I think our depth is dead good by the way and this piece was never intended to be a negative one. The other way of looking at it is that we're going to finally get a chance for some of these players to prove themselves.
That, of course, is the alternative argument, the alternative way of reading the situation. We have potential niggles to some of our most important players in Salah, Mané, Milner and VVD and the simple solution is to play the likes of Fabinho, Shaqiri, Sturridge and Lovren (who has whether fans laugh about it or not been one of the best centre-backs in Europe in the calendar year of 2018). Even six months ago, the idea of Salah not playing would fill you with dread, now it's anticipation, as well as obvious concern.
Liverpool's depth then? Time to see what it's made of.