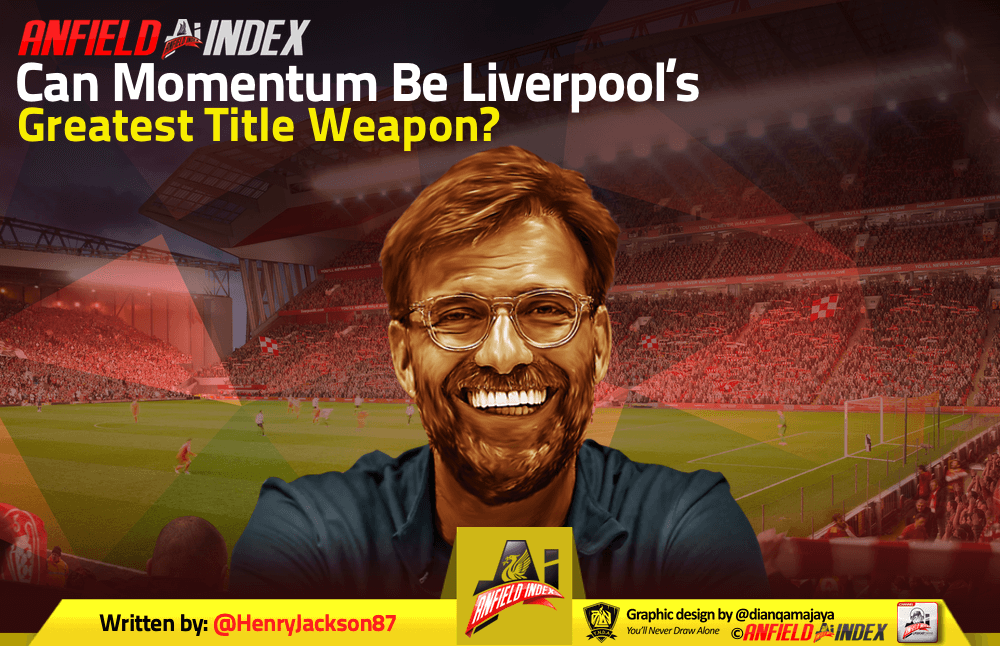 Can Momentum Be Liverpool's Greatest Title Weapon?
No team thrives more with momentum behind them than Liverpool.
We are an emotional fanbase and when things are going well, the Reds can become an unstoppable force, as we have witnessed throughout history.
Using modern examples – I know, football existed well before 1992 – nothing stands out more than 2004/05 in that respect.

Nobody even gave Liverpool the slightest chance of glory in the Champions League that season, with countless teams ahead of them in the favourites' pecking order.
Slowly but surely the belief grew, though, and momentum came into play.
The 3-1 win against Olympiakos was the catalyst behind it and from that moment on Rafa Benitez's side felt invincible, in Europe at least.
Juventus were a team who were comfortably superior, as were Chelsea – both cruised to respective league crowns that year – and AC Milan were a star-studded team of bona fide legends that included Paolo Maldini, Cafu, Clarence Seedorf, Kaka and Andriy Shevchenko.
All three teams ended up being powerless to do anything about the most staggering European Cup triumph in history, though, with the comeback in the final epitomising Liverpool's ability to pull off the impossible.
The memorable 2013/14 campaign was another seeped in momentum from February onwards, with 11 Premier League victories in a row chalked up and that feeling of being untouchable increasingly coming to the fore.
Sure, Liverpool ended up falling short, but they got into an unlikely winning position because fans, players and the manager all clicked in tandem.
When that happens, the Reds are a true force.
Other standouts include the 2015/16 Europa League run, with the 4-3 win over Borussia Dortmund the defining match of that season, with Anfield one of the few sporting arenas on the planet capable of inspiring such a miraculous comeback.
Last season's Champions League journey was even more enjoyable, with Porto destroyed, Man City comprehensively outplayed and Roma also beaten, on their way to a final nobody expected them to reach the previous August.
Again, the Reds weren't ultimately triumphant during those two attempts at European glory, but it was impossible to deny that momentum played a huge role in getting them so close in the first place.
They love being the underdogs, defying the odds and beating much-fancied sides, and only cruel twists, such as Steven Gerrard's slip and Mo Salah's injury, have prevented Liverpool from going all the way.
Many things are going to be key to Jurgen Klopp's side sustaining a title challenge this season, but momentum could end up being a vital element.
We all know that City remain the favourites – there would be no shame in losing out to them, should it happen – but they are not capable of generating the same level of impetus as Liverpool.
The champions are famed for their fairly tepid support, with the Etihad often far from full and their attitude towards the Champions League utterly bizarre.
You would also hope that a touch of complacency will set in with them, even though Pep Guardiola is someone who demands perfection from his players.
Let's not forget that no team has retained the Premier League title since Man United back in 2008/09, which shows how difficult it is to remain switched on to title-winning levels week in, week out.
Teams who have more hunger after a barren run have been the victors in recent times, from Leicester's unrivalled achievement to Chelsea bouncing back from disappointing spells a couple of times.
We are still only in October, with plenty of twists and turns still to come, and we shouldn't be flippantly assuming it will be a two-horse race.
Chelsea, Tottenham and Arsenal are all being tipped by free bet no deposit sites to do well, particularly the former, but the general feeling is that Liverpool and Man City are the two best sides in the country.
Regardless of who is challenging, if Klopp's men ensure they are in touch at the top by the time the business end arrives, that much-mentioned momentum can be their secret weapon.
Liverpool want that league title more than anyone, as 2013/14 showed, and just imagine the scenes if they are right in the mix come the spring.
The atmosphere at Anfield would be so electrifying that opponents would head there with a 1-0 deficit, while the travelling support would be equally vocal on nerve-shredding outings away from home.
Klopp, himself a man so driven by emotion that he couldn't be more perfect for Liverpool if he tried, would get right behind it all as well, as we saw during the road to Kiev.
Much as it may rile rival supporters when we get all high and mighty about our great club, the Reds really are capable of special things when it all gels together and belief grows.
To show that that isn't an entirely biased view, Man United are similar, as they have proved so often in the last 25 years, and even in their last game against Newcastle, despite enduring a woeful season to date.
It would be downplaying the brilliance of Klopp's tactical acumen, the quality of the players and numerous other factors to say momentum is everything, but it is a big advantage Liverpool have over the rest of their rivals.
They might not win the league even if Anfield is deafening and the players are possessed, as past failings have shown, but it will help them get mighty close.
Just be in the mix come February, lads, then watch what momentum can do.