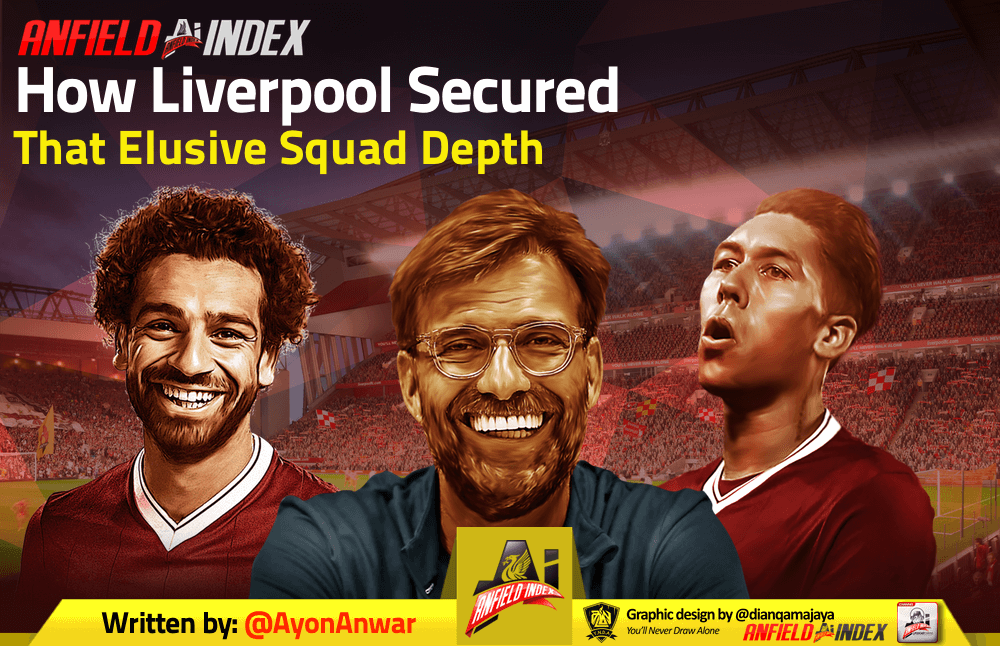 How Liverpool Secured That Elusive Squad Depth
KIEV, Ukraine: The 2018 Champions League final evenly poised at one all, Liverpool managing to offer a response via a Sadio Mane equaliser after a howler from Loris Karius which gifted Real Madrid a second-half lead. Zinedine Zidane looks to his bench and summons Gareth Bale to make an impact. One of a many of players at his disposal who would walk into any starting eleven across Europe.
Backtrack to the first half with Liverpool starting on the front foot conjuring 9 shots in the opening half hour, when disaster strikes. Mohamed Salah, their 44-goal wonder, can no longer continue with a nasty shoulder injury. Jurgen Klopp glances at his charges and calls upon a barely match fit Adam Lallana.
Has there ever been such a large disparity between bench quality in a Champions League Final? Maybe…

A common sentiment among football fans is that Liverpool will be able to challenge for major honours because of their new-found squad depth. Yet, teams across Europe struggle to achieve this for a variety of reasons.
Tottenham, for example, has a stellar starting eleven. Harry Kane along with Christian Eriksen and co will strike fear into any defence they face. Beyond that, though, resources are spartan. The problem lies with convincing top-quality players to sit on the bench given the cohesion between the preferred starters.  As a result, Spurs ended up with Fernando Llorente, who was more than happy to make the switch from struggling Swansea, than a striker of higher esteem.
Real Madrid's staggering drop off in league form from their league title triumph in 2016/17 to last season can be somewhat attributed to the lack of depth on the bench, with Zinedine Zidane choosing to invest in the future of the club, bringing in youngsters such as Dani Ceballos whilst showing the experience of Alvaro Morata and James Rodriguez the door.
Cristiano Ronaldo's exit from the Bernabeu may also be attributed to this as he continues his search for his first treble.
But how is that a club of Liverpool's stature is only achieving this now?
Surprise Packages
Perhaps not a surprise to Michael Edwards and the recruitment team, the rise in prominence of Trent Alexander Arnold and Andy Robertson, in particular, have been astounding. For a net transfer of £0 pounds, as Kevin Stewart was essentially traded to Hull city for the Scotsman, the swing in quality in the fullback department is quite frankly unbelievable. A sign of how good business can turn liabilities into assets.
The same could be said of Mo Salah. At the time of his purchase from Roma, then Liverpool's transfer record, there wasn't much fanfare for the Egyptian, even after a fantastic season at the Stadio Olimpico, registering 15 goals and 11 assists. What a difference a year makes.
Jurgen Klopp
Although Virgil Van Dijk's attitude towards his employers at the end of his Southampton tenure is not commendable, it speaks volumes about how much a player of his quality respects a manager and his philosophy. The respect was reciprocated as Klopp singled out the Dutch captain as the solution to Liverpool's defensive woes – albeit with the help of the aforementioned surprise packages in the back line.
The charismatic German exudes positivity with his antics off the pitch whilst his passion on the touchline has elevated the already vociferous Anfield crowd to a new level as he fist pumps meaty challenges and collective pressing. Plus, who wouldn't love a nice hug from a 6'4 giant with your head nestled safely in his chest? I know I would.
Competition For Places
The announcements of the arrival of Naby Keita and Fabinho in the summer would lead most to believe that Klopp was looking to rejig his midfield after coming so close to the greatest prize in club football. Suggesting that both James Milner and Gini Wijnaldum would play the majority of matches in the midfield three would have been laughed off as lunacy. The pair have upped their game to such high levels that more than £100 million worth of midfielders is oft seen warming the bench.
The Guinean and Brazilian would have been under the assumption that they would walk straight into the starting eleven, justifiably so given their price tags. However, the ageless Englishman and versatile Dutchman are showing that they aren't so easy to displace.
Challenging on three fronts is no easy task with the added games of the newly founded nations league mixed in with an already hectic schedule. But with faith from FSG in the form of a transfer war chest added into the mix, Klopp has shown that a man with a plan and a chequebook can cause all sorts of problems (for everyone else).