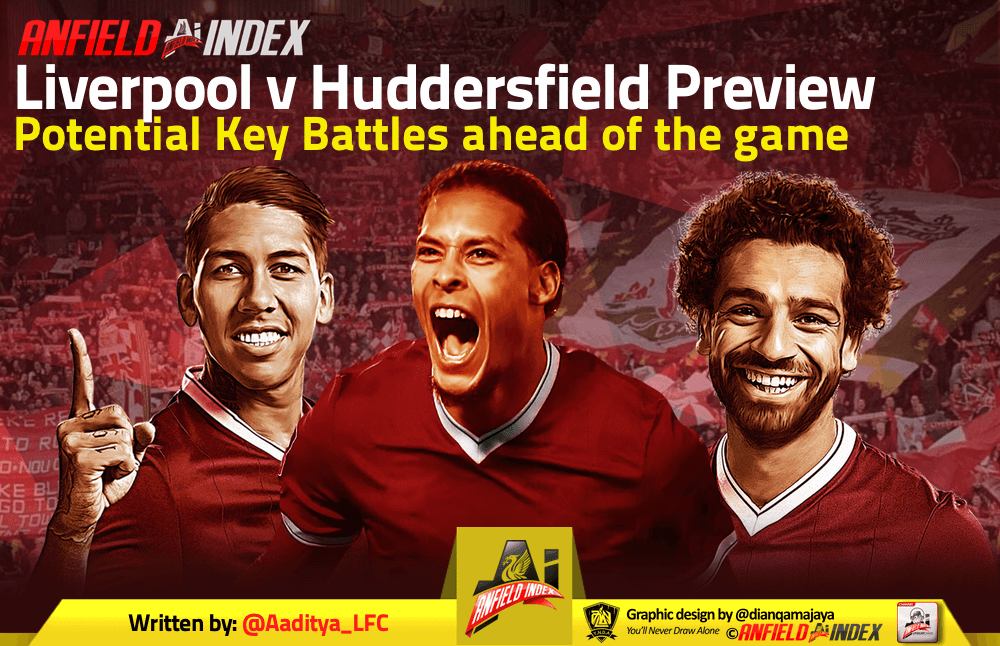 Liverpool v Huddersfield Preview - Potential Key Battles
A wretched international break filled with injuries is over. For the Liverpool players, it's time to get back on the road, as they get ready to travel to Huddersfield for the late kick-off on Saturday.
Huddersfield are winless in the Premier League, having only managed three draws from their eight games, and against a Liverpool side that hasn't conceded in the league at Anfield since February, there could be few bigger tests for David Wagner's side.
For the Reds, injuries or niggles to Virgil van Dijk, Sadio Mane, Mo Salah and Naby Keita have soured the international break, but it is expected that most, if not all, of them will be fit for this game. "Jurgen loves his smokescreens," said David Wagner, as he expected to face a full-strength Liverpool. If Wagner is right about the smokescreens, there will be sighs of relief heaved in Liverpool fandom.

Here are the key individual duels to look forward to from the game.
MO SALAH v CHRIS LÖWE
Whatever anyone says about Salahs season so far, one unanimously accepted truth is that Salah has got to be doing better. He hasn't exactly been poor in most games he's played, but he's not reached the heights that everyone knows he can. Even without comparing him against his own high standards, there is room for improvement.
On Saturday evening, he will be up against Löwe, who has played for Klopp during his time at Dortmund. The German has already shown multiple times during Huddersfield's time in the Premier League that he can be susceptible to raw pace, and the 'King of Egypt' has got plenty of that to burn.
Salah has been getting into goal-scoring positions for the most part of this season. It is his zen-like composure from the back-end of last season that has deserted him. The underlying attacking numbers are still strong for Salah, so there isn't cause for panic just yet. There's cause for displeasure about his performance thus far, but not for panic. Like the rest of the attacking part of the side, Salah has not hit the heights we know he is capable of.
Even apart from Löwe, none of the other Huddersfield defenders are particularly blessed in terms of pace, so it could be a good afternoon for him. Whoever starts on the left wing for Wagner will have to help Löwe, and double up against Salah. Who that man will be could be a very interesting point to ponder for the Terriers.
VIRGIL VAN DIJK v LAURENT DEPOITRE
Over the course of the international break, much conjecture has revolved around the health of Liverpool's Dutch colossus. He had to be dropped out of the Dutch squad for their friendly against Belgium on Tuesday, but coach Ronald Koeman's comments during the week were a little bit alarming. Koeman said that Van Dijk had been taking injections for weeks to enable him to play with two broken ribs.
He will be back on Sunday, though, if indications are to be believed, and for Depoitre, it will be the toughest test he faces in the league. Nobody gets any change out of Van Dijk in aerial duels, but that is Depoitre's biggest strength. He's not the quickest across the tough, he can't beat his man with a piece of skill on the ball. So he has to rely on his strength and ability in the air to get the better of defenders.
He's not going to get anything out of trying to out-muscle Van Dijk or beat him in the air. He would even be better served to try and attack through the Liverpool right, against either Joe Gomez or Dejan Lovren.
Van Dijk, though, will have to contend with his own body first. If the Dutchman is anywhere close to his fittest, Depoitre should be a cakewalk for him to deal with.
ROBERTO FIRMINO v MATIAS JORGENSEN
"Roberto Firmino, world class. Everyday," thundered Jurgen Klopp sometime last season. That has not been true in this campaign though, as the Brazilian has misfired more often than he has been influential in proceedings for the Reds.
It has been a weird start to the season from an attacking perspective, even though Liverpool have seven wins from 11 games so far. Firmino's anonymity in some of those games could easily be tagged as the reason why Klopp's men weren't as big an attacking force as they'd have liked to be.
The unit that is the front three needs to start clicking, but they have been off the boil individually as well. Firmino's decision-making has been shoddy, at best and he has taken far too much time on the ball before releasing it, by which team he has made things difficult for himself.
Firmino also needs more from the midfielders, in terms of getting closer to him. Gini Wijnaldum or Naby Keita need to start grabbing games by the scruff of the neck, and dragging teams into their own final third, so that in the congestion, Firmino's intelligence can add value.
For Jorgensen, the task on Saturday is simple. Stay close to Firmino, and don't allow him to turn with the ball in dangerous areas. If Firmino is doing that, that's a sign that Liverpool are playing really well.