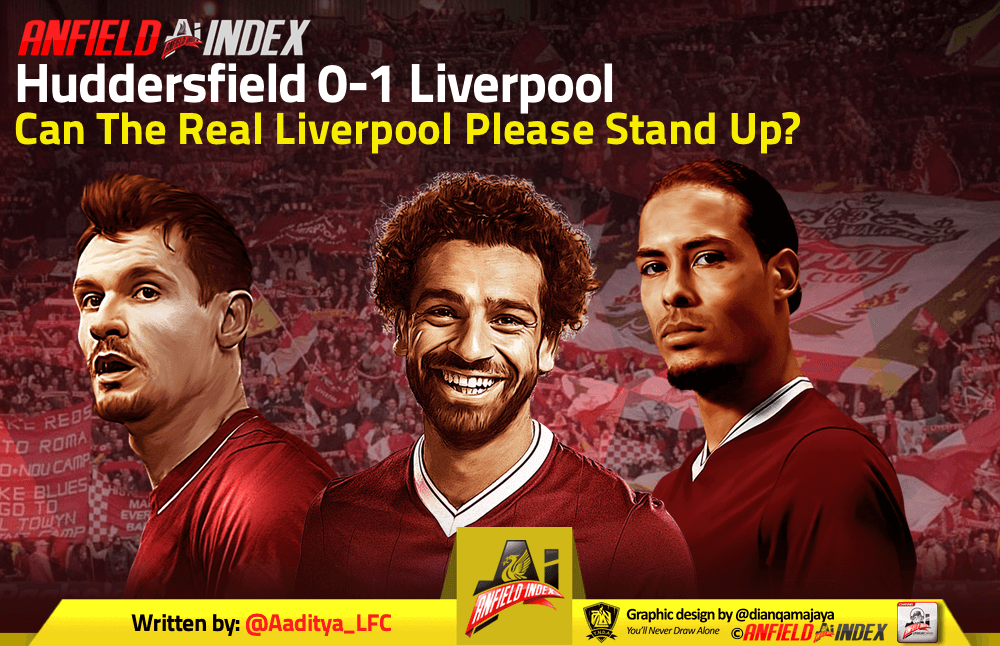 Huddersfield 0-1 Liverpool - Can The Real Liverpool Please Stand Up?
P.H.E.W. That was painful, even infuriating at times, but in the end, Liverpool came away with a 1-0 win against Huddersfield at the John Smith's Stadium to stay joint-top of the Premier League. Mo Salah's 24th-minute goal, set up by Xherdan Shaqiri, was enough for Klopp's men to win on an evening where their opponents were industrious, but often just not good enough to break open what was a rather fragile rearguard.
Klopp surprised everyone from the off, as both Bobby Firmino and Gini Wijnaldum were relegated to the bench, meaning starting spots for Daniel Sturridge and Adam Lallana – the latter's first Premier League start since New Year's Day, and his first competitive appearance since a rather forgettable Kyiv evening a few months ago. Xherdan Shaqiri also started, in Sadio Mané's absence. The bigger surprise though was that Lallana started on the left wing, with Shaqiri playing through the middle.
From the first minute, Liverpool were rather tedious to watch, as an energetic Huddersfield side enthused their fans by closing down every Liverpool touch that was made. Lallana was understandably rusty, and there were a few instances of a breakdown in communication between him and Sturridge. James Milner, having made a miraculous recovery from injury, also looked well off the pace in midfield.

It was going to take a moment of sheer quality for the game to open up, and that is what happened midway through the first half. Gomez was found by a cross-field pass from Milner. He brought it down on his chest and strode forward, before pinging one through the lines into the feet of Shaqiri. The Swiss had time to turn and play a perfectly-weighted through-ball to Salah. Liverpool's Egyptian King hadn't scored in six away games before this, but he broke that duck, with a sweet right-footed finish past Jonas Lossl and into the far side-netting.
If anyone expected a stroll beyond that point, they were completely mistaken, as the dreaded Dejan showed up at Huddersfield tonight. This is the Dejan Lovren that Liverpool fans love to hate. He was awful positionally, he was being bullied by Laurent Depoitre, he was running in to win balls that weren't there to win, thereby leaving space in his defensive area, that had to be covered by the brilliant Joe Gomez, who barely put a foot wrong all evening.
Jonathan Hogg gave the Reds an almighty scare later in the first half, as he picked up a loose ball a few yards outside the area, and unleashed a right-footed strike that had Alisson sprawling but ended up hitting the post, as the Reds had a lucky break.
Whenever Huddersfield were being put under the slightest notion of pressure though, they stumbled. The begs the question as to why Liverpool sat off their opposition as much as they did. Admittedly, Sturridge hasn't always been one to give too much for the pressing and other defensive aspects of the game, but the top three distance-runners in the game were Milner, Shaqiri and Lallana. So maybe, it was just that the press wasn't very successful?
Whatever it was, the second half only got even more tedious to watch. Huddersfield barely conjured up a presentable threat to Alisson's goal, with their only presentable opportunity being fluffed by Mounie late in the game. Even that didn't come through a great play of their own but was gifted to them. Across from the right should've been dealt with by Virgil van Dijk, but he kicked air and let the ball go through. Then Lovren tried to flick the ball away from behind him, but instead got hit on his backside by the ball. It fell kindly to Mounie who skewed his shot well over Alisson's goal.
The counter-attacking in the second half was as bad as Liverpool have possibly been under Klopp. Every time the Reds had an opportunity, they either made the wrong decision or didn't execute the final pass right. At the end that didn't hurt them though, due to the quality of the opposition. With all due respect to the work David Wagner has done at Huddersfield, this is among the worst sides in recent Premier League history.
They say winning ugly is the stuff of champions, and maybe it's true. But now, this pattern of Liverpool performances is becoming as worrying as it is ugly. At some point, Jurgen's counter-attacking Reds must show up. It began against Eastern European opposition last season. In the week, at Anfield, against Eastern European opposition would be a nice place to restart, then?