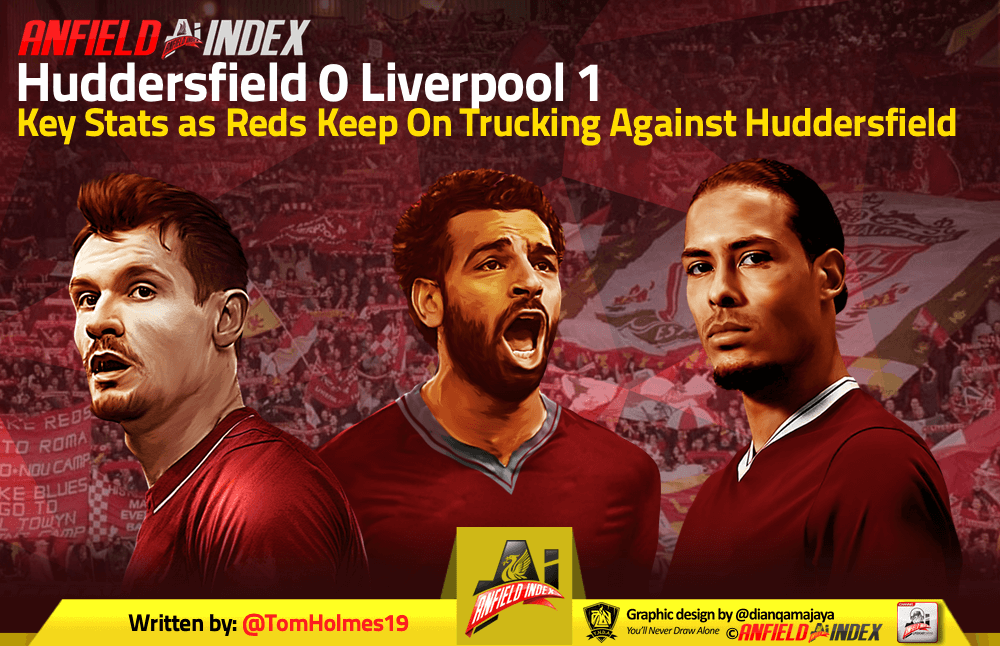 Key Stats as Reds Keep On Trucking Against Huddersfield
Liverpool were far from their best, but once again they got the result, as they secured a 1-0 win away at Huddersfield. But with the Reds' unbeaten start stretching to nine games, what were the key stats from another crucial result?
Defence Bends But Doesn't Break
This was arguably one of Liverpool's worst defensive performances of the season, but nevertheless, Huddersfield failed to break them down. Huddersfield had thirteen shots, seven of them inside the box, with just one on target and just 0.62 expected goals. Liverpool were able to block three of the shots inside the box and six of the shots in general, with Alisson making one save. In terms of quality though, only two of Huddersfield's shots were 0.10 xG, the rest lower. Another game without a single big chance conceded for the Reds, means that they've now conceded just six big chances in nine games; and just 6.53 xG in 9 games – and of course, just three goals, with six Premier League clean sheets already in the bag.
For some context, last season the Reds had conceded 16 goals after nine games, despite keeping three clean sheets, and had conceded almost double the xG – 12.89, as well as eighteen big chances – triple what they've conceded this season.

In terms of key defensive performances, it was the Reds' CB pairing who put up the numbers, between them managing two tackles, one interception, nineteen clearances, three blocked shots and 11 aerial wins.
Attacking Woes Continue But Mo Does The Job 
It's fair to say that changing three of your front four will lead to some attacking issues, and that was very much the case in this game. Daniel Sturridge was Liverpool's most creative player with 0.26 xA and three key passes, but those are some low numbers. Barely scraping past Huddersfield's xG with 0.67, the Reds failed to create a single big chance and were once again let off the hook by Mo Salah's fourth goal of the season – his second winning goal in a 1-0 win and the third time that he's opened the scoring for the Reds this season.
Mo continues to be the Reds' main attacking outlet – with four goals and one assist he has the most goal contributions, as well as having the team's highest xG by a mile (6.27 compared to Bobby's 2.93) and being the team's second most creative player (2.04 xA compared to Robbo's 2.31).
In a game which by all rights should be ending 0-0 based on chances and the balance of play, the difference between the top teams and the smaller teams is having players capable of taking half-chances in crucial moments. And this game was a classic example, as Mo scored one of his half-chances.
A Win is A Win
Liverpool continue to set a record pace for their Premier League history – level on points with their 08/09 team but scoring more goals and conceding less. Liverpool have found ways to win in doing so, they won just one game in the league last season 1-0 and have already won two games by that scoreline this season. This stat below illustrates exactly how impressive this Liverpool start is:
Only 3 times in the club's top-flight history have @LFC earned more points from the opening 9 league games of a season than they currently have (23) (each time 25 points).

— Ged Rea (@ged0407) October 20, 2018
The key to this start has been beating the teams outside the top six – Liverpool are now 18 points from six games against teams outside the top six, with five of those wins coming against teams in the bottom half. The Reds had already dropped six points to teams outside the top six by this time last season and whilst their record of 2.32 points per game was relatively impressive against that opposition last season, there's definitely scope for improvement.
Particularly, the Reds struggled against teams in the bottom three, winning just two games against the three teams that were eventually relegated last season. So to beat Huddersfield, even if not convincingly, is certainly a step in the right direction, and with Cardiff and Fulham the next two visitors to Anfield, that's a record that LFC will be hoping to continue to improve.