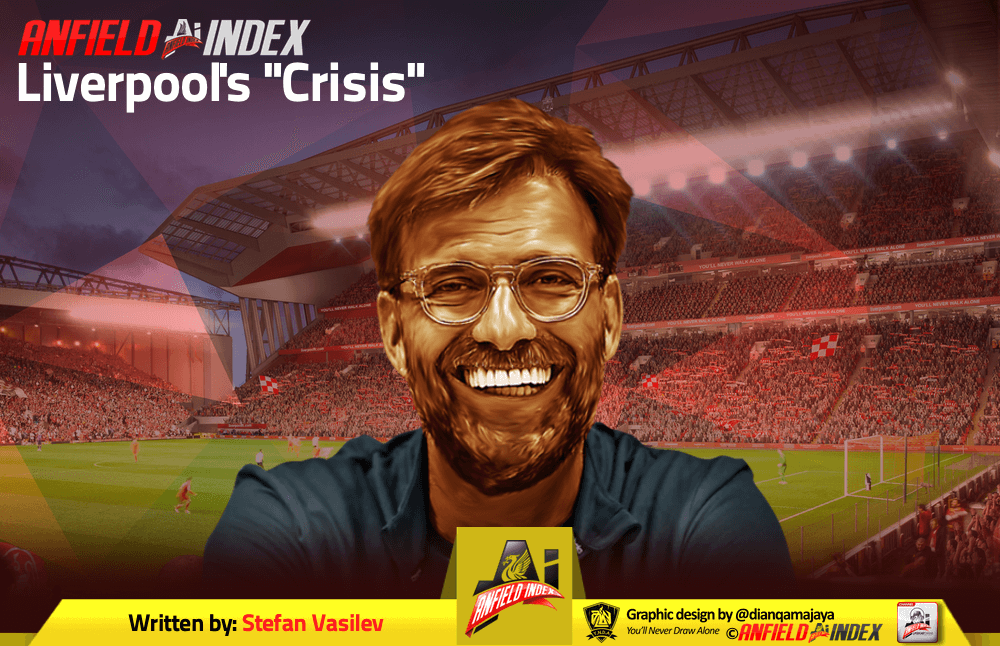 Liverpool's "Crisis"
Liverpool have not been playing very well lately. The Reds have managed to grind out results and have gotten lucky a number of times over the last few weeks. A Daniel Sturridge wonder goal, Riyad Mahrez shooting for the stars over the Anfield Road end and the woodwork against Huddersfield complete a series of fortunate events to keep Liverpool unbeaten in the league. We almost got away with it at Stadio San Paolo too. Of course the performances need to be put in context – playing Spurs, Chelsea, Napoli and Man City followed by an injury-riddled international break did not make it easy for Klopp's men. Both the footballers and the manager to their credit realize that a strong opposition is not an excuse for a poor performance:
I can't remember the last time the team put in a performance whereby I felt we needed to apologise to our supporters, but Wednesday night in Naples certainly felt like one of those immediately after the final whistle.

Jordan Henderson after the loss in Naples
I think we should expect of ourselves to do better… We expect from ourselves really good football and I like to see that

Jurgen Klopp after the win over Huddersfield
Around the same time last season the Reds were going through a rough patch. So to add a little more perspective to our current struggles let's compare the results and underlying stats of the two runs (THAT Spurs game was exactly a year ago).
The numbers
| | | | | | | | |
| --- | --- | --- | --- | --- | --- | --- | --- |
| | GP | GF | xG | GA | xGA | Points | xPTS |
| 17/18 | 9 | 14 | 17.95 | 16 | 12.89 | 13 | 16.22 |
| 18/19 | 9 | 16 | 17.33 | 3 | 6.53 | 23 | 18.67 |
Last season we were sitting 9th in the table behind Burnley. It's an incredible improvement, mainly thanks to the overachieving defense. But again nobody is complaining about the results or the defensive performances. All the supporters want to know is where did our nuclear attack go. While xG is basically the same as in the start of last season the xG from open play has dropped from 15.19 on 17/18 to 13.41 now. The opposition also matter in such a small sample size:

| | | | | | | |
| --- | --- | --- | --- | --- | --- | --- |
| Matchday | Opponent | Venue | form index | Opponent | Venue | form index |
| 1 | Watford | A | 1.26 | West Ham | H | 0.8 |
| 2 | Crystal Palace | H | 0.82 | Crystal Palace | A | 0.7 |
| 3 | Arsenal | H | 1.37 | Brighton | H | 0.99 |
| 4 | Manchester City | A | 2.6 | Leicester | A | 1.6 |
| 5 | Burnley | H | 1.48 | Tottenham | A | 2.33 |
| 6 | Leicester | A | 1.1 | Southampton | H | 0.75 |
| 7 | Newcastle United | A | 1.42 | Chelsea | A | 2.41 |
| 8 | Manchester United | H | 2.14 | Manchester City | H | 2.4 |
| 9 | Tottenham | A | 2.14 | Huddersfield | A | 0.31 |
| Average | | | 1.59 | | | 1.37 |
I have used form index before in some of my lineup articles. Form index represents the strength of the opponent faced based on:
Overall points per game. That shows the overall quality of the opposition.
Venue points per game (home or away, depending on where the match is). Show how good the opponent is home or away. A good example is a vast difference in results Arsenal had last season 47 points at home (2nd behind City) vs 16 points away (11th behind Saints)
Recent form – points per game in the last five matches or the following five matches in the begging of the season
Recent venue form – points per game in the last three home/away matches, depending on where the game is
Based on form, the opponent form index suggests the fixture list at the start of last season was tougher than in the current campaign. By the end of October, last season the Reds had faced five of the six teams that finished in the top 7. Fast forward with one year and LFC had an easy three-game streak to start the season followed by a brutal five-match stretch. Of course, we can't ignore the quality of opposition in the Champions League. What we can take away from the numbers is that LFC is performing at a similar level offensively against opposition that is comparable to last season's.
Klopp's midfield line up
Some combination of Emre Can, Gini, Hendo and Milner started 7 of the first 9 games in 17/18. Of course, things would have probably been different if Coutinho's back could handle disappointment. With no real dribbler from midfield, we had problems getting the ball to attackers in good positions. Very similar to what we are seeing now with a primary midfield of Hendo, Gini and Milner. In the last campaign, the problem resolved itself with Coutinho finding form and Ox taking his spot once the Brazilian left. This is why Naby Keita is so important. He offers a unique skill set that our midfield badly needs. Once the Guinean gets going our problems will disappear. Like last season we shouldn't worry about the finishing from open play being slightly off – all our attackers are good enough for such a trend to be temporary. As the schedule get easier and there is more time for training the attacking performances will improve.
So why the "crisis"
This season is also different – Liverpool was and still is the second favourite team by the bookmakers to lift the Premier League trophy. This is the best team we have had in a decade (13/14 was a fluke rather than a result of a consistent effort in team-building and planning).  The supporters have been waiting so long to get back to this level only to get here and have to face perhaps the best ever team in the modern era of English football. Even after this incredible start result wise we are second a whopping 10 goals behind Man City, who are scoring three goals per game without their best player. I believe this is where the collective fan base anxiety comes from – there is just no room for error. We are unbeaten in the league and there is still a lot of room for improvement. That is something to be excited about!