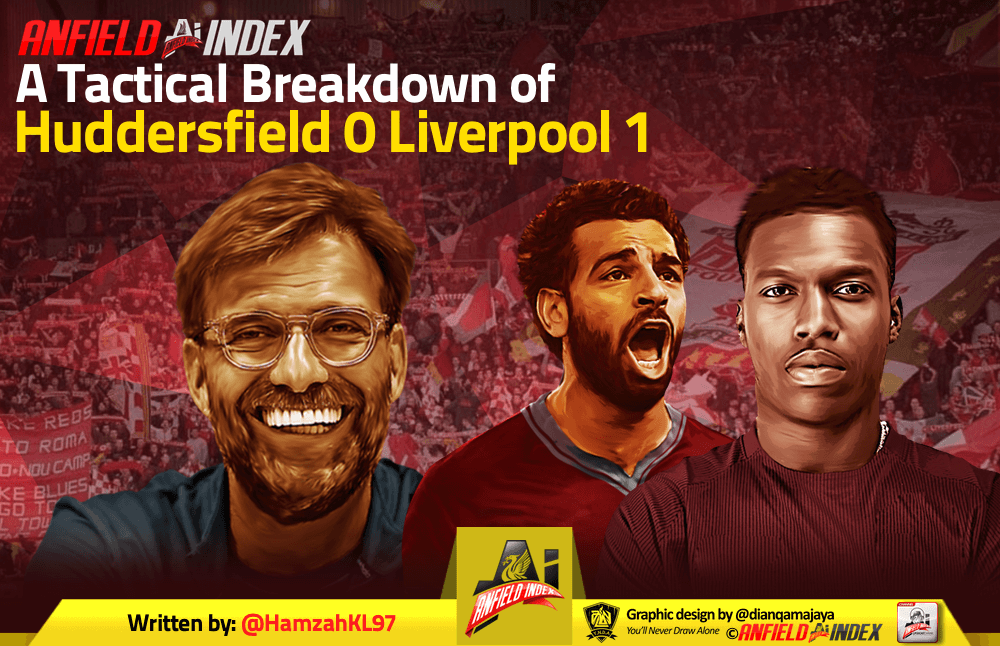 Huddersfield 0-1 Liverpool: A Tactical Breakdown
After the international break, it's never quite as easy as you would expect for a team to pick up where they left off. Jürgen Klopp alluded to this in his post-match presser, as he cited the return of both Firmino, Fabinho and Alisson as late as Thursday. For all this disruption though, Huddersfield were still rank outsiders for this fixture.
Klopp used this fixture though as an opportunity to re-jig a starting XI that was struggling with injuries and was also looking a little flat after losing to Napoli and drawing to Manchester City.
Lallana and Shaqiri featured in Mané and Keïta's absences, however, rather surprisingly, instead of Lallana featuring as the advanced CM – as we saw in his first (and best) season under Klopp – Shaqiri took up that role, as Lallana filled in on the wing.

Daniel Sturridge's inclusion though was a welcome one, having played so well in preseason, the short cameos he's had this season and the PSG game. His positioning was different from the one we usually see Firmino take up. Sturridge took up a classic strikers position in a 4-3-3, and led the line early on, but as the game progressed Sturridge dropped deeper and looked to play Salah in behind.
If you listened to the recent Under Pressure podcast, you may have caught some of Simon Brundish's analysis, in which he noted the decrease in passes into Salah from Firmino and Mané in recent games, and he also mentioned that when the front 3 was at their goalscoring best, around 30 per cent of passes were forwards, into their strike partners; Daniel Sturridge made a concerted effort in this game to develop a passing relationship with Salah, and as Sturridge dropped deep, his instinct would be to look forward for Salah as he ran beyond.
Indeed Daniel Sturridge-Mohamed Salah was Liverpool's third highest passing combination (11); one fewer than Robertson to Milner (12) and two fewer than Robertson to Lallana. Both Gomez (10) and Shaqiri (9) also attempted to find and pass into Salah more, and consequently, Salah looked more involved than he has in recent games.
Sturridge's inclusion though was one that gave Liverpool more variety than that we have seen in recent lacklustre games. Constantly looking forward, Sturridge may have lost the ball a few times, but was making the right aggressive moves with the ball.
Sturridge, Salah and Gomez stood out as the strongest or at least the most influential performers on Saturday. For the rest of the side though, they looked slow to react, lethargic and unimpressive. Klopp attributed this to a tiredness following the international break, but it's hard to look past how underwhelming Liverpool were against the bottom side in the league.
In fairness to Huddersfield though, they appeared to show some receptiveness to Liverpool's previous league game against Manchester City. They persisted with attempting to start their buildup from deep but instead focus on playing through the wide channels when they could, in order to avoid Liverpool's pressing traps and ability to break centrally from them.
Liverpool did not quite have a comprehensive answer to this, but that isn't to say Liverpool didn't create chances. Sturridge created one sizeable chance for Salah as he dropped deep into the left channel, and played a ball in behind, whilst Salah returned the favour with a cross – that were it not for Lallana – Sturridge could have met and scored. Of course, there is the goal itself, which owes a great deal to the work of Gomez, who took out several of Huddersfield's midfielders with his pass into Shaqiri. Shaqiri then ran with the ball as Salah jogged, held his run and then broke into the half space.
For Liverpool though, they probably could have done with more aggressive passing impetus from deep. And whilst Gomez did a fantastic job as the RB, he is capable of doing that and more at CB, whilst the team also has another creative and aggressive option in Alexander-Arnold, whose omission from the starting XI was a small surprise for most fans.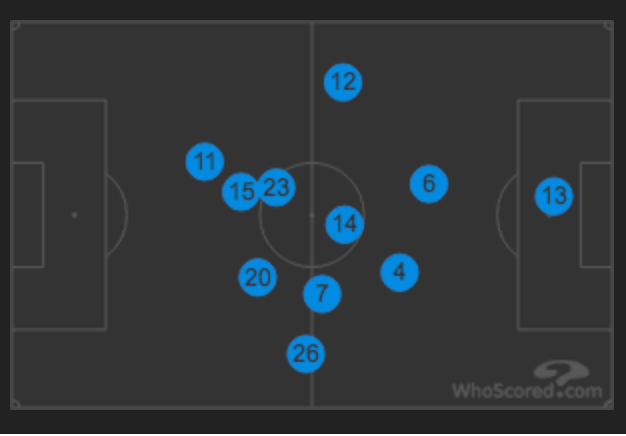 Liverpool though needed a bit more composure in key areas. As Huddersfield pressed the Liverpool midfield and went man-to-man, there was space between the midfield and the defence, however, Liverpool failed to exploit it effectively and perhaps could have done with another forward willing to run the wide channels – as Mané does, but more importantly, better decision making. Milner continued to sit in alongside the centre-backs when Robertson moved forward, however, with Gomez more hesitant to move forward, it's worth questioning whether Liverpool really need a player such as Milner to drop, ready for an opposition counter-attack, when cover was already present on the right side, and Milner could have instead have been contributing offensively.
Interestingly, after Lallana was withdrawn with cramp, Roberto Firmino was brought on, but rather than playing as a striker, or on the wing, Shaqiri went out wide, and Firmino took up Shaqiri's midfield role. It was an extremely exciting proposition, seeing Firmino playing a deeper role, but one in which he disappointed – but importantly, it provides a look into how Liverpool may include both Sturridge and Firmino in the same system without one being forced out wide – it's something that we can keep a close and eager eye on in weeks to come.
Insofar as the overall performance is concerned though, Liverpool created enough chances to score, and enough half chances that could have been turned into genuine opportunities had the right decisions or movements been made. However, defensively, this was a poorer performance that what we usually come up expect from Liverpool. Huddersfield could have had a penalty, and had a goal that was ruled offside, but only marginally – a ruling which could easily have gone the other way. It is unfair to expect a high-level performance from Liverpool every week, especially given the number of injuries accumulated in recent weeks, the international break and the obvious synergy issues of a group of players unfamiliar with starting competitive games together. That being said, Liverpool's xG was considerably underwhelming, and Huddersfield were good value for at least a goal. Should this run of unsatisfactory form continue in the next few games, perhaps it'll be time to reassess where Liverpool stand, but for now, bearing in mind the excellent start the team made, the injuries it has and the strong, commendable performance of Huddersfield, Liverpool can be afforded a bit of slack? Hopefully, the Red Star fixture can be Liverpool's equivalent to Maribor, last season.