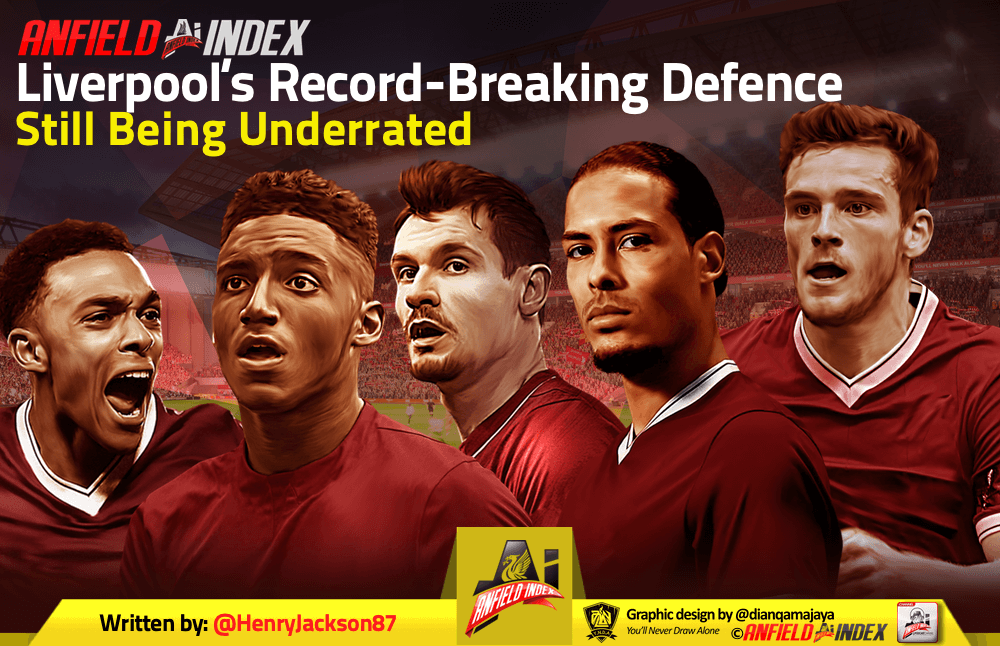 Liverpool's Record-Breaking Defence Still Being Underrated
It's late October and Liverpool have conceded three goals in the Premier League. Three!
This was something that felt impossible almost a year ago to the day, as Dejan Lovren and Simon Mignolet were gifting Tottenham a 4-1 win.
The Reds' defence looked irreparable and Jurgen Klopp found himself at the lowest point of his Anfield tenure, with a section of the fanbase even questioning his long-term capabilities in the role.

What has happened since then, in particular, this season, has been a turnaround of gargantuan proportions, with Liverpool never making a more rock-solid start after nine league games.
All those well-drilled Rafa Benitez and Gerard Houllier sides failed to match such a feat, while the all-conquering teams that dominated the 1970s and 1980s were never this secure at this stage of a campaign either.
Only seven clear-cut chances have been given up, which goes to show what a difficult unit Klopp's men are to breach. They are not riding their luck in the slightest.
To prove that this new-found quality at the back is no short-term fix, only 25 league goals have been conceded in their last 38 matches, leading back to the Spurs meltdown last October.
That is the best season-long total recorded since 2008/09, with 20 of those 38 outings leading to clean-sheets, as revealed by Andrew Beasley, in his latest Liverpool Echo column.
No team has allowed fewer goals to find their net in that time and not a single league goal at Anfield has been surrendered since West Ham's Michail Antonio managed a consolation way back in February, in a 4-1 win for the hosts.
Klopp has steadily turned Liverpool into one of the strongest defensive outfits in Europe since the beginning of the year, almost without the masses realising.
The respective acquisitions of Virgil van Dijk and Alisson have completely transformed a back-line that was previously leaky and the emergence of Trent Alexander-Arnold, Joe Gomez and Andy Robertson has only helped matters.
Let's not forget that Man City were not afforded a single shot on target in the stunning 3-0 victory over them in the Champions League quarter-final first leg last season – one of the best defensive performances by Liverpool in living memory.
While there is understandable frustration surrounding the attack not clicking since August, what is going on at the other end of the pitch feels far more pivotal.
You cannot win league titles, or trophies for that matter, with a poor defence – something the Reds have found out to their cost in their almost seven-year wait for silverware.
Although kind things are being written about Liverpool improving at the back, there is still a nagging feeling that their current brilliance is being overlooked more than it deserves to be.
Were it Benitez or Houllier's Liverpool, for example – managers famed for making their sides very difficult to break down – more column inches would be heading the Reds' way.
This applies to pundit and rivals, but also Liverpool supporters, for very different reasons.
In terms of those looking from the outside in, there is still a lazy assumption that Klopp is a manager only famed for his free-flowing attacking football, with no major emphasis on defending.
This is, of course, complete nonsense, even though the German's preference is to play the game in an aesthetically-pleasing manner, with parking the bus not his style.
At the height of Klopp's spell at Borussia Dortmund, in which he guided them to back-to-back Bundesliga titles in 2010/11 and 2011/12, just 47 league goals were conceded in a combined 68 matches.
It was always going to be a case of getting the right personnel in at Liverpool, and the influence of Van Dijk and Alisson, in particular, is now highlighting Klopp's skills as a defensive coach.
While the footballing fraternity are not exactly being mute on the issue of the improved defence, we are not hearing endless praise, with many choosing to focus on the faltering front-line instead.
Liverpool have been as secure as almost any Premier League team in history so far, but past failings and the fact that they aren't naturally defence-minded is seeing that go ignored, relatively speaking.
When it comes to how Reds fans view their current team – not everyone, but a sizeable collective – you feel that defensive disasters of years gone by are still not completely eradicated from their memories.
Take the Huddersfield game, for example.
That was a match that Liverpool would almost certainly have dropped points in the past, both under Klopp and previous managers, with ugly 1-0 wins seemingly impossible to record a lot of the time.
Those of a pessimistic persuasion will have been watching on with a mindset of  "a Huddersfield goal is coming", such is the damage caused from years gone by.
Although one error from Van Dijk, and a subsequent panicked mis-kick from Lovren, gave Steve Mounie a chance to equalise, the victory was never really felt in doubt, even though Liverpool were poor on the day.
They were always in control of their own destiny, the way in which so many of their title-winning rivals have been at 1-0 down in past years.
Similar nerves ran through our veins during tense encounters with Brighton, Crystal Palace, Leicester, but in truth, Liverpool were more in charge in those matches than many of our irrational minds thought at the time.
There will still be bad goals given away as time passes, as is the case with any team, but the Reds are now a genuinely top defensive unit.
Once Fabinho and Naby Keita find their feet that will only shine through more, with their combined power, positional sense and quality on the ball helping make them even more imposing.
Don't expect to hear too much about the defensive side of things from the watching media, however, with the narrative of Liverpool being dodgy at the back still yet to completely go away.
Equally, don't be surprised to hear fellow Reds still acting in a terrified manner every time the opponents get near the goal, even though the individuals are now in place to forge a world-class unit.
The attack will click again soon and a lot of focus will be on that, but the newborn defence will be just as key to their title challenge.
It is being praised, not still not enough as it merits.