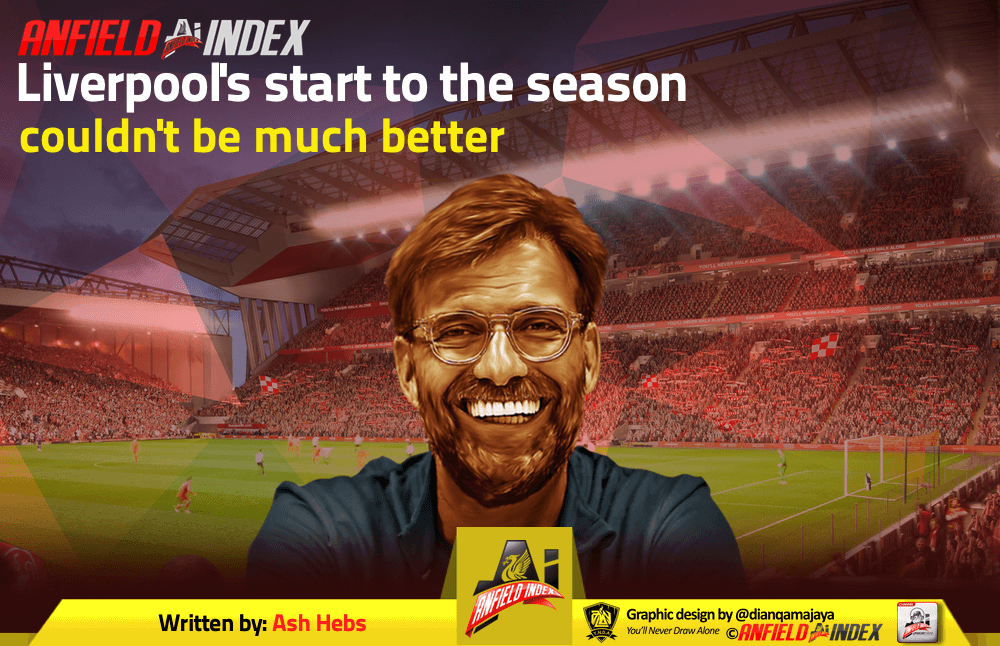 Liverpool's start to the season couldn't be much better
With Liverpool sitting level on points with Man City at the top of the table, point for point, Liverpool's start has been pretty impressive. If there is any cause for concern after a ridiculously difficult opening set of fixtures (including Champions League games), it is probably misplaced at this stage.
A need for perspective
That said, there is room for improvement and Klopp has not shied away from this in his recent post-match comments. There is talk of our attack being found out, lack of creative quality in midfield and so on. Our underlying attacking stats are not as strong as they were last season. Man City's goal difference is as good as an extra point as things stand. There is a lot of anxiety in the way we are picking points up – minimal flair, but maximum efficiency. As fans, it is not something we are used to in recent times.
It shouldn't be a surprise though.

It's clear that teams know how we play and the greatest chance of success against us is to restrict space for our front 3. This is compounded by the absence of Phil Coutinho, the loss of the Ox due to injury and the choice to not sign Fekir on medical grounds. Instead, Klopp chose to spend big on Alisson after the mishap over the mercurial Frenchman.
It's likely that Klopp sees the way of mitigating for a potential drop in goals this season by tightening up at the other end of the pitch. If that's tactical evolution for this team under Klopp, then it has to be welcome. If we can keep things tight at the back we have more than enough quality in the squad to nick matches, at worst. At our devastating best, we can blow any team away.
Talking tactics
As poor as the Premier League is in terms of technical quality, the edge that a team like Man City have is that, because teams can barely keep the ball for more than 4 – 5 passes against them, the odds are stacked in their favour. Their "juego de posicion" (positional play) is so precise and well-rehearsed that, once a team cracks, they are generally blown away.
Add their financial muscle and strength in depth and it's an arms-race that Liverpool simply cannot win. A 25-point gap (albeit slightly exaggerated) last season is testament to that; bridging such a gap is a tall order by any standard. Perhaps the most unfortunate thing for Klopp is that he chose to manage Liverpool at a time when his greatest rival is one of the best tacticians of all time.
Listening to Paul Dalglish on the excellent AI Pro Tactics Weekly podcast, it has been refreshing to hear his objective views on our tactical performance. After a season like last, it's easy to forget that Klopp does not place a huge emphasis on attacking patterns of play. I have written before that perhaps the biggest impediment to us winning the title under Klopp is the fact that parked buses are his kryptonite. Even stretching back to his time in Germany.
Time for pragmatism
The way we have started this season isn't pretty but it's effective. A pragmatic approach to a tricky run of games. Klopp is not a man to be scared of pragmatism; he's all about substance over style when it's a case of needing results. After all, being hard to beat was a pre-requisite for the German to build a title-winning team in his homeland.
Right now Klopp is finding a way to win that is reminiscent of Conte's title-winning Chelsea. He's operating a deeper press, a tactic that served Mourinho's Chelsea well in his final title-winning season in London. Lulling opponents into a false sense of security.
It's not a massive stretch to suggest Klopp can push us to be a minimum 90 point a season team which is what it takes to challenge City. Of course, the margins for error are slimmer and we do need far more creative quality in midfield. At the same time, whilst Klopp can certainly push us on the next level, without that creative hub in the middle of the park, major honours may yet prove elusive for now.
Enjoy the ride
Either way until players are at full fitness and the team is firing on more cylinders, it's simply too early to draw sweeping conclusions. We should relax and enjoy the new-found resilience of this team. We need to realise as fans that, even if Liverpool have a near-perfect season, with an opponent like Man City down the road, nothing is guaranteed. All the same, there's no disputing that our start to the season has been very good thus far.