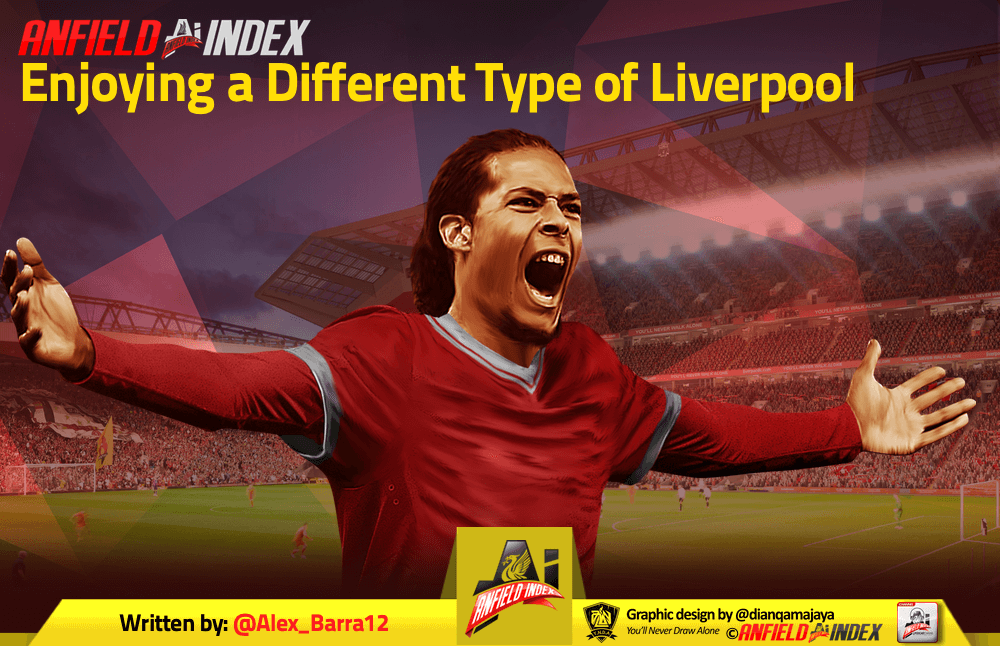 Enjoying a Different Type of Liverpool
Well, this is bizarre.
Not since the days of Rafa Benitez has Liverpool's fanbase, as a collective, been able to relax.
No, not when Martin Skrtel and Dejan Lovren compounded previously inflicted wounds, very visible wounds that kept on bleeding. Calling the 2014/15-era Glen Johnson a liability would be a compliment, Lucas Leiva's personal hobby of giving away dangerous fouls on the edge of the box was conducive to heart problems and Kolo Toure (hero that he was) conceded one of the funniest own goals in recent memory against Fulham.

Just look at Liverpool's most successful season in recent memory before the arrival of Jürgen Klopp – Aly Cissokho was the starting left full back for much of the season until Jon Flanagan became a mainstay. The two now play for Yeni Malatyaspor in Turkey and Rangers in the Scottish Premier League, respectively.
Prowess in attack has been the Liverpool way for a while now.
Even last season; Mohamed Salah scored the more goals in his first 50 games than any other Liverpool player in the same timeframe, James Milner broke the record for assists in the Champions League and Liverpool put more than four goals past an opposition fourteen times. They had become the most dazzling, entertaining team in the land.
It was a season that also saw them be demolished at Wembley, with the defensive issues once again at the forefront of everyone's minds.
'They'll never win the title with issues like that. The centre halves are combustible, the goalkeepers unreliable and the system not conducive to helping them when teams counter.' That was the sentiment, and every fan knew it. As, evidently, did Klopp.
Because by the time Virgil van Dijk arrived in January, the plans were in place. Solidity was in vogue, the German had clearly noticed a better way forward; one which would alleviate the pressure on their coruscating front line.
Indeed, the win over Huddersfield marks 38 games since the horror show at Spurs: and as Andrew Beasley puts in a piece for the Echo, the progress has been astounding. The Reds have kept 20 clean sheets in that time, the first time they've accomplished such an outstanding defensive record since 2009 – when Rafa Benitez was in the final stretch of his Liverpool career. With van Dijk at the helm and Klopp's focus on a compressed, strong midfield shielding a defence that refuses to be bullied (something which, with the best will in the world, Liverpool's defence has been culpable of in the last few years), Liverpool have conceded just three Premier League goals so far this season – the first time ever that's happened – and currently possess the best defence in Europe, alongside the colossus that is Pep's Manchester City.
Imagine that, three years ago. The best defence in Europe.
It may not be the swashbuckling flourish of a four-goal hammering, it may not be the most riveting ninety minutes of the weekend, but Liverpool are finally making good on a recurring statement:
'I don't care if we win every game 1-0, that'll be enough for me.'
Whether it be Klopp's pragmatism, the incumbent partnership of Virgil van Dijk and Joe Gomez, or their shiny new goalkeeper currently making an incredulous 6.3 saves per goal – dwarfing David de Gea, Kepa Arrizabalaga and Ederson (per Football Whispers) – Liverpool have become as resolute as they were resplendent.
The overriding sentiment among the media has been "When Liverpool's attack actually starts firing, then teams better watch out." And yet, there should be just as much appreciation for what Liverpool have become in the meantime.
In previous seasons, there's a good chance that the Reds would've walked away with two less points against Huddersfield than they did at the weekend. They only managed two clear opportunities and required a steely resolve to deal with the Terriers' aerial bombardment. But deal with it they did, rode their luck they did, and walk away with another three points they did.
In what must be a paradoxically different timeline to the one everyone is familiar with, Jose Mourinho's Manchester United have only scored one less goal than Jürgen Klopp's Liverpool. They've also conceded thirteen more goals, and currently sit nine points behind them in the Premier League table.
So, Liverpool fans ought to bask in the security, allow themselves a breath of air when their side concedes a corner and revel in the safety Liverpool now feel when they endeavour to protect a one-nil lead. Gone are the days of panic, of individual errors costing precious points and Martin Skrtel falling over.
For now, Liverpool can enjoy being level atop the table, in a way they haven't done in a long time.