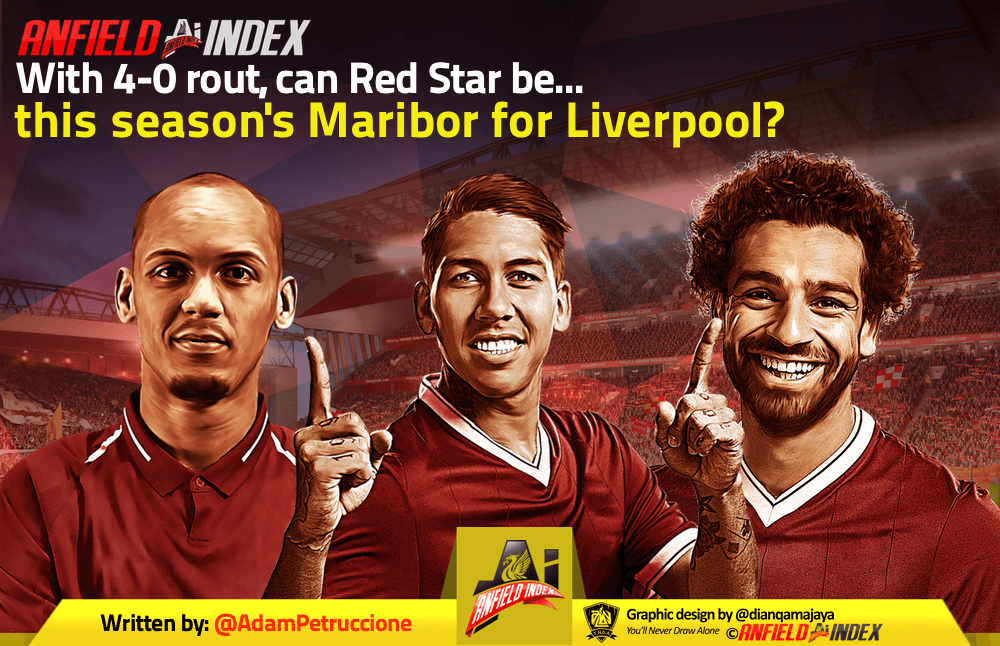 With 4-0 rout, can Red Star be this season's Maribor for Liverpool?
Liverpool: Alisson, Alexander-Arnold, Gomez, Van Dijk, Robertson, Fabinho, Wijnaldum, Shaqiri, Salah, Firmino, Mané
Subs: Lallana (67′), Sturridge (72′), Moreno (81′)
Red Star: Borjan, Stojkovic, Degenek, Babic, Gobeljic, Krsticic, Jovicic, Ben, Ebecilio, Srnic, Boakye

Subs: Jovancic (64′), Causic (74′), Simic (80′)
FABINHO'S BIRTHDAY GIFT
Hooray! Fabinho got his long-awaited start in the middle of the pitch for Liverpool. The question of, can you even play defensive midfield without constantly gesturing to the ground in front of your feet was answered with an emphatic yes tonight. Fabinho played the enforcer role well, in a match that required it. Red Star were up for a physical match, but Fabinho was happy to engage, making some incredibly strong tackles, before showing his smooth side later in the match with several sweet passes and silky moves.
There should be no holding back Fabinho from this point on. He provided power and attacking potential from a position that had lacked potency this season.
BOBBY BACK IN THE GOALS
Liverpool returned to Champions League action on Wednesday night, hoping to get their sputtering attack back on track. After Mo Salah had found the net on Saturday, it left 7 and 9 matches since his attacking partners, Firmino and Mané had scored respectively.
In the 20th minute, Bobby Firmino would break his cold streak with a clinical left-footed strike from the center of the box. The Brazilian looked far better than he did over the weekend in a substitute performance that saw several wayward balls that he typically makes easy work of. There is still plenty of room for Firmino to reach his potent best, but this was a move in the right direction.
MO-MENTUM?
Mo Salah got in on the act in the 44th minute. Scoring a beautifully worked goal off of a Shaqiri delivery, Salah shut the door on any hopes that Red Star might have had for an upset. Liverpool haven't been at their free-wheeling best as an attacking group, but they have been scoring often at the end of halves, and with the defensive record the Reds are stacking up, these late scores have a massive impact.
Right out of the half, the Reds got another chance, this time from the spot. Sadio Mané took an arm to the neck on the left end of the box as he chased down a ball, drawing a penalty. Mo Salah stepped up and took a strong, but not a fantastically placed ball that was enough to beat Borjan and give the Reds a 3-0 lead.
Mo got himself into dangerous positions several times over the course of the night, getting off 5 shots, 3 on target and the 2 goals all from only 37 touches. Liverpool need to get the Egyptian King more of the ball if they're going to return to their full potency.
MEGA MANÉ
Sadio Mané was striding around the pitch like he was ready for a big match. After Salah had been subbed off, another penalty was awarded in the 75th minute. With no Mo, Mané took the ball and had it blocked off the bar on a shot low and to the left. Then on the follow-up, Manê didn't come close, but still wheeled away ready to celebrate. We couldn't stay mad at Sadio for too long though, as Sturridge found the precision ball he had been searching for on the weekend and released Mané for a 79th-minute goal.
Mané would miss another clear chance later in the match, sprinting down the left channel. He needs to be more consistent for Liverpool to keep pace with City be it in England or in Europe. Still, the positive is that all three of our attacking lads got on the board, and that could open the flood-gates going forward.