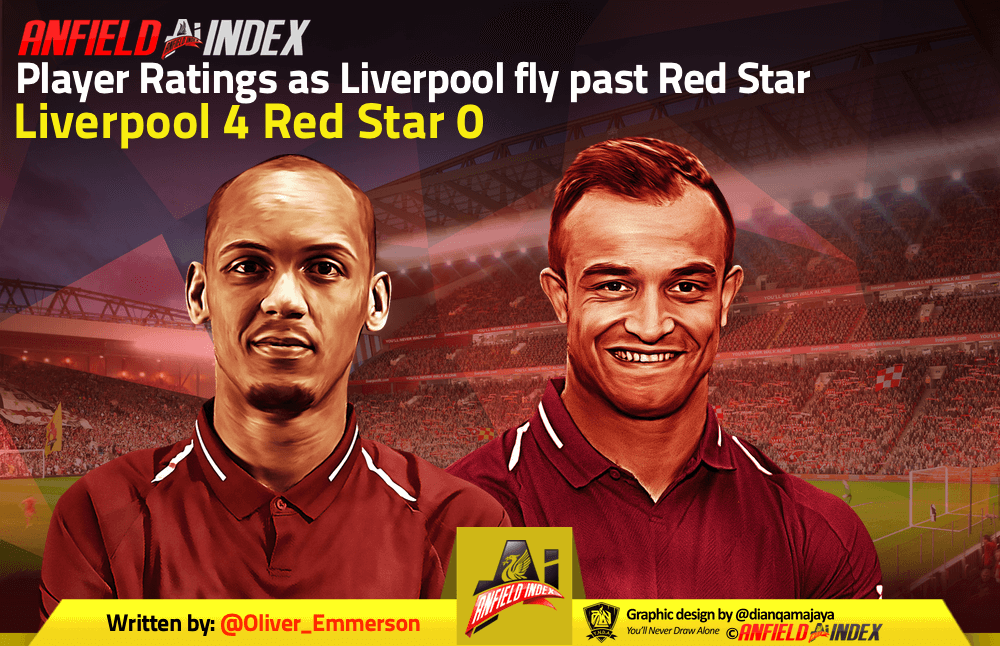 Player Ratings as Liverpool fly past Red Star
That was alright, eh? Weeks of meh and then a night of madness. Goals flying in all over Europe and at the end of it Liverpool have got four of them to Red Star's none, they top the group and both PSG and Napoli are left abit disappointed with the result of their battle in France.
Win in Serbia and Liverpool can probably escape the group with draws in the last two. Less of that though, more of the wins and the goals.
Here's your ratings from Liverpool 4-0 Red Star.

Another clean sheet
Alisson Becker (6): Poor chap must hate the sight of Jordan Henderson. Hasn't conceded a goal this season without the skipper on the pitch. No slight on Hendo, just one of football's funny things. Hard to give up a particularly high rating tonight as he had precious little to do, deserves credit for one particularly dashing throw in the first half.
Trent Alexander-Arnold (7): Back into the team and back with an impressive outing, gave nothing away going backwards and helped link everything down the right. Seems to have a good understanding with Shaqiri.
Virgil van Dijk (6): Similar to Alisson, made it all look so easy but in truth he was rarely hassled into action. Looks bloody good with the captain's armband on though. 10/10 for making my heart flutter.
Joe Gomez (7): Similar to Van Dijk but gets extra points for putting the absolute burners on late on to break up a counter attack.
Andy Robertson (7): Much better than he has been recently, brighter and more decisive in possession. Lovely assist for Firmino, could do better in a couple more situations but he'll be pleased with himself.
Fabinho fires
Fabinho (8): That's a way to make a statement. Ever so slightly ropey for 20 and then just took off. Tackles here, dribbles there, passes everywhere. Completely ran the midfield. If he had hair he'd be tearing it out at the fact he didn't get to take a penalty.
Gini Wijnaldum (7): Thirteen year old me is on the internet searching for how to be as cool as Gini Wijnaldum. So slick in everything he does, looked excellent in tandem with Fabinho. Something I'd love to see more of.
My name is Xherdan, how may I assist you?
Xherdan Shaqiri (8): His best display yet in a Liverpool shirt. Excellent for the first goal, it's all about him. Wins it back, perfect weight of pass for Robbo and Bobbo to do the rest. Brings the ball down for Salah like an elegant prince for the second, probably unlucky not to get a proper chance to get on the scoresheet.
Roberto Firmino (7): Good composure for the opening goal, looked happier to be involved deeper playing just off Salah. Interesting change of shape for this one by Klopp, complimented by the midfielders we used.
Mohamed Salah (7): Feels abit harsh giving him a seven when he scored twice. Was having a game where it was just about coming off for him until it didn't, then he got his goal. Good finish for the first, horrid penalty but it goes in so I can't complain. Not until he misses one later in the season anyway.
Sadio Mané (7): The snide for the penalty he doesn't take is phenomenal. The penalty he does take is terrible. As with the rest of the front line, looked revitalised with an improvement in midfield behind him. Got his goal eventually. Don't think any of us were arsed at that point.
Substitutes
Adam Lallana (5): So slow. Crawls rather than bursts through on goal and messes up his chance of a big moment. Give Curtis Jones his minutes please, Jurg.
Daniel Sturridge (7): Put two lads clean through and if Lallana could run we'd be talking about two assists rather than one.
Alberto Moreno (N/A): SHOOOOOOOOOOOOOOOOOOOT.