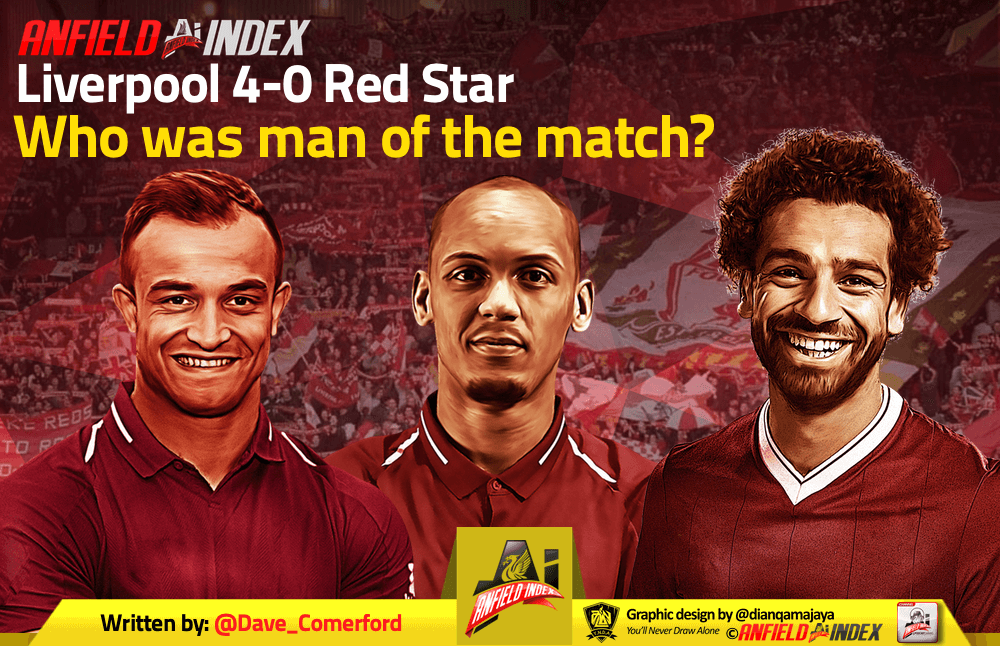 Liverpool 4-0 Red Star: Who was man of the match?
After nervously scraping past Huddersfield at the weekend, a reinvigorated Liverpool were able to turn on in the style in a convincing, thoroughly enjoyable 4-0 win against the largely helpless Red Star.
The Reds were slow out of the blocks, but as soon as Roberto Firmino fired home the opener they began to ooze confidence, repeatedly slicing through their opponents with some encouragingly fluid attacking football.
Mohamed Salah's brace, followed by Sadio Mane's fourth, redemption for an unconverted penalty, completed what may prove a morale-boosting night for a front three which has, this season, misfired by its almighty standards.

Liverpool's performance was brimming with quality in all departments. Summer signings Fabinho and Xherdan Shaqiri were excellent, bordering on breathtaking at times, while Georginio Wijnaldum shone once again.
The defenders had very little to do, but the contributions made by Virgil van Dijk, oh-so-comfortable in possession, and central partner Joe Gomez were classy.
Andrew Robertson always provides an outlet on the flanks but in this game he functioned almost like a winger, tracking back when required of course.
Robertson set-up Firmino's opener with a neat pull-back and threatened to pull further clear of Trent Alexander-Arnold in the full-backs' assists competition as Mane drifted inside and he found space in wide areas.
He could even have bagged a rare goal had he properly connected following Mane's inadvertent lay-off.
This was far from Liverpool's biggest game of the season but the Scot's hunger was still made abundantly clear as he relentlessly hunted the ball, winning it back on five occasions. Robertson, who has proven himself to be one of the very best in his position, is a strong contender for man of the match.
Xherdan Shaqiri, who was probably the best player on the pitch last Saturday, made another good case after a dazzling first 45 minutes.
The opening goal stemmed from his endeavour as he tracked back, bullied his opponent off the ball and unleashed a terrific pass to Robertson, who went on to tee-up Firmino. There have been plenty of flashes of brilliance, but this may well have been Klopp's favourite moment yet.
A fourth assist of the season followed when he cleverly touched the ball into Salah's path for the all-important second on the stroke of halftime.
Aside from those standout moments, Shaqiri's display was full of ingenuity and desire. The Swiss international has always been a player who has seats clapping into the upright position when he picks up possession, but with top players surrounding him the end product has significantly improved. It's October, and he's only a few assists away from matching his 2017/18 tally.
Shaqiri joined the Reds as a squad player but he clearly warrants a consistent starting spot after seizing each and every chance to impress.
Wijnaldum, playing with a new lease of life this term, was also superb in midfield. He's perhaps at his best when he plays with a certain arrogance and against Red Star he showcased appropriate levels of confidence and ambition. It was his clipped ball which Shaqiri was able to cushion to Salah.
Salah took that goal very well, particularly after a frustrating first half, and converted his second-half penalty with conviction. While he was not his side's standout performer, he did manage to achieve the remarkable milestone of 50 goals for the Reds just 14 months into his Anfield career. He really is special.
Firmino, who will be relieved to end a run of six games without a goal, turned in a more recognisable performance which saw him use the ball much more effectively when he dropped deep.
Mane's drought looked like it would continue when Red Star keeper Milan Borjan tipped his penalty onto the crossbar, but he persevered and managed to squeeze one past the Canadian when Sturridge, who was incidentally magnificent in his cameo, played him through.
They scored the goals, but the best player on the pitch, overall, was European debutant Fabinho.
While Reds fans have been impatient to see the £40million addition integrated into the side, Klopp has admirably stuck to his guns, and it appears that his caution is being rewarded.
Fabinho has been eased into the fold, and while he struggled a touch on his first significant outing against Chelsea, he improved against Huddersfield and really came into his own this time.
The Brazilian's night got off to a steady start as opponents jinked past him or robbed him of the ball on one or two occasions, but as the game progressed his confidence soared, and he was soon stunning supporters.
While there will be many tougher tests of his credentials, there is definitely cause for excitement. This was the Fabinho we were promised at the start of the transfer window – an incisive passer who was strong in the tackle.
He finished Wednesday's game with an accuracy 90%, higher than any of those who started, created two chances and made a quite sensational nine tackles. It was hard not to get carried away.
Each approving roar from the Anfield faithful appeared to carry him to new levels. Granted, this was pretty much as close to a banker as you can get in the Champions League, but it still seems that the 25-year-old has announced himself at last.
It's obviously important to stress, though, that he will have to deliver in more difficult circumstances before he can cement a starting role.
The hope will be that he uses this as a springboard, with more opportunities now looking imminent.
To sum up, then, last season's record-breaker Salah is back in form, his partners in crime are threatening to come alive and one of the summer's best bargains is making mouths water, but still the post-match discussion is being dominated by Liverpool's new defensive midfielder, who has, for the first time, hinted at the extent of his capabilities.