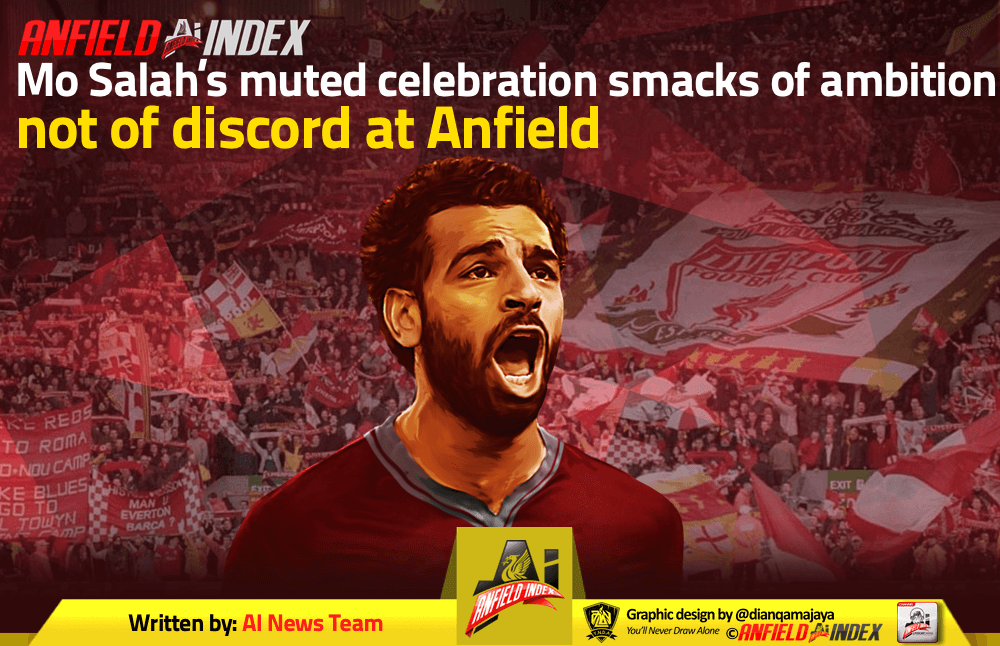 Mo Salah's muted celebration smacks of ambition not of discord at Anfield
Mohamed Salah's muted goal celebration on Wednesday night came as a surprise to many. The Egyptian forward's reaction has already become a key talking point following Liverpool's convincing 4-0 victory over Red Star Belgrade.
Jürgen Klopp, calm and jovial as ever in front of the cameras, was quick to shrug off the possibility of there being anything wrong with his star forward. On the contrary, pundit and ex-AC Milan and Netherlands striker Ruud Gullit, himself a Champions League winner, believes Salah's reaction to his goal could be hiding something worrying.
True Salah has found it harder to find the net so far this season. A lot has been made of his five-game goal drought by the media. It's not surprising given that he found the net an incredible 38 times in just 32 games last season, breaking the Premier League goalscoring record and taking English football by storm in the process.
In contrast, the gap really isn't that big between Salah and the leading scorers in the Premier League at present. Chelsea's Eden Hazard currently sits on top spot with seven goals, trailed by the likes of Sergio Agüero, Pierre-Emerick Aubameyang and Harry Kane.
The Premier League top goalscorer list is already mouthwatering and packed with talent. But now with Salah having found the net in two consecutive games, there's no doubt he could rise prominently over the coming weeks. A comparison of the best football betting sites shows that the odds still remain high at around 11/2 for Salah to become Premier League top goalscorer again this season. You can be sure the odds are guaranteed to plummet if he nets against Cardiff City at the weekend.
It's not just Salah that's continuing to impress. There's no doubting that Liverpool have come on leaps and bounds since the arrival of Klopp in 2015. Their most crucial period under the German tactician came in the most recent months that saw Liverpool retain a top-four spot in the Premier League while making it to the final of the Champions League.
Klopp's vision is turning into reality, and the Reds have made a number of strides so far this season. They're currently unbeaten in the Premier League after nine games, only failing to score once against Manchester City at the beginning of October.
At the same stage last season they'd already racked up two defeats, a 5-0 slaughtering away to City, as well as conceding four goals to Spurs. The fact that this season they've already turned it around against their primary opponents by beating Spurs and holding draws against Chelsea and City is an achievement in itself.
Liverpool are currently second favourites to lift the Premier League title behind the Sky Blues. An outright bet at odds of 5/2 is definitely a good shout, and if you want to couple your bet with a great welcome offer then visit bookiesbonuses.com to compare the best ones out there.
Similarly, the future is looking promising for Liverpool in the Champions League. Drawn in a difficult group against PSG and Napoli, the Reds are seemingly favourites to make it out the group in top spot, despite a last-minute slip up against the Italians. Although if that's to be the case they'll have replicated the kind of defensive solidity at the back that they've managed in the Premier League.
Salah's skill, composure and ability to score goals at an alarming rate brought him to the forefront of world football last season. But what truly captivated the hearts and minds of football fans was his humility. Salah has scored twice on the bounce now, becoming the fastest player in Liverpool history to make it to 50 goals in the process.
The Egyptians subdued goal celebration should be seen as a mark of intent by the star forward. It demonstrates that Salah is all too aware of how fleeting success can be at the highest level and Liverpool fans should take encouragement from his ability to take everything in his stride. After all, there's a long season ahead and that kind of humility and composure will be vital if Liverpool are to succeed at home or abroad this time around.
By Adam Grimshaw