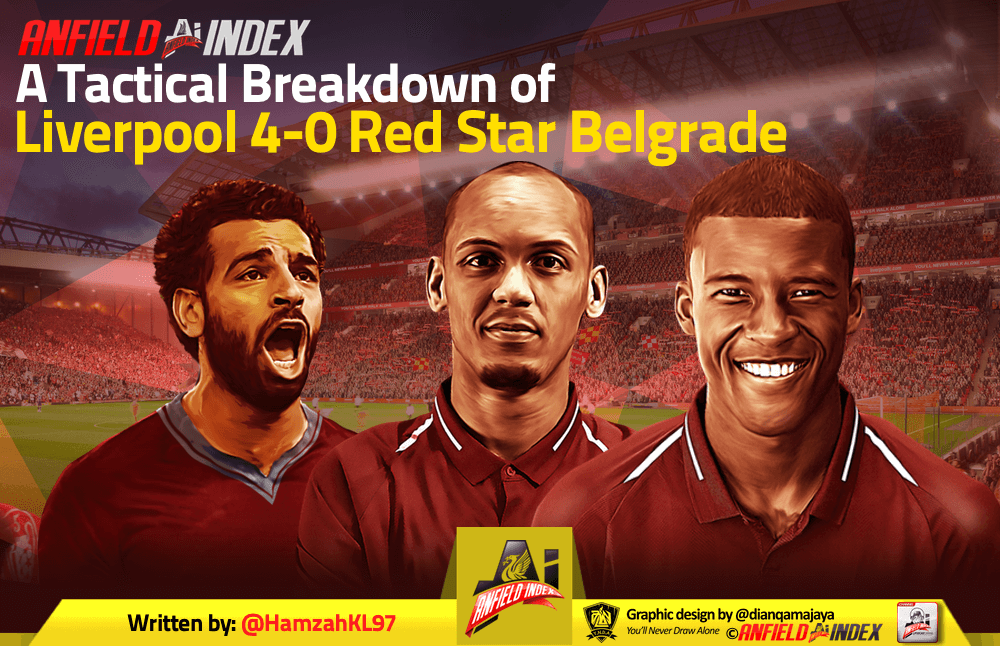 Liverpool 4-0 Red Star Belgrade: A Tactical Breakdown
After a drab affair against Huddersfield, Liverpool fans were craving for an impressive performance. Yet, for the opening 20 minutes, Liverpool looked a far cry from their fluid, incisive best. But this was no typical Liverpool lineup.
Klopp has employed the 4-3-3 system to good effect in his three seasons at Liverpool, after initially starting with a 4-2-3-1, which served him well at Dortmund. Having a balance between attack and defence is central to both of these systems, and as such, Liverpool usually deploy three "forwards" alongside three traditional centre-midfielders. However, against Red Star, we saw a development which we've only had glimpses of previously. Firmino was deployed as the starting "number 10" for the first time, with Salah the striker, and Shaqiri and Mané either side of him. In the Huddersfield tactical breakdown, we briefly discussed Firmino's role as an advanced midfielder for twenty minutes as a substitute, but it was unclear as to whether that was a change brought about through contingency or through a new tactical order. It's now clear that it was the latter, and it opens up a whole new realm of possibility for Liverpool's offensive setup in the weeks and months to come.
There was another tactical tweak too in the selection of Fabinho alongside Wijnaldum in a midfield twosome. At Monaco, Fabinho operated in a 4-4-2, with a central midfielder alongside him, whereas Liverpool, this season, have had a single deep midfielder, with two centre midfielders ahead of them, hence this seemed a more natural fit for Fabinho and a role in which he could play freely, knowing he had the support of Wijnaldum alongside him.

The game started with Liverpool looking to score from very direct passes, be it long passes in behind the defence, or aerial balls which Salah would try to win and then use the onrushing supporting forwards to break through from. An early chance resulted from this tactic, as Salah ran free, controlled the aerial pass, but was met by the Belgrade goalkeeper who saved well. Klopp in his post-match presser alluded to both this chance and the tactic in general, and whilst he admitted Liverpool probably persisted with the direct ball tactic for too long, it was abundantly clear the intention was to score early and overwhelm Belgrade, before developing what Klopp alluded to as the "small-spaces" game, i.e. where Liverpool look to score through controlling possession and short, quick passing combinations.
Red Star set up in a similar manner to Huddersfield with regard to their pressing. Taking a five-man midfield block, Red Star looked to press the Liverpool midfield, however Fabinho's presence alongside Wijnaldum as opposed to one being ahead of the other, largely negated this, whilst the on-ball ability of Gomez and Van Dijk meant that even when the ball was forced back, Liverpool were able to move the ball back into midfield with comfort.
The positioning of Fabinho and Wijnaldum alongside one another offered a new opportunity for Liverpool's fullbacks too: usually, as one fullback runs forward, the other will sit deeper, providing cover in anticipation of a counter-attack. However, with the midfield support in front of the centre-backs, both Alexander-Arnold and Robertson were able to move forward into offensive roles simultaneously.
Robertson's involvement in Liverpool's first goal exemplifies this, as he runs into the wide channel, and provides a cutback pass. It's this point in particular where we see the real merits of the 4-2-3-1 system, as Salah's pace centrally forces the Red Star defenders to follow and stay close to him, whilst Mané and Shaqiri break into the box too. Firmino, as the 10 was able to run in later, and into space, from which he cut in one way, and then finished comfortably.
Once Liverpool scored their first goal, it was only a matter of time until they scored again. Such is the strength of Liverpool's defence now, the team are aware that once they score, they can minimise their risk of conceding, by sitting off a little, and controlling the game – be it with or without the ball – safe in the knowledge that the opposing team will be forced into stepping up and leaving spaces for Liverpool to exploit as they attempt to equalise. This was exactly the case with Red Star, and once they began to leave larger spaces in which the Liverpool forwards could operate, Red Star were always going to struggle.
In recent games, I've arraigned the lack of on-ball forward impetus. Against Red Star though, Shaqiri shone as the on-ball aggressor, within a team which collectively made a total of 549 passes, with 180 of those in the final third. Shaqiri finished the match with a 76.5pc passing success rate, and of his 34 attempted passes, 20 of those were attempted forward passes, of which 15 were successful. Furthermore, Shaqiri created two chances, both for Salah, one of which was an assist, and the other one which could well have been an assist too.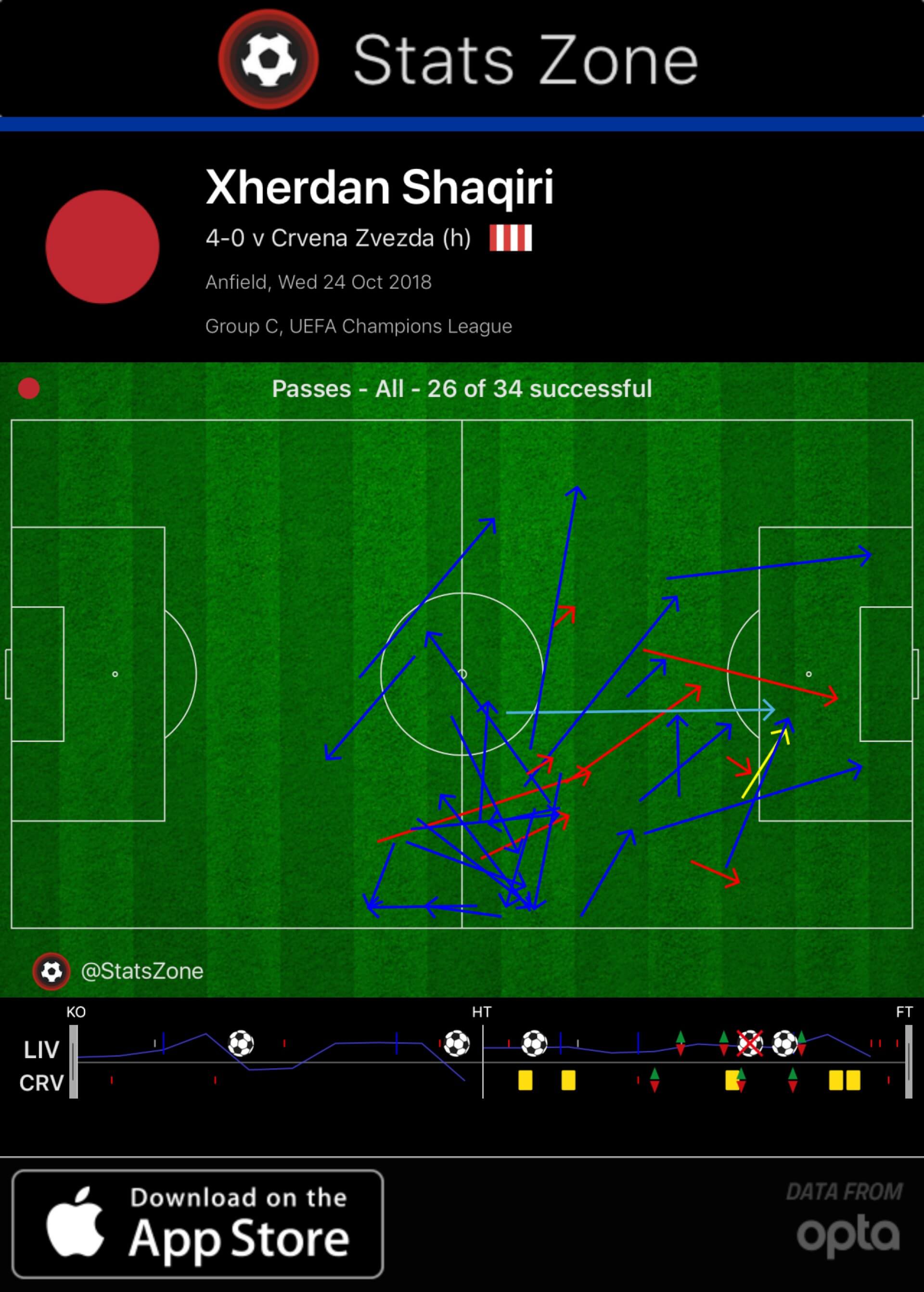 A number of other individuals, apart from the usual suspects up front stood out, including Sturridge, Alexander-Arnold, Wijnaldum and Fabinho, in his first full Champions League appearance for Liverpool.
Sturridge in his brief cameo was nothing short of sensational, assisting one goal, and almost assisting another, were it not for Lallana's tired legs. The 4-2-3-1 system also offers a new opportunity for Sturridge, not just as a striker, but as a number 10 too – a role in which he impressed against Huddersfield as he looked to play in and support Salah.
Trent Alexander-Arnold made his return to the starting XI, and created three chances – the joint highest in the team with Sadio Mané. Furthermore, Alexander-Arnold featured as the player with the two highest passing combinations, with Wij and Gomez both passing to him 18 times, emphasising the importance of the wide right channel, which, as noted earlier, was enabled through the two sitting midfielders.
Fabinho, rightly received considerable praise, with 20 successful passes (21 attempted) in the final third, five ball recoveries and 9 tackles:
Wijnaldum's extremely impressive performance went under the radar, as he attempted 88 passes (73 of which were successful), made the most final third passes of any player (20/24), notched 14 ball recoveries and was joint top in terms of take-ons, with 2 – equal with Firmino.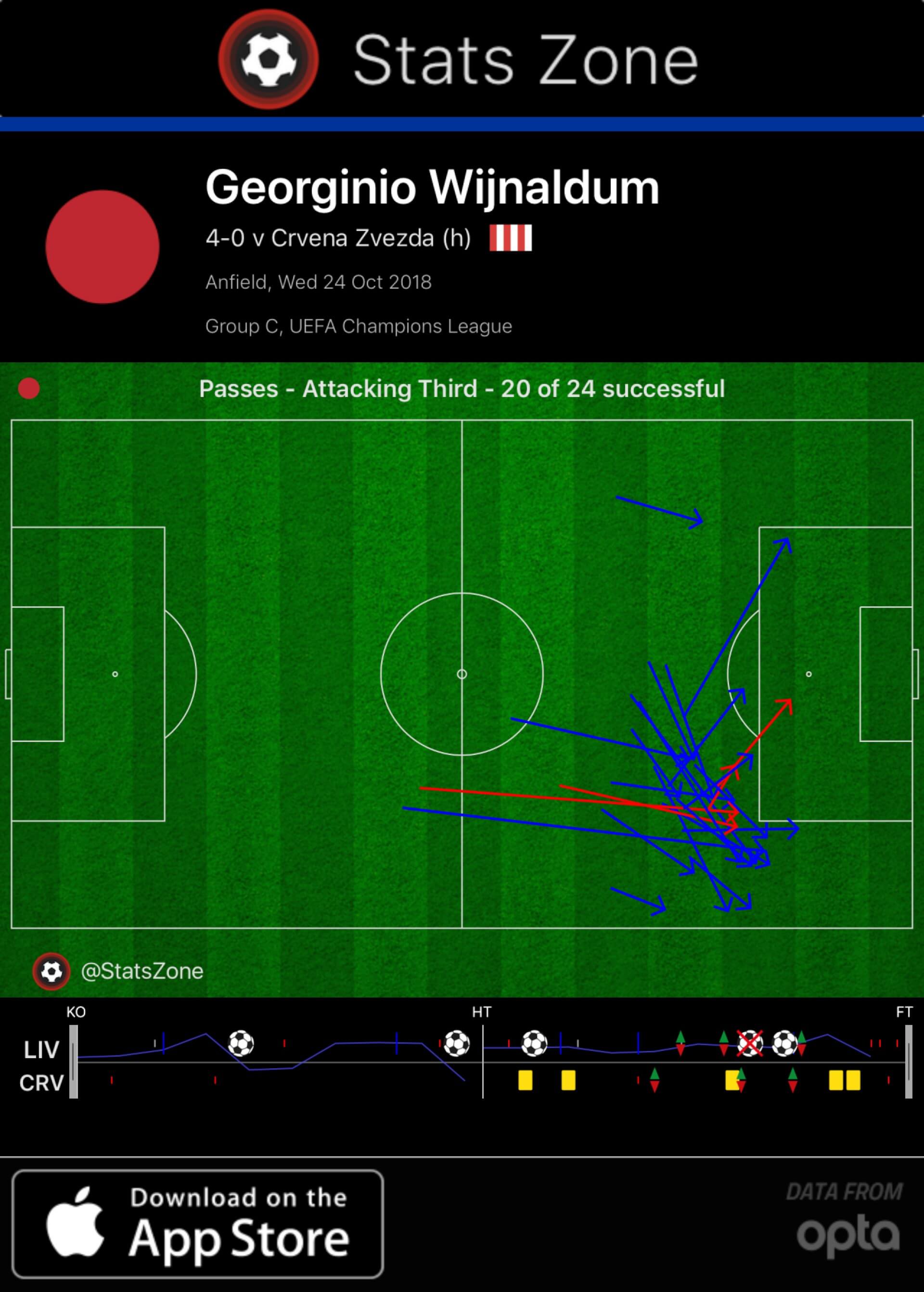 Having scraped a win against Huddersfield, and momentum slowing after a strong start, this performance was much needed. Not only did Liverpool create 16 chances, and 6 big chances, but Liverpool controlled the game with ease, and attacked as and when they wanted. Admittedly, Red Star are hardly the biggest threat in the Champions League, but for a team that looked short on ideas, and are amongst one of the most challenging Champions League groups, an impressive showing can do a world of good for confidence. Liverpool could very easily have scored six, and the xG reflects that: a welcome development considering the awful creative showing against Huddersfield.
xG map for Liverpool – Red Star Belgrade.

that's a paddlin pic.twitter.com/wCHOwcvdof

— Caley Graphics (@Caley_graphics) October 24, 2018
This was a hugely fascinating game from a tactical standpoint, but one which Liverpool were always expected to win. The major takeaway though for observers will be the tactical flexibility Klopp showed through employing a new system, which may well be the key to blowing away those low-block sides which for so long have frustrated Liverpool. We'll see on Saturday if Klopp tries the same tactic against Cardiff, but if this game is anything to go by, the signs for technically challenged, defensive low-block sides at Anfield are ominous.