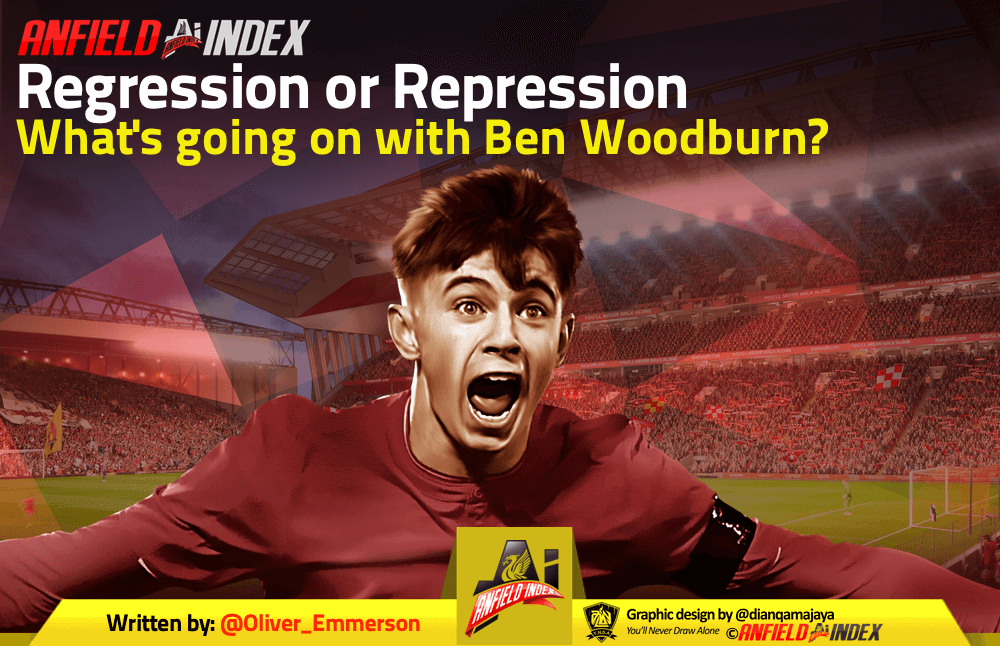 Regression or Repression - What's going on with Ben Woodburn?

Ben Woodburn's career so far has been defined by moments.
A goal against Leeds United lit the touch paper, sparking huge interest in Woodburn as he became Liverpool's youngest ever scorer.
Following that there was the goal against Austria that secured a hugely important win for Wales, Woodburn striking poetically from the edge of the area to the backdrop of a heartfelt national anthem.
Unfortunately, that's been about it so far. To look up the M62 at Liverpool's rivals for comparison, it's been more Federico Macheda than Marcus Rashford for a youngster filled with talent.
The latest head-scratching moment came last week as Woodburn was selected to play for Liverpool U23's. Nothing particularly unusual about that, apart from the fact he's meant to be on loan at Sheffield United.
As it turned out, there's a clause in Woodburn's loan contract which allows him to return to Merseyside and play with the Reds' fellow youngsters should he not make a prior matchday squad for the Blades – something that's become a common occurrence.
At the time of writing, Woodburn has failed to make even the bench in United's last five games. His last minutes of senior football came as a late substitute in a 0-0 draw with Birmingham on September 19, failing to make an impact in the 13 minutes he had.
231 minutes of club football this season have come in the form of just two starts, in one of which he found himself hooked at half-time with the Blades drawing at home to Norwich. No goals, no assists so far.
So what's gone wrong? Woodburn isn't at a crisis club, Chris Wilder's men are playing free-flowing attacking football and charging into a promotion battle head-on. 3rd in the table, their 3-5-2 formation has pushed them into a position of real promise going into the winter months.
Woodburn just hasn't been able to be a part of it.
It's not for lack of trying, according to Sheffield United expert Louis Hobbs (@_LH9_), who suggests that Woodburn has simply found himself in the wrong battle for places at the wrong time.
"He's definitely been unlucky," said Louis.
"Barring the first two games of the season, our entire team has been fantastic and Woodburn is battling an experienced player midfielder Mark Duffy, who has been excellent since promotion to the Championship.
A common concern among many Liverpool fans is Woodburn's lack of a specialised position. Is he a striker, a winger or a number 10? Nobody really seems to know and a complete lack of career senior minutes hasn't helped fans get closer to piecing together the puzzle.
His talented is undoubted. Slick on the ball with an eye for goal as well as the ability to dribble or pick a pass, the skill set is there to make an impact.
However, with Sheffield United playing a formation not commonly used in the Championship, it makes getting a young player like Woodburn minutes all the more difficult.
"We've seen very little of Woodburn so it's difficult to say, but perhaps not being able to slot into our preferred formation straight away is hindering his first-team chances," said Louis, who did say that despite a tough start so far, he does see Woodburn making the grade – potentially in a similar way to David Brooks, who burst onto the scene superbly at Bramall Lane last season.
Whether or not that's going to be the case remains to be seen.
The lack of minutes awarded to Woodburn so far will be sending alarm bells ringing at Anfield, with Jurgen Klopp aware that should the Blades sustain a promotion push, manager Wilder may very well be keen to keep using his tried and tested individuals.
It's partly up to Woodburn to make a difference himself, games come thick and fast in the Championship and there'll surely be opportunities for him to impress over the next few months. However limited they may be, he must grasp them with both hands.
Despite only having just turned 19, you get the feeling that it's a crucial season for Woodburn in terms of his development. Whilst the likes of Adam Lewis and Rhian Brewster seemingly have a path to the first team mapped out on L4, Woodburn's search for Liverpool stardom has gone astray ever since planting himself in the history books with that strike against Leeds.
A January return to Merseyside could be on the cards if his development is further hindered, although you'd wonder where the next step from there could be other than another Championship loan.
The next months could be crucial whether Woodburn knows it or not. Let's hope he does, and hope he delivers.